TV anchor Anjana Om Kashyap criticised for entering ICU in Bihar hospital for news report
Kashyap was doing a piece on Acute Encephalitis Syndrome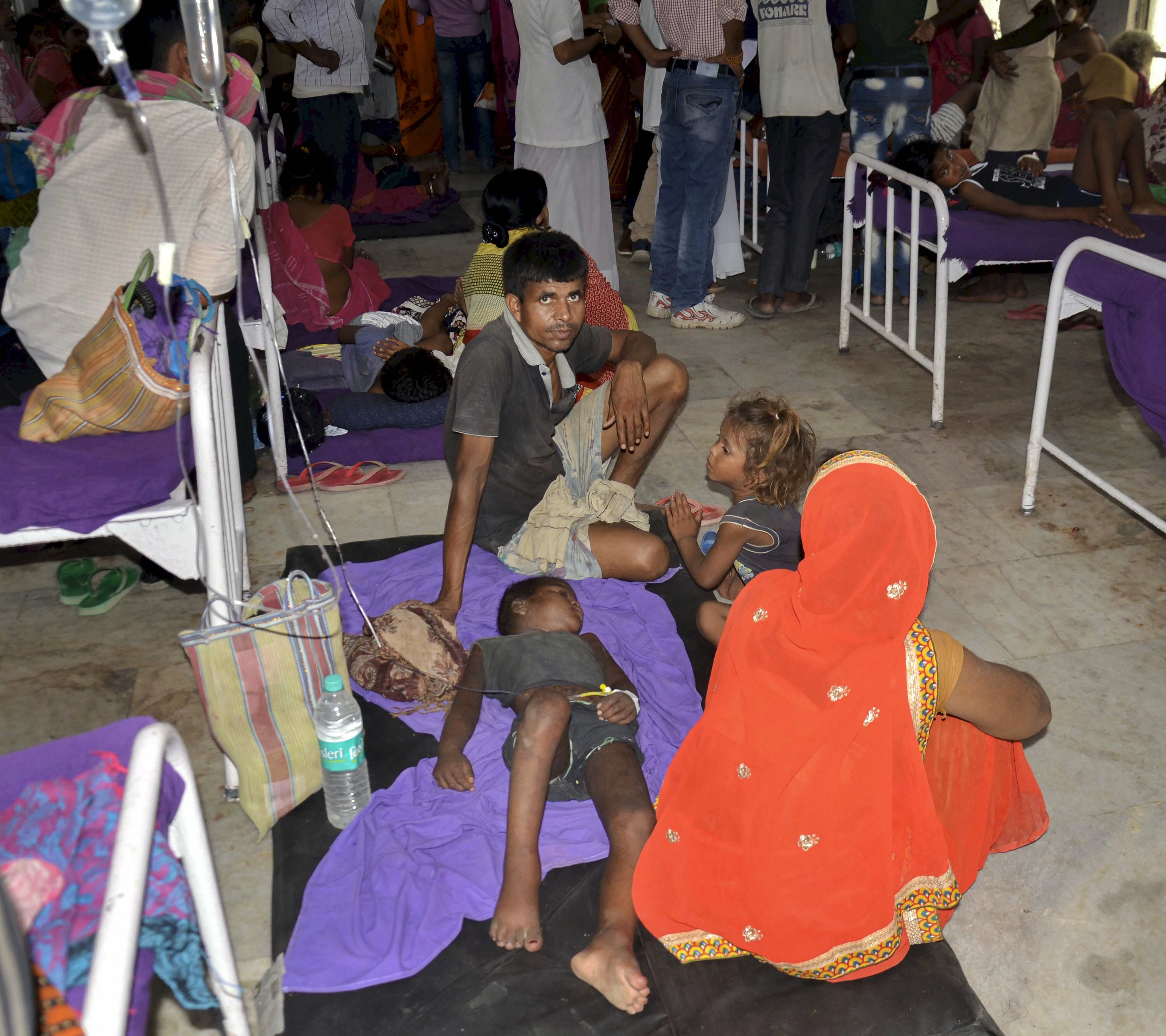 An overcrowded ward with children showing symptoms of Acute Encephalitis Syndrome at a hospital in Muzaffarpur on June 17.
PTI
---
New Delhi
|
Published 19.06.19, 10:11 AM
|
---
Meanwhile, some even took to social media to regard Kashyap's live broadcast.
When Bihar chief minister Nitish Kumar had visited the hospital on Tuesday to take stock of the situation, some relatives of patients' shouted "Nitish Kumar wapas jao (Go back Nitish Kumar)'. 
Earlier, Union health minister Harsh Vardhan, his junior in the cabinet Ashwani Kumar Choubey and state health minister Mangal Pandey too faced protests at the hospital. 

Some wanted to know "how mediapersons were allowed inside the ICU" that had so many children battling 
This is journalism of courage by @aajtak. Heckling the nurses and doctors and creating nuisance inside a hospital award. If they show even one hundredth of this aggression in questioning politicians, then it'd be quite an achievement. pic.twitter.com/BSEyiwNnTZ

— Pratik Sinha (@free_thinker) June 18, 2019
Cartoons on politicians have been the tradition throughout the history of cartoon sketch & print media industry. After seeing Anjana Om Kashyap's 'reporting' it's time for cartoonists to draw cartoons on prime time TV journalists who have made mess of their profession!

— Nishanth M (@NishanthNature) June 19, 2019
Television news anchor Anjana Om Kashyap's live broadcast on Bihar's Acute Encephalitis Syndrome from Shri Krishna Medical College Hospital in Muzaffarpur drew sharp reactions on Twitter because the anchor entered the ICU and stopped doctors and ward attendants on their tracks to interview them. 
In a news broadcast on Wednesday, the Aaj Tak news anchor was in the ICU ward crowded with patients and their family members. Kashyap, an executive editor in Aaj Tak, was seen asking a doctor, who seemed to be busy treating patients, where he would put a certain patient, a child lying on a mobile stretcher. 
The death toll from AES has risen to 108 in Bihar's Muzaffarpur. Among the dead are 89 of children who succumbed while undergoing treatment at this hospital.
Many, including Pratik Sinha, who runs the fact-checking website Alt News, called out Aaj Tak and Anjana for this piece.
Dear Anjana Om Kashyap, Please stop shouting at Doctors treating children suffering from Acute Encephalitis Syndrome. You are just disturbing the treatment process. The Doctors, on whom you are shouting are much capable and you do not match with them at all. Stop Cheap Publicity.

— hemant kumar singh (@hemantkumar111) June 19, 2019
Dear @NitishKumar. Why are journalists being allowed inside the ICU? https://t.co/TQwpvlf0Dz

— Rohini Singh (@rohini_sgh) June 18, 2019
Tweets mocking her conduct as a journalist were doing the rounds.
8-10 साल में थोड़ी-बहुत रिपोर्टिंग बिहार के दिमागी बुखार पर की है।
इतने बड़े मसले पर आज भी सारी रिपोर्टिंग सिर्फ साहस और जज्बात से हो रही। ना ऐसे मसलों की समझ है, ना कौशल।
कोई ICU से लाइव एंकरिंग कर रहा
कोई AES के टीकों की कमी बता रहा।
अभी वायरस का पता नहीं टीके कहां

— Mukesh Kejariwal (@Mukesh_k) June 18, 2019
Lagta hai ABP,AAJ TAK,NEWS NATION walo ki aankhe khul gyi hai 1st time Hindu-Muslim,Modi-Modi ki debate na kar ke bihar ke muzaffarpur ke skmch me rapidly ho rhi bachcho ki death ke bare me dikha rhe hai,
good job carryon.

— Abhinav Pratap (@Abhinavfvb) June 18, 2019