Bihar: Tejashwi Prasad writes to 33 Opposition leaders
The RJD leader's letter is being seen as a serious effort to unite the Opposition against the BJP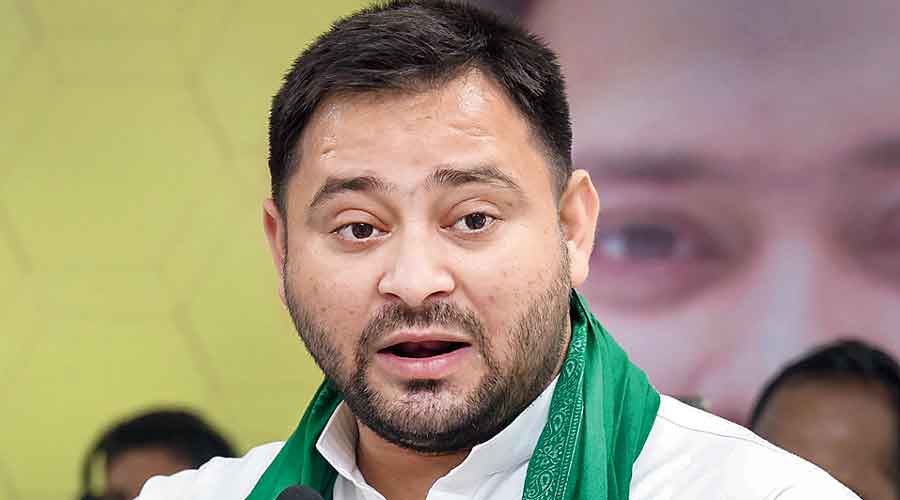 Tejashwi Yadav.
PTI file picture
---
Patna
|
Published 26.09.21, 02:00 AM
|
---
Rashtriya Janata Dal (RJD) leader Tejashwi Prasad Yadav on Saturday wrote to 33 Opposition leaders to seek their support for the demand for a caste census.
The Centre had in an affidavit in the Supreme Court on Thursday said it had no plans to enumerate castes or categories other than the Scheduled Castes and Scheduled Tribes in the upcoming census because it would not be feasible.
Tejashwi's letter is being seen as a serious effort to unite the Opposition against the BJP. Sources said it had the blessings of RJD chief Lalu Prasad.
Congress president Sonia Gandhi, Nationalist Congress Party leader Sharad Pawar, CPM general secretary Sitaram Yechury and all non-BJP chief ministers — Mamata Banerjee (Bengal), Naveen Patnaik (Odisha), M.K. Stalin (Tamil Nadu), Pinarayi Vijayan (Kerala), Bhupesh Baghel (Chhattisgarh), Ashok Gehlot (Rajasthan), Uddhav Thackeray (Maharashtra), Charanjit Singh Channi (Punjab), Arvind Kejriwal (Delhi), Hemant Soren (Jharkhand) — are among the leaders to whom Tejashwi has written.
Samajwadi Party president Akhilesh Yadav, Bahujan Samaj Party leader Mayawati, National Conference leaders Farooq Abdullah and Omar Abdullah and PDP leader Mehbooba Mufti also figure on the list.
So does Bihar chief minister and Janata Dal United leader Nitish Kumar, who is an ally of the BJP and leads the NDA government in the state. He had led an all-party delegation from the state to meet Prime Minister Narendra Modi last month to demand a caste census.
"The demand for caste-based census needs to be seen as an essential step in nation building. Once conducted, it would actually bring to the forefront the pressing concerns that a country like India must attend to with a sense of urgency. This is a historic opportunity before us to push for an agenda that is essential for making this country more just and egalitarian. It would play a pivotal role in ensuring social harmony and social cohesion," Tejashwi wrote.
Tejashwi said he was sure the leaders would agree with him on the need to join hands and push the government to see the crucial need to set the priorities of the socio-economic development of our country.
"I am open to suggestions and inputs from you so that we immediately prepare our plan of action in this regard without any further delay," the leader of the Opposition in the Bihar Legislative Assembly added.
On Friday, reacting to the Centre's refusal to hold the caste census, Tejashwi had said he would wait for a couple of days for Nitish's response before revealing his own plans.
His father Lalu had asked the BJP and the RSS why they had "so much hatred towards the backward and extremely backward castes".
Lalu had also appealed for the social boycott of BJP ministers, MPs and leaders over the issue.