No official statement from the tax department
Tamil Nadu polls 2021: Income-tax officials raid the home and office of M.K. Stalin's son-in-law
DMK lodges complaint with the Election Commission citing action as abuse of power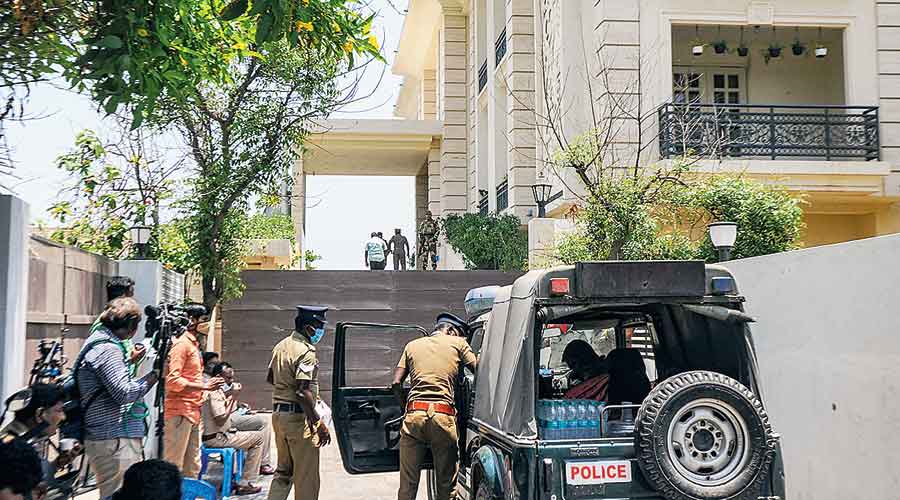 Security personnel outside the home of MK Stalin's son-in-law in Chennai on Friday
PTI
---
New Delhi
|
Published 03.04.21, 02:17 AM
|
---
Income-tax officials raided the home and office of DMK chief M.K. Stalin's son-in-law Sabareesan on Friday, four days before Tamil Nadu votes to elect a new state government.
"I am M.K. Stalin. This Stalin has faced Emergency and MISA (a controversial law that gave the Centre and law enforcement agencies sweeping powers). I won't be scared because of these raids. Prime Minister Modi should know that we are not AIADMK leaders who prostrate themselves before him," Stalin said.
Addressing a rally in Perambalur, he said: "This morning I came to Trichy from Chennai. I was informed of a raid going on at my daughter's house in Chennai. I want to tell Modi that this is the DMK, don't forget that. I am the son of Kalaignar (late DMK patriarch M. Karunanidhi); I won't be scared."
The DMK lodged a complaint with the Election Commission against the raids, which it described as abuse of power. The income-tax department reports to the Union government. This is the second tax raid against DMK leaders in the run-up to the April 6 elections.
"Raiding the Opposition is BJP's coping mechanism when facing electoral defeat," Congress leader Rahul Gandhi said in a tweet following the raids that started at 8am at four locations in Chennai.
The Congress is part of the DMK-led alliance that is looking to oust the AIADMK from power. The BJP is an AIADMK ally.
DMK spokesperson C. Ravindran said: "Since the BJP government came to power, their practice has been to use government institutions during elections to intimidate and threaten the Opposition."
In Assam, which too is holding Assembly elections now, BJP campaign spearhead Himanta Biswa Sarma was on Friday barred from campaigning for 48 hours for threatening a rival party candidate with a National Investigation Agency probe.
The March 28 speech in which he threatened Hagrama Mohilary of the Bodoland People's Front, a Congress ally, with an NIA probe has been found in violation of Clauses 2 and 4 of the model code of conduct that prohibit unverified allegations and intimidation.
On Thursday, Stalin's son Udayanidhi had at a rally in Coimbatore raised questions about the assets owned by Union home minister Amit Shah's son Jay Shah. He had offered to transfer all his assets to Jay if the home minister's son agreed to transfer his to Udayanidhi.
Last week, DMK leader E.V. Velu's home and guesthouse were raided around the time when Stalin was campaigning for him in Tiruvannamalai, the constituency from where the 70-year-old is seeking re-election.
On Friday, raids were launched at premises owned by Sabareesan and his associates Karthick and Bala. A large number of DMK cadres gathered outside his home at Neelankarai in Chennai while the searches were on. Sabareesan is a key strategist in Stalin's core team. Karthick is the son of Mohan, DMK candidate from Annanagar.
The DMK said the tax officials were "working for the poll prospects of the AIADMK-BJP under the garb of discharge of their duties" and urged the Election Commission to restrain them.
There was no official statement from the tax department on the raids.
Opposition parties have long been accusing the Narendra Modi government of letting loose investigating agencies on their leaders to intimidate or settle scores with them.
Among Congress politicians whom the CBI and the Enforcement Directorate have raided or arrested in corruption cases over the past two years are former Union minister P. Chidambaram and Karnataka state Congress president D.K. Shivakumar. Shivakumar had managed to keep 44 Gujarat MLAs together in Karnataka to prevent poaching by the BJP ahead of a Rajya Sabha election that Congress leader Ahmed Patel eventually won.
In 2017, the CBI and the ED had conducted raids on properties owned by RJD chief Lalu Prasad's family members, including then Bihar deputy chief minister Tejashwi Yadav. The action led to the collapse of the Grand Alliance government in Bihar.
Forgive him, Amma, for he does know what he is doing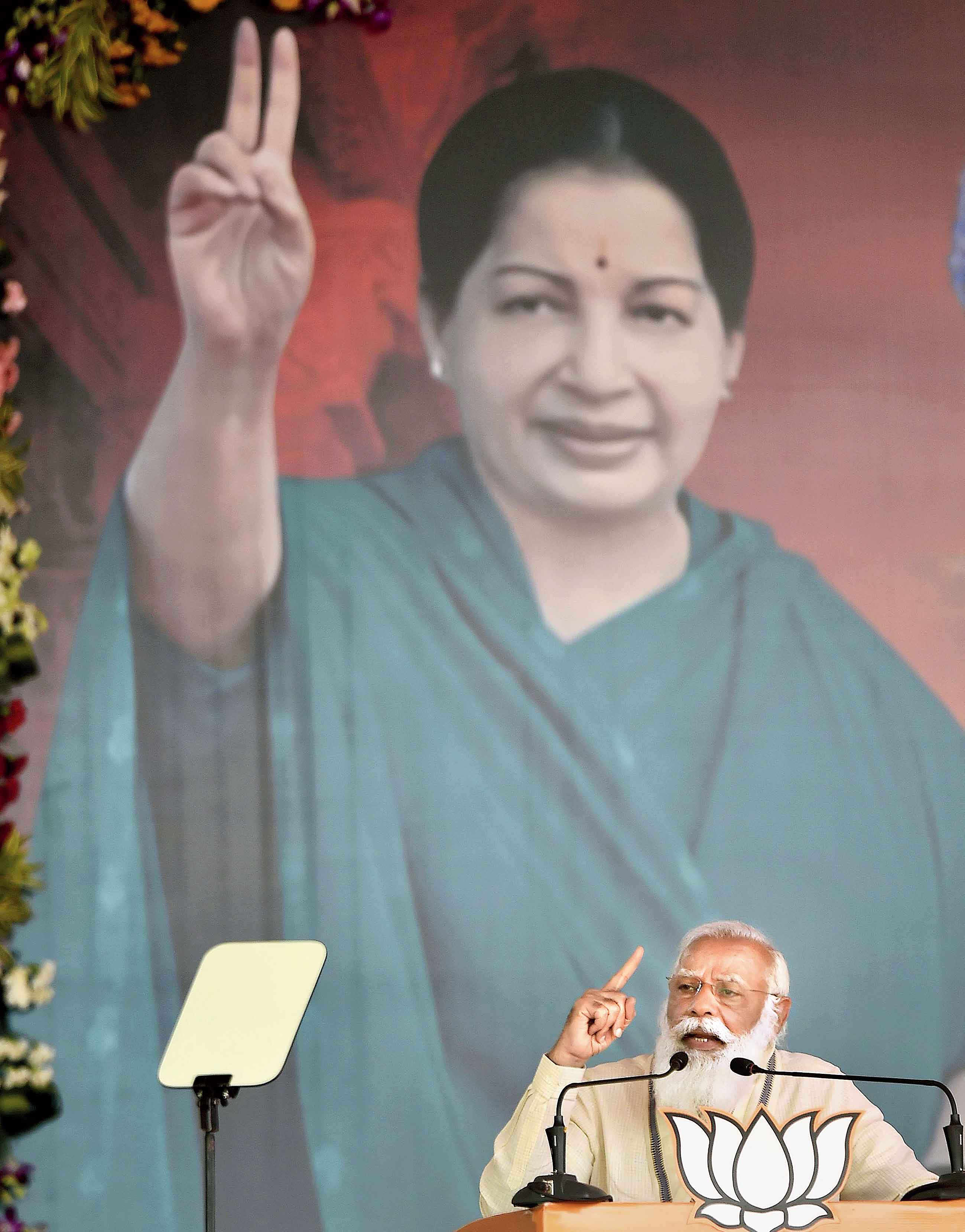 Modi also campaigned in Kerala, where he accused the ruling Left Front and the Opposition Congress-led alliance of "their own seven deadly sins" such as pride, arrogance and greed.
In Kerala, which has a substantial Christian population, Modi has been making Biblical references to target his opponents. The Prime Minister made the reference to the "seven deadly sins" — a popular theme in the morality plays and literature of the European Middle Ages — for political gains on Good Friday, a day of sorrow, penance and fasting to commemorate the crucifixion of Jesus Christ.
It is not clear which element — the spirit of forgiveness or political exigency — prompted Modi to use the image of Jayalalithaa to seek votes on the same
day he accused others of sins. Jayalalithaa was the first chief minister to lose her chair on the ground of conviction in a disproportionate assets case while in office. The case was, ironically, filed by Subramanian Swamy who is now aBJP Rajya Sabha member.
Jayalalithaa was eventually acquitted by the high court and returned to power. In February 2017, a few months after Jayalalithaa's death, the Supreme Court overturned the acquittals in the case and sent her aide Sasikala to prison.
The proceedings against Jayalalithaa were abated and dismissed on account of her death.