Tamil Nadu polls 2021: Covid-struck Santhosh Babu starts digital campaign from hospital bed
His election spiel shuns all negativity; it's entirely about how Velachery can develop its amenities if it's willing to back his inventive ideas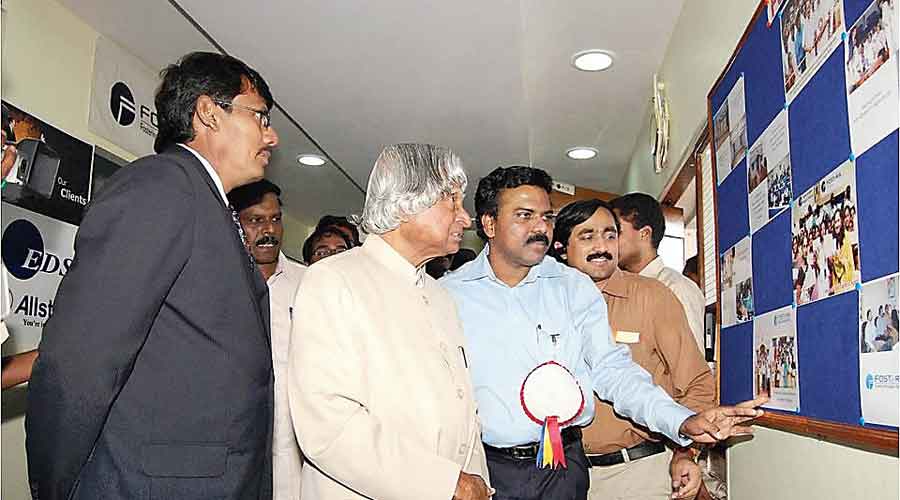 Santhosh Babu (a badge affixed to his shirt pocket) shows then President APJ Abdul Kalam around at a programme
Telegraph picture
---
Chennai
|
Published 03.04.21, 12:17 AM
|
---
The coronavirus struck when Santhosh Babu least needed it — two days after he had filed his nomination papers in the Tamil Nadu Assembly elections.
It takes more than a nanometre-sized nuisance, however, to discourage a former civil servant known for innovation and initiative who had resigned last year when he felt his avenues for doing good were getting blocked.
So what the 53-year-old bureaucrat turned politician, whom Kamal Haasan's Makkal Neethi Maiyam (MNM) has fielded from Velachery in Chennai, did was start a digital campaign from his hospital bed, using his mobile.
"For the next four days, I will be live on Facebook, YouTube and Twitter to discuss key issues and demonstrate the work I have done. Every day at 11am and 3pm," he wrote on his Facebook page immediately after being hospitalised on March 19.
"Look forward to your support," added the man who had joined the civil service after graduating as a doctor, and then earned degrees in politics and public management from three foreign countries.
"Four days" became nearly a fortnight and his videos quickly went viral, although the Kerala native —  who had been part of the Tamil Nadu IAS cadre —  rued his inability to meet the voter face to face.
However, just as he had eventually found himself thwarted as a crusading bureaucrat after 25 years in civil service, Santhosh Babu again came up against shadowy opponents.
"The impact of my digital campaign has been very good, but my FB account got locked (on Tuesday evening)," he told The Telegraph on Wednesday.
"Many people, particularly from abroad, started 'reporting' about my page, saying things like it was not confirming to community standards. Once a large number of people begin to 'report' that way, the FB page shuts itself.
"My appeal to my voters was very clean, talking about the development of Velachery. Since my digital campaign was going very well, I suspect the IT wings of other political parties could be involved in the coordinated attack."
That's how far the polite politician will allow himself to go in attacking his political opponents. For instance, he would not campaign on the plank of being shunted out and forced to quit the civil service while battling suspected corruption in a government scheme.
His election spiel shuns all negativity; it's entirely about how Velachery can develop its amenities if it's willing to back his inventive ideas.
Santhosh Babu had graduated as a doctor from the government medical college in Thiruvananthapuram and joined the IAS in 1995.
His "passion" to make government "world class using technology and best management" and his commitment to transparency and the public good drove him to learn more.
So he earned a Chevening scholarship from the London School of Economics and Political Science, and subsequently studied public management at the Harvard Kennedy School of Government in the US and Lee Kuan Yew School of Public Policy at the National University of Singapore.
As a bureaucrat, Santhosh Babu was always restless —  full of ideas and resourceful enough to translate them into reality, social activists who have worked with him say.
For instance, as collector of the backward Krishnagiri district over a decade ago, he built a modern stadium in a PPP model by pooling resources and launched the first rural BPO for women in the state, apart from organising numerous women's self-help groups.
He was principal secretary at the IT department when he "stood his ground" against suspected irregularities in a Rs 2,000-crore tender for the BharatNet project that aimed to connect the state's panchayat offices to the Internet, according to Chennai-based NGO Arappor Iyakkam which tracked the project.
The Centre then put the tender on hold. In January 2020, Santhosh Babu was transferred to a relatively minor post, that of director of the Tamil Nadu Handicrafts Development Corporation. He took voluntary retirement on August 22, eight years prematurely.
He did it "in protest against the interference of the government in the Rs 2,000-crore BharatNet project" is all he would say in his personal website.
He took up a teaching assignment at the Officers IAS Academy in Chennai before Kamal Haasan drafted him as head of his party's communications wing and made him a general secretary.
Kamal Haasan, who is taking on the BJP women's wing president Vanathi Srinivasan from Coimbatore South, has sought to bring outside talent into his battle to provide a "centrist alternative" to the Dravidian majors DMK and AIADMK.
Santhosh Babu's main rivals in Velachery are J.M.H. Assan Moulana of the Congress, M.K. Ashok of the AIADMK, and M. Chandra Bose of the AMMK, led by Sasikala's nephew T.T.V. Dhinakaran.
Santhosh Babu's "vision" for Velachery is reflected in an online presentation he has done on creating a corpus with donations from the public and from private companies. It will allow at least three projects —  in health, education and sports, the key human resource areas —  to be attempted in Velachery every month, he has argued.
"Last evening I went live in an interaction with voters from my hospital bed when Kamal Haasan was campaigning in Velachery, and my interaction was projected on a big LED screen," Santhosh Babu told this newspaper.
The good news for him is that the Madras Medical College Government Hospital discharged him on Wednesday evening.
Santhosh Babu said he would straightaway hit Velachery's streets to make the most of the four days of campaigning left.
"I have been unlucky — despite my online campaign, I haven't been able to meet people directly. For the remaining four days, I would love to be with them," he said.
His leader Kamal Haasan too seems to prefer face-to-face campaigning —  unlike the political majors he has not been hogging prime-time television.