Supreme Court to hear Uddhav Thakeray's plea on August 1
Three-judge bench lists matter for urgent hearing upon request by senior advocate Kapil Sibal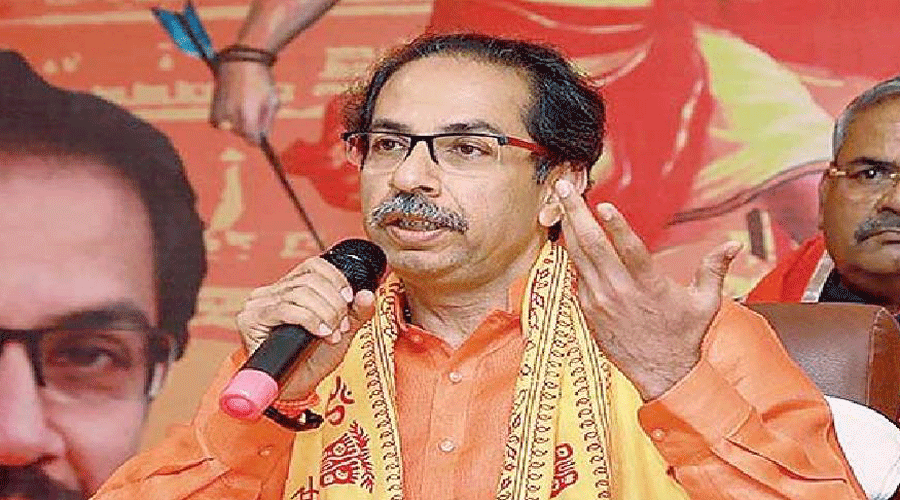 Uddhav Thakeray
File picture
---
New Delhi
|
Published 27.07.22, 03:04 AM
|
---
The Supreme Court on Tuesday agreed to hear on August 1 an urgent plea by the Uddhav Thackeray-led faction of the Shiv Sena against the Election Commission of India's proceedings on a petition by Maharashtra chief minister Eknath Shinde's group to recognise it as the real Shiv Sena and allot it the party's original bow-and arrow symbol.
A bench of Justice N.V. Ramana, Justice Krishna Murari and Justice Hima Kohli listed the matter for urgent hearing upon a request by senior advocate Kapil Sibal on behalf of the Uddhav faction.
Pointing out that a batch of petitions are already pending before the top court on the state's recent political developments, Sibal said: "In the meantime, they (Shinde faction) are trying to make the matter infructuous. Till the court decides, they can't go before the ECI."
Senior advocate Neeraj Kishan Kaul, representing the Shinde faction, said the issue before the ECI was an "intra party matter" and had nothing to do with the petitions pending before the top court.
Kaul said the ECI had merely issued a notice to the rival faction on Shinde's plea and the poll panel was scheduled to hear the same on August 8.
The bench listed the application along with the pending petitions for further hearing to August 1.
The Uddhav faction has challenged the notice issued to it by the ECI on the plea by Shinde's faction to recognise the latter as the "Real Shiv Sena", and allot it the party's official "bow and arrow" symbol.
In the application filed on behalf of Subhash Desai, general secretary of the Shiv Sena, the Uddhav faction submitted that the poll panel notice "amounts to interference with the judicial proceedings and thus, amounts to contempt of the court", as the top court had earlier restrained the Speaker of the Assembly from deciding on the disqualification row on the basis of an undertaking given by the latter.
On July 11, the apex court had directed the Speaker of the Maharashtra Legislative Assembly not to proceed further on the disqualification petitions pending before him until it resolved the issue related to a batch of petitions/counter-petitions on the state's political row.
Among other things, the Uddhav faction had challenged as "completely ex facie arbitrary, unconstitutional and illegal" the Maharashtra governor's action on June 30 to invite Shinde to form the new government and the subsequent proceedings held in the House to seek the disqualification of its members under the Anti-Defection Law.
The Shinde faction had questioned the then deputy Speaker's decision to disqualify 16 of its legislators under the Anti-Defection Law for breaking away from the Uddhav faction.