Srinagar: Son of man who once killed a terrorist branded militant
23-year-old Aamir was killed with three others during what security forces are calling a gunfight on Monday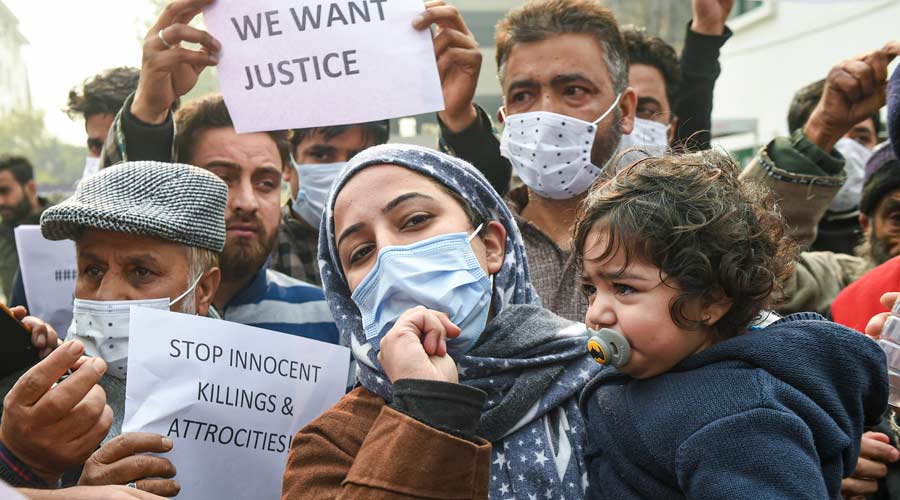 Families members of Altaf Ahmad Bhat and Dr Mudasir Gul, who were killed during an encounter between security forces and militants at Hyderpora Yesterday, shout slogans and hold placards during a protest demanding a probe and return of the dead bodies, in Srinagar on Wednesday..
PTI Photo
---
Srinagar
|
Published 18.11.21, 02:33 AM
|
---
Abdul Latief Magray once killed a militant with a stone. He is now wondering how the security forces, with whom he once fought insurgents shoulder to shoulder, could have shot his son and branded him a militant.
"The tragedy is, we were staunch Indians but have been turned into (portrayed as) militants," the grieving father in his 50s told The Telegraph.
"If he was a militant, we don't need his body. We are Indians. If my son did any such act, I don't need him. But if he was innocent, why did they kill him? This is the regret. I know for sure he was innocent."
Magray, former member of an unofficial counter-insurgent militia who has lived for years under paramilitary security and currently serves the Indian Reserve Police, is now fighting to get the body of his son Aamir.
The 23-year-old was killed with three others — Srinagar businessmen Mohammad Altaf Bhat and Mudassir Gul, and alleged Pakistani militant Haider — during what the security forces are calling a gunfight in a Srinagar building on Monday.
The police claim Gul and Aamir were over-ground workers (OGWs) for the militants while Bhat was an innocent who died in the crossfire. They say Bhat and Gul had been asked to knock on the door of a room where Aamir and Haider were holed up.
The families say the men were innocent and were killed in cold blood. Bhat's family has alleged the forces used him as a human shield and then shot him. Protests have broken out.
The police have refused to hand over any of the bodies to their families as part of a policy to pre-empt civilian protests against disputed killings. All four have been buried at a graveyard reserved for militants in far-off Handwara.
Magray travelled 175km to Srinagar from his village of Sangaldan in Jammu's Ramban district on Tuesday to seek his son's body.
Magray said: "Aamir worked as a peon at the office (where he was killed). There should be an investigation to find out who killed my son. Maybe some OGW (who was a double agent) got them killed for money."
"We met the police in Srinagar who told us my son was a militant and had been buried in Handwara. We returned home last night."
Local people in Ramban are asking that if Aamir was a militant, why had his family lived with official security for years?
A police officer downplayed the CRPF security outside Magray's house, saying the deployment was meant for an entire neighbourhood.
Magray said his family had paid a heavy price for its involvement in anti-militancy operations.
"In 2005, militants fired at us, killing my cousin Abdul Qayoom and injuring me. Despite suffering injuries, I killed a militant, Yasir Bhat, who was from Lashkar, with a stone. I was shifted to hospital and we had to flee to Udhampur to save our lives," he said.
"For the next five years, I worked with the army. My house in Ramban was turned into a security picket and I was twice awarded for my anti-militancy work. In 2011, I returned to my ancestral place and was given a job with the Indian Reserve Police."
In Srinagar, the families of Altaf Bhat and Gul staged separate protests and asked the government to return the bodies.
Gul's wife Humaira, who brought her two-year-old daughter to a protest, said the toddler had been crying and looking for her father.
"She cries, 'Baba, baba' but I have no answers. I urge LG (lieutenant governor) Manoj Sinha to allow my daughter to see her father for the last time," Humaira told reporters.
"The police can kill me, too, if my husband can be proved to be an OGW."
Referring to the police admission about getting Gul and Bhat to knock on doors to flush out alleged militants, former chief minister Omar Abdullah wondered how the two men could be called militants in that case.
"They were civilians because they were put in harm's way," Omar tweeted.
"To vilify them as militants or OGWs is bad enough but to take the bodies away & forcibly bury them in north Kashmir is a crime against humanity. The bodies must be returned to the families so they can be buried. It's the only just thing & it's the only humanitarian thing to do."
On Wednesday, the Ramban administration banned assemblies of five or more people in parts of the district amid fears of anti-government protests.