'Sorry' court acquits all in Sohrab case
92 of the 210 witnesses turned hostile during the probe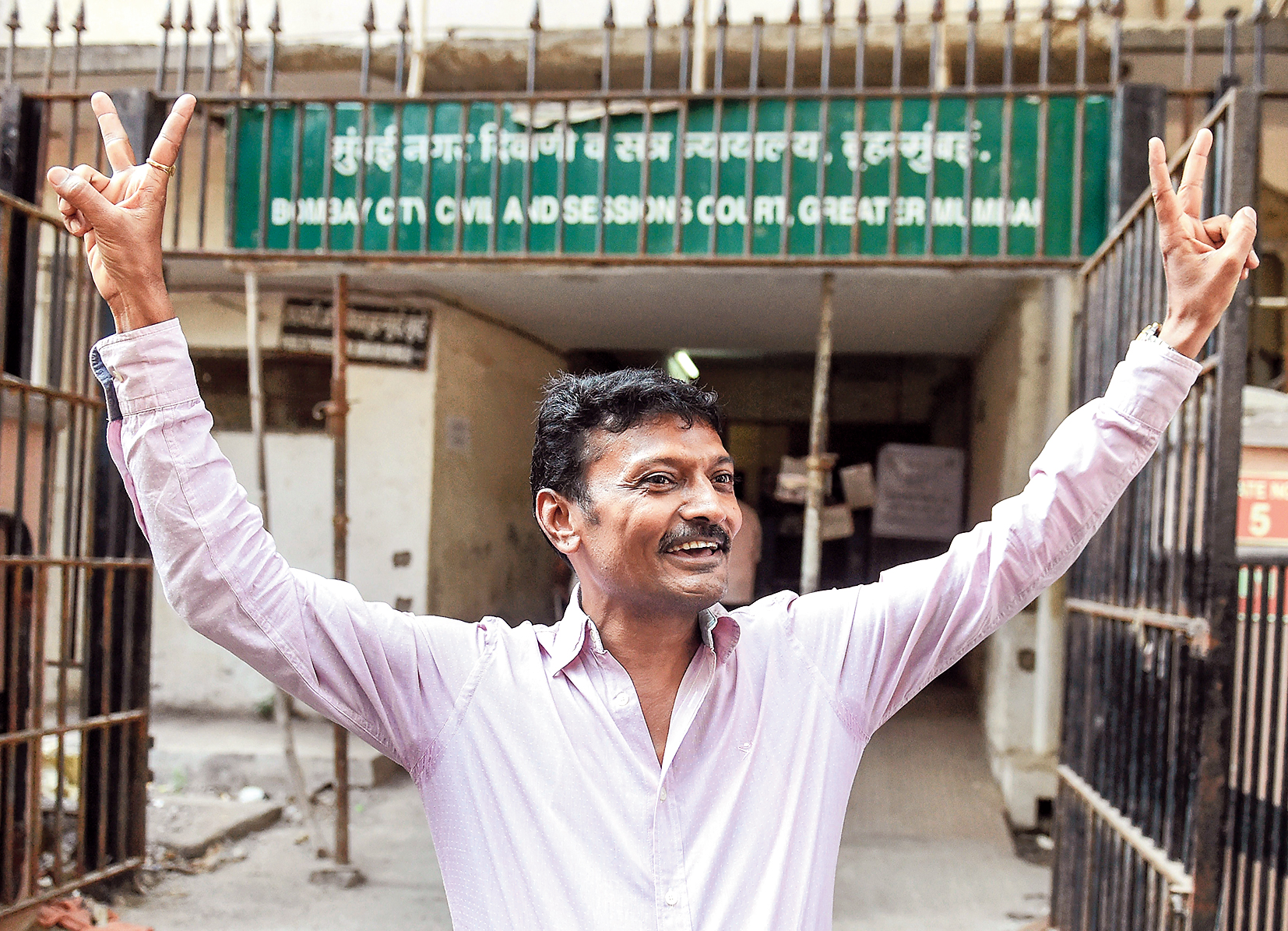 Rajendra Jeerawala, owner of the Gujarat farmhouse where Sohrabuddin Sheikh and his wife were allegedly kept in illegal detention before they were killed, celebrates outside the special CBI court in Mumbai after he was acquitted.
(PTI)
---
Mumbai
|
Published 21.12.18, 10:38 PM
|
---
A CBI court on Friday acquitted all the 22 accused in the fake-encounter killing of alleged gangster Sohrabuddin Sheikh, wife Kausar Bi and associate Tulsiram Prajapati, confirming the trio were murdered but ruing that guilt could not be established with so many witnesses turning hostile.
Some 92 of the 210 witnesses — including three key witnesses — had turned hostile in the case, in which current BJP president Amit Shah too had been arrested and discharged earlier along with several senior police officers.
Shah's December 2014 discharge had triggered controversy because it came days after the allegedly mysterious death of the then CBI judge, B.H. Loya, amid insinuations that he had resisted pressure to let off some of the high-profile accused.
"I feel sorry for the families (of the three victims) since three lives were lost," judge S.J. Sharma said while delivering the verdict.
"But the court only runs on evidence beyond reasonable doubt. The court cannot go by hearsay and circumstantial evidence. The evidence produced before the court is not samadhankarak (substantial)."
He added: "Three main witnesses turned hostile. In such a (situation) the public prosecutor can do nothing. He cannot force them not to turn hostile. There is no doubt that they (the trio) were killed but conspiracy could not be established…. Not found any evidence that any of these accused were answerable."
Sohrabuddin's brother Rubabuddin, whose petition had prompted the Supreme Court to direct a probe into the case, said he would appeal before the apex court.
"The CBI and everyone else are involved in this cover-up. The Supreme Court had said they were killed: how is it that the CBI and the (trial) court could not find the killers?" he asked.