Son of slain cop demands law to check mob violence
His father, inspector Subodh Kumar Singh, was shot dead along with student Sumit Kumar when a mob incited rioted after discovering cow carcasses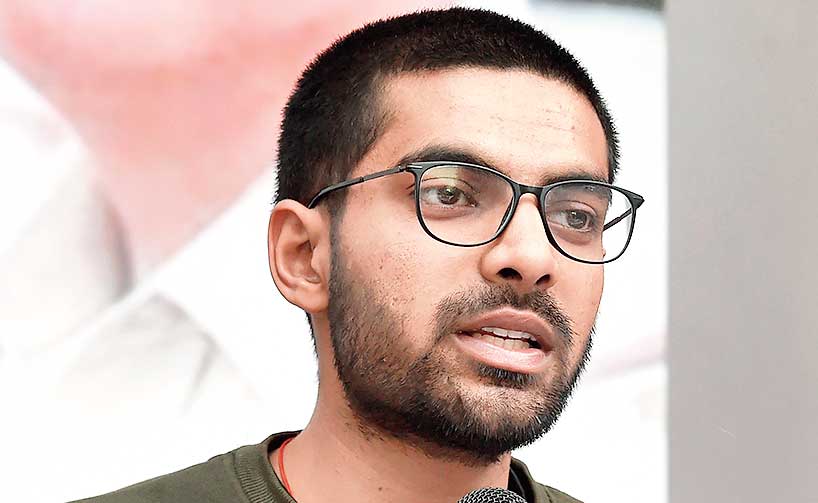 Shreh Pratap Singh at the news conference in New Delhi on Sunday.
(PTI)
---
New Delhi
|
Published 30.12.18, 08:49 PM
|
---
The son of the police officer lynched in Bulandshahr has demanded a law to check the growing mob violence in the country.
"I have a question for the mob. I want to ask them, 'Which direction are you taking the country in?'" Shreh Pratap Singh told a news conference here on Sunday.
His father, inspector Subodh Kumar Singh, was shot dead along with student Sumit Kumar on December 3 when a mob incited by Sangh parivar activists rioted after the discovery of cow carcasses.
The police are "waiting" for the prime accused, local Bajrang Dal leader Yogesh Raj and two other parivar activists, to "surrender" and have already changed their identification of the killer, triggering allegations of political interference.
"The fight for justice should continue. We expect your support. My father and grandfather were both in the police," Shreh said, speaking a day after a head constable, Suresh Pratap Vats, was lynched by a mob in Ghazipur, also in Uttar Pradesh.
"There should be a law to curb mob violence; there's no law now…. Yesterday a constable was killed. The people in the mob need to understand that their target has a family to support. The mob has no right to kill anybody."
Vats's son too faced reporters on Sunday to pose a query to chief minister Yogi Adityanath: Why are policemen being killed so frequently in the state?
Adityanath has promised action against all those involved in these incidents, but Yogesh is still at large.
"He (Yogesh) has released a video to say he is innocent. If somebody is innocent he should face the law and prove his innocence. My father was firm in maintaining law and order. I have full faith in the police investigation," Shreh said.
The report of a fact-finding team sent to Bulandshahr by the National Confederation of Human Rights Organisations was released at the news conference. The team was made up of Manoj Singh (All India People's Forum), journalist Kiran Shaheen, Ansaar Indori (NCHRO), academic Bhawan Bedi, Ayesha Khan (Right To Food) and social activist Azeem Naved.
Manoj said the team had concluded that the cow carcasses had been planted on a field in Mahav village to foment unrest.
He said Subodh had arrived immediately, taken measures to avoid violence and promised action, but a mob instigated by Yogesh, his Bajrang Dal colleagues and BJP youth wing activist Shikhar Agrawal erupted in violence.
According to the team, Subodh had opposed a plan by Yogesh and Agrawal to blockade a road and protest with the carcasses, saying the dead animals should be buried in the field where they had been found.
The fact-finding team has demanded a Supreme Court-monitored investigation and an immediate ban on the organisations spreading mob violence in the name of protecting cows.
Some 28 people have been arrested on murder and rioting charges in Bulandshahr while 12 were held for alleged cow slaughter on the basis of an FIR lodged by Yogesh. Four of the 12 have been released.
Sarfuddin, one of those released, told the news conference that Hindu and Muslim families lived in harmony in the area before the Bajrang Dal got active there a few years ago.