Settlers key in Naveen Patnaik prestige fight
'Now there are more than one lakh Bengali settlers across Kendrapara'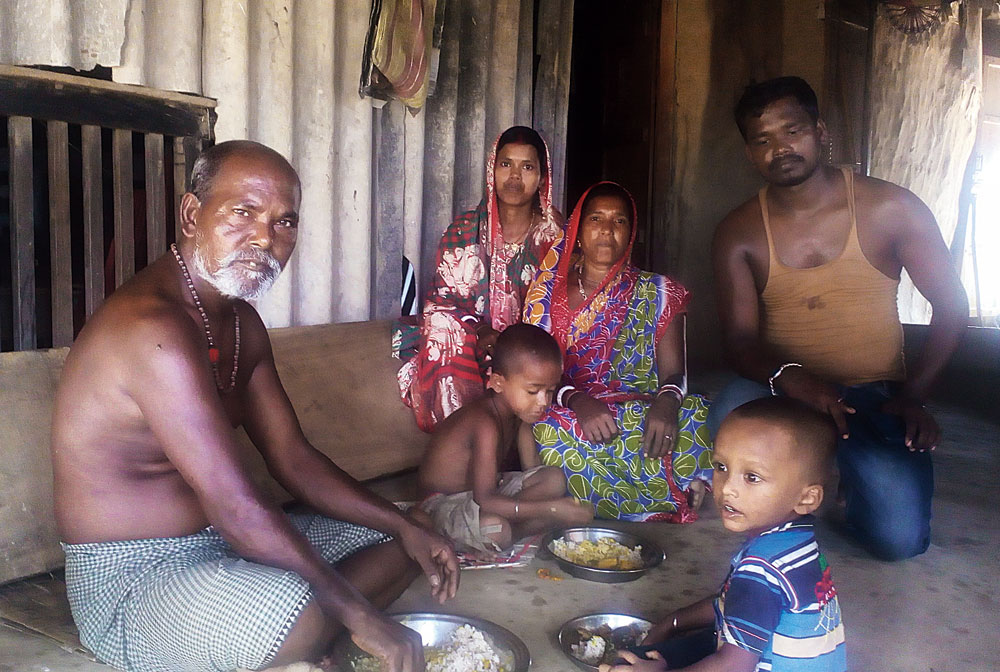 Abhimanyu Mandal and his family
A Telegraph picture
---
Kendrapara
|
Published 27.04.19, 02:55 AM
|
---
Sasthi Charan Das moved to Talchua — a rather inaccessible part of Bhitarkanika wildlife sanctuary — with his parents as a toddler. He is now 70.
He does not remember the exact year he came, but recalled how his father and relatives settled in the area after clearing forests, tilling the land and catching fish in the Brahmani and other rivers of the area. The settlers braved attacks from wild animals, especially crocodiles, which abound in the sanctuary.
Though Das was hesitant about revealing where his ancestors came from, Samir Mistry (47), another settler, was more vocal about his origins. He says they came to Odisha in 1951 as immigrants from the erstwhile East Pakistan.
"We have been living here for the last four generations. We are like anyone else here. But political parties have been playing the immigrant card. We have seen it over the years. Why do so much politics over us?" said Mistry.
In 1948, the then Orissa government allowed 376 refugees from East Pakistan to settle in Mahakalapada block of Kendrapara district. Later, they scattered to different parts of the district. In the wake of the Bangladesh War of 1971, the state government permitted 432 refugees to settle in some other seaside villages of the district. More refugees came after riots in Bangladesh in the eighties.
"All these refugees slowly brought their relatives. Now there are more than one lakh Bengali settlers across Kendrapara district with this population playing a key role in deciding the fate of candidates in the elections," said Padmanav Choudhury, a former joint secretary with the Odisha government, who hails from the area.
The Kendrapara Lok Sabha constituency is the seat of one of the most prestigious poll battles in Odisha, between BJP vice-president Baijayant 'Jay' Panda, who won the seat on a BJD ticket in 2014, and Odia film star Anubhav Mohanty, the debutant candidate handpicked by chief minister Naveen Patnaik.
Prime Minister Narendra Modi has campaigned for Panda. Naveen campaigned here on Friday. The BJD has deployed party heavyweights in the the constituency's seven Assembly segments.
Though Panda is popular for a number of schemes, particularly constructing overhead tanks for drinking water and because of his contacts, Naveen still draws voters.
"Naveen has given us food under the rice scheme and Rs 5,000 under the Mamta scheme for pregnant women," said Abhimanya Mandal, a settler. "His father Biju Babu saved us after many cyclones; now Naveen is looking after us."
In 2014, Panda, as a BJD candidate, had won by polling 6,01,574 votes. The Congress got 3,92,466; the BJP 1,18,707.
"Every time, people have voted for Naveen, not his candidate," said Chittaranjan Das, a local journalist. "But this time, keeping Jay Panda's popularity and the undercurrent in favour of Modi in mind, the BJP will give the BJD a run for its money."