Rahul anna, what will you ask the PM?
Vignettes from Rahul Gandhi's interactions in Tamil Nadu, where many children called him Rahul Anna (elder brother)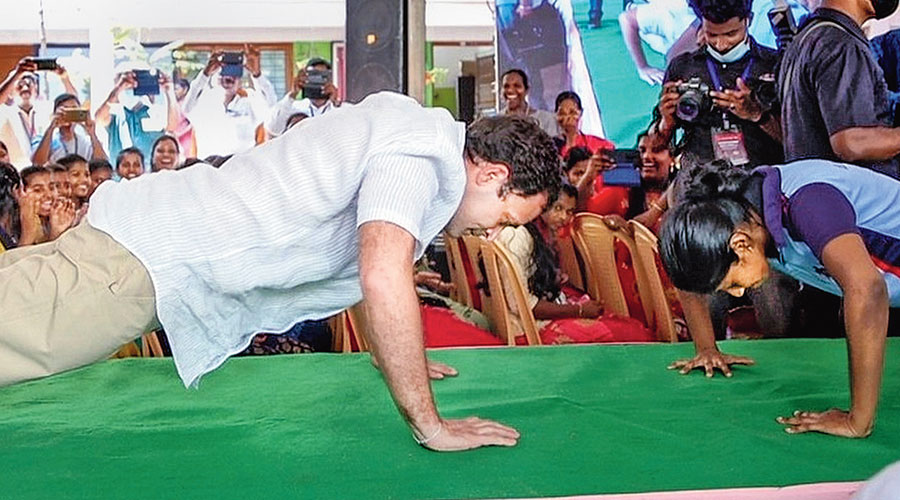 Rahul Gandhi accepts a push-up challenge from a student of St. Joseph's Matric Higher Secondary School at Mulagumoodu in Kanyakumari on Monday.
(PTI)
---
Kanyakumari
|
Published 02.03.21, 03:04 AM
|
---
Q: What will you ask Prime Minister Narendra Modi, if you were to interview him?
Rahul: You have asked me a tricky question. (Laughter in audience). 
"I would ask 'why are you convinced that all answers should come from you? Why don't you listen to what the people of the country feel or want to say?'"
Rahul recalled his brief interaction with a few boys with whom he sipped tea before arriving at the school. Rahul said he was impressed by the ambition of one of them who wanted to become an astronaut.
Rahul said he would write a letter to the chairman of Isro who may allow the boy to visit the space station. "When he visits, he may be inspired and will grow up to join the space mission...," he said. Becoming an astronaut was the boy's choice but helping him achieve his dream was the politician's job, he added. Q: Why do youngsters not want to make politics a career?
Rahul: It could be so because there are some politicians who steal from people. There are good political leaders who work for the people, try to understand people and empower them. Draw inspiration from such leaders who help people.
Rahul said teachers and students are both equally important in shaping the education policy as they are the pillars of the institution. He said no policy would be beneficial if the views of teachers and students are not obtained.
"If I force you to read, then it is arrogance. But if I ask what do you require, then it is humility. Arrogance creates problems whereas humility resolves problems," he said.
The Wayanad MP displayed his fitness when he effortlessly did multiple push-ups, including one-handed, and shook a leg with the students he interacted with as accompanying Congress leaders Dinesh Gundu Rao and K.S. Alagiri joined him. Q: What is Rahul Anna's recipe for good health? Do you follow a special diet regimen?
Rahul: I run, swim and cycle. I have learnt Aikido martial art.
Rahul told a public meeting in Nagercoil: "Modi talks about one culture, one nation, one history and one leader". "Is Tamil not an Indian language? Is Bengali not an Indian language? Is Tamil culture not Indian culture? This is the battle that is being fought in this election," Rahul said as the crowd cheered.
"It is my duty to protect the Tamil language, culture and history just as it is my duty to protect all languages and religions in India," he said.
Based on a PTI report