Put off by HC terms, RSS calls off TN marches
Court had denied permission for programme in six communally sensitive place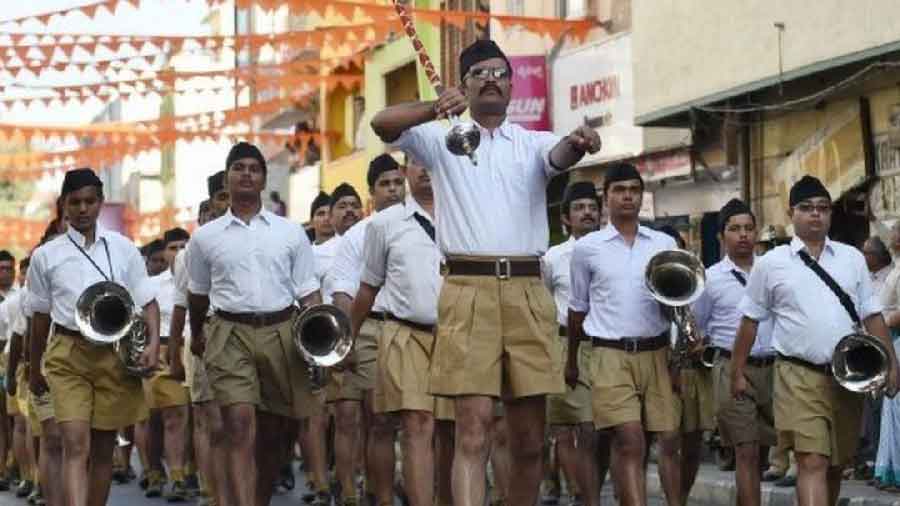 Representational Picture of RSS pracharaks
Twitter/@deepa_subash
---
Chennai
|
Published 06.11.22, 01:51 AM
|
---
The RSS on Saturday called off the "route marches" it had planned across Tamil Nadu on Sunday, unhappy with the conditions that Madras High Court had set on Friday while clearing its programme in 44 of the 50 proposed places.
The RSS south zone president, E. Ra Vallirajan, said in a statement that the conditions set by the high court were unacceptable and the marches had therefore been called off. He said the organisation planned to appeal the high court order in the Supreme Court.
Among the conditions was that the marches must be held only on premises with compound walls such as grounds and stadiums, and that the marchers should not sing songs or speak ill of any caste or religion, carry sticks or any other weapons, or offend any religious, linguistic or cultural group.
The high court had denied permission for the programme in six communally sensitive places, including Coimbatore city, after intelligence reports suggested possible law-and-order problems in the wake of the October 23 Coimbatore car explosion.
Earlier, the state police had granted permission for the marches in only three places — Kallakurichi, Perambalur and Cuddalore. They refused permission in 24 places citing possible law-and-order issues and gave only conditional permission in 23 places.
However, the single-judge bench of Justice G.K. Ilanthirayan, after going through intelligence reports from each district, on Friday said he had not found "anything serious" enough to debar the marches in so many places.
The RSS had sought to hold marches on Gandhi Jayanti, October 2, but the police had refused permission saying the situation was tense following the Centre's nationwide ban on the Popular Front of India, seen as a radical Islamist organisation.
The DMK and its allies such as the Congress, Left parties, MDMK, Dalit party VCK and some Muslim parties had opposed any RSS rallies on October 2, saying such a programme would be an affront to the memory of Mahatma Gandhi. They had organised a human chain to fight divisive forces.
Justice Ilanthirayan had then asked the RSS to suggest alternative dates and later directed the police to consider allowing the marches on November 6.