NRC: Amit Shah's total normalcy
In Kashmir, the new normal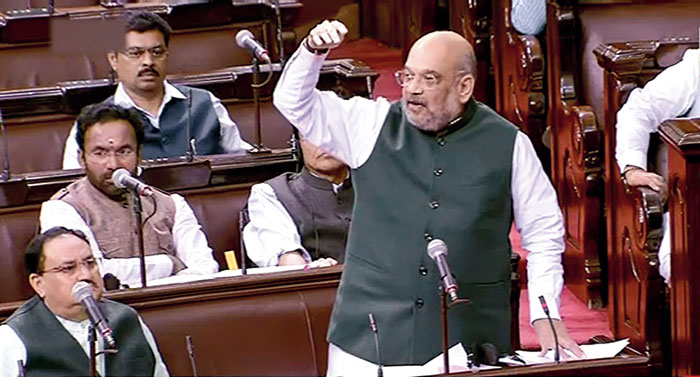 ---
---
Union home minister Amit Shah told the Rajya Sabha on Wednesday that the "whole situation is normal" in Kashmir and reeled off figures to support his claim.
The following are statements by Shah and how they measure up on the ground:
Shah: The whole situation is normal in Kashmir.
On the ground: The Valley was largely shut for the first 100 days. Pronounced signs of normality have surfaced but over the past one week. The whole situation is not normal yet.
Many students are still not attending classes. Some who have joined their classes do not wear uniform. Shops still remain largely shut after around noon in some areas and after 5pm in other areas. Internet, SMS and prepaid mobile services are still suspended.
The Centre told Parliament on Wednesday that of the 5,161 people picked up since August 4, as many as 609 are still in detention. Several of them are political prisoners. Not ideal if the whole situation is normal.
Shah: Not a single person has died in police firing since August 5 when the Centre abrogated the special status of the state.
On the ground: The massive government clampdown ensured there was little violence. Several people, however, lost their lives in alleged government action. Soura resident Asrar Ahmad died on September 4 after being hit by pellets fired by forces. Palapora resident Osaib Altaf died after he jumped into a river to escape a security force chase. A Pulwama youth allegedly committed suicide following harassment by forces. Scores of people have been injured, many hit by pellets.
Shah: Government offices are functioning fully.
On the ground: Shah is correct.
Shah: As many as 20,114 schools have opened. Out of 50,537 students, 50,272 students or 99.48 per cent have appeared for exams.
On the ground: It is exam season in Kashmir and most students are appearing but only after staying away from classes all these months. There seems to be consensus across the board in the Valley that students should not lose their academic year.
Shah: Health centres and banks are functioning fully.
On the ground: Health services and banks were badly hit for the initial weeks but are near-normal now. But that is not good enough. Many continue to suffer.
A doctor at the Save Heart voluntary organisation, which relies on the Internet to connect to 1,200 doctors in the state to treat heart patients, has not been able to operate since August 5.
Shah: Urdu and English dailies and all TV channels are functioning and circulation of newspapers has increased.
On the ground: Media is still hit. It has no access to the Internet and has to depend on one government-run centre in Srinagar. Hundreds of journalists have to queue up for their turn every day.
There are no Valley-based TV channels. The local newspapers are functioning but not normally. Editorials were absent for weeks allegedly because of fear. Editorials have returned but they are not about the situation. There has not been a single write-up in any major newspaper by any local columnist critical of the decision to scrap the special status. Some reproduce critical articles that appear in national newspapers. The opinion pieces are mostly about spirituality, health and international affairs.
A local editor said circulation has shot up by around 10 to 20 per cent as people have no access to the Internet and also because "hunger for news increases during every crisis". The newspapers largely reflect the government's version of events.
Shah: Courts are functioning fully. They have heard 36,192 cases and delivered orders in as many as 500 cases.
On the ground: Not correct. Lawyers are boycotting the courts and appear only in habeas corpus cases. Judges and government lawyers, however, turn up regularly and these cases have been heard in the absence of petitioners' counsel.
Shah: Even the Block Development Council (BDC) elections were held peacefully and successfully.
On the ground: The BDC elections were held peacefully. The BJP was the only major party, which participated in the polls to the BDCs, or second tier of panchayati raj institutions, held in October.
Shah: Internet connection will be restored after the local administration feels it is fit to do so. Neighbouring country is still doing some mischief.
On the ground: A complete information blockade was enforced on August 5. The ban on landlines and post-paid mobiles was gradually lifted. The ban on Internet services continues, although official sources said 20,000 broadband connections would be restored in a few days. Millions of people using mobile Internet will continue to have no access to the Web anytime soon.
Shah: Prohibitory orders under Section 144 are prevalent only in certain areas from 8pm to 6am in the Valley.
On the ground: True but restrictions are re-imposed as and when required. The government recently disallowed celebrations at the famed Hazratbal shrine on Prophet Muhammad's birthday. A small gathering was allowed. There have been no Friday prayers at Srinagar's Jamia Masjid for the past three-and-a-half months.
Shah: The cooperative, Nafed, has so far procured about 6,000 tonnes of apples from Kashmir. Apple production is estimated to be 22.58 lakh tonnes this year and the government is facilitating traders for sale of the fruit.
On the ground: The figures reveal that Nafed has not procured even 1 per cent of the apple produce. An apple grower said the crop — with a turnover of Rs 10,000 crore — has suffered immensely and most growers refused to do business through Nafed, partly because the growers were either not interested to do business through the government or did not want to break the traditional chain involving apple traders from outside the state.
Footnote: Leader of Opposition in the Rajya Sabha Ghulam Nabi Azad said: "It looks like the home minister is referring to the report of some other state." In Srinagar, a newspaper editor said: "We are normal because perhaps this is going to be the normal in Kashmir."