Muslim bride and Hindu groom? It's love, not jihad
UP police arrests Muslim men and Hindu women and/or their relatives under a new state ordinance that criminalises religious conversion for marriage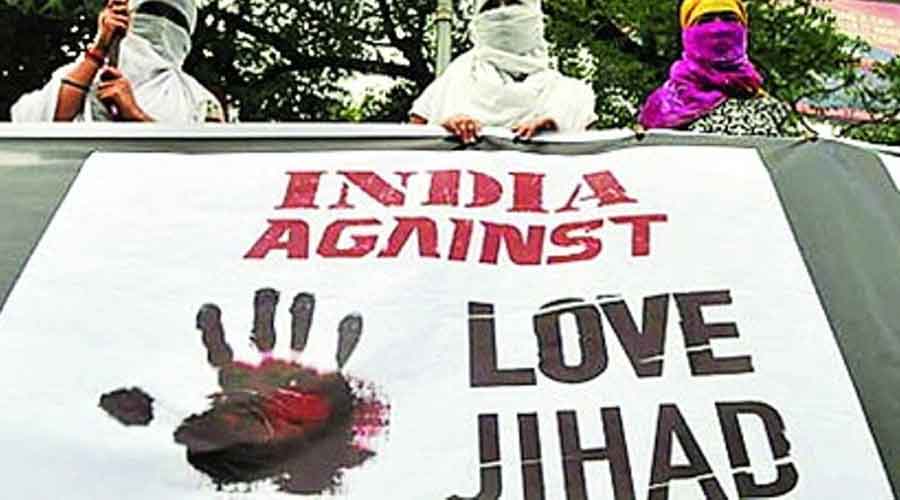 ---
|
Lucknow
|
Published 12.12.20, 01:12 AM
---
When a Muslim woman eloped with a Hindu man in Bareilly last week, the police saw no love jihad or yuddh, deciding that as consenting adults they had the right to live together.
But in several recent instances where the men were Muslim and the women Hindu, the Uttar Pradesh police arrested the men or their relatives under a new state ordinance that criminalises religious conversion for marriage and became law on November 27.
While the ordinance is not religion-specific in its phrasing, BJP leaders have made it clear that it's aimed at checking "love jihad" – an alleged conspiracy by Muslim men to marry, convert and radicalise Hindu women. Chief minister Yogi Adityanath had been among the first to allege such a conspiracy.
The father of a Muslim woman had registered a case at Prem Nagar police station, Bareilly, on December 5 alleging a young Hindu, Aman Kumar, had lured and kidnapped his daughter.
"I registered the case under the Uttar Pradesh Prohibition of Unlawful Conversion of Religion Ordinance, 2020. But the police were sceptical from the beginning," the father told reporters in Bareilly on Thursday.
"The police rescued my daughter, who was under the influence of the man with whom she had eloped, on December 6 and produced her in court, where she said she had gone with the man willingly."
The father said Aman was trying to convert his daughter to Hinduism. "But the police let her go with him. They didn't let us meet her — we wanted to convince her that her future was not safe with the man."
Bareilly city superintendent of police Ravindra Kumar dismissed the father's contentions.
"It's a case of love between adults. There's no angle of religious conversion in the case; so they were allowed to go wherever they wanted," he said.
When a similar case was registered against a Muslim man on December 7 in the Kanth area of Moradabad, however, the police arrested the accused and his brother. They sent his "Hindu" wife to a remand home despite her being an adult and five months pregnant.
The 22-year-old woman said she had undergone a court marriage with Mohammad Rashid six months ago in Uttarakhand and converted to Islam at the time, and that the ordinance was incorrectly being applied retrospectively under prodding from the Bajrang Dal.
She said Bajrang Dal members had accosted the couple on Sunday and alleged that Rashid was pressuring her to convert to Islam.
"We arrested Rashid and his elder brother Mohammad Saleem under the provisions of the new ordinance and sent the woman to a remand home when she refused to go to her parents," Kanth circle officer Balram Katheria said.
But before being sent to the remand home, the woman told reporters in Moradabad the case was based on falsehoods.
"I'm from (adjoining) Bijnore district. While working at a beauty parlour in Dehradun, Uttarakhand, I met a barber and we had a court marriage there. I changed my religion soon after the marriage," she said.
"But the Bajrang Dal somehow contacted my mother in Bijnore and persuaded her to submit a false police complaint (in Moradabad) saying I was being forced to convert after the new ordinance was issued."
On December 5, the police had arrested seven family members of a Muslim youth from the Tambor area of Sitapur district for allegedly helping him "lure and kidnap" a Hindu girl on November 23.
"A relative of the girl lodged a police complaint on November 27 under the new ordinance. Mohammad Jubrail, the main accused, is absconding. We are trying to find the girl too," Sitapur additional superintendent of police Rajiv Dixit said.
Police sources and the families confirmed that the woman was an adult.
The Adityanath cabinet issued the ordinance on November 24, and governor Anandiben Patel cleared it on November 27.
It criminalises religious conversion for the sake of marriage, and invalidates such marriages. It says inter-faith lovers must apply to their district magistrate two months in advance for permission to marry (without conversion). It prescribes 1 to 10 years' jail or a fine ranging from Rs 15,000 to Rs 25,000, or both for violations.
Days before the Bareilly police let off Aman Kumar, they had arrested Owais Ahmad on December 3 on a complaint from a Hindu man from the Devraniya area of the district accusing the youth of pressuring his daughter to elope and convert.
"A case was registered under the new ordinance on November 28 and the accused was arrested after five days," deputy inspector-general (Bareilly zone) Rajesh Kumar Pandey said.
He said Owais had been harassing the woman for the past three years and that she had confirmed this. He added that Owais had been booked under sexual offence sections, too.
According to the woman's father, she had married another man in June but Owais was threatening him to bring her back and hand her over to him.
Owais's father Mohammad Rafiq told reporters the woman had levelled the harassment charge under pressure from her family.
"She is an adult and lived with Owais willingly for a few days. Later, she returned home and was married off elsewhere," he said.
"The girl's father met me recently and said he bore us no ill will. I don't know why he and his daughter registered the case against Owais after that."