Modi, senior BJP leaders focus on Ayodhya in Kalyan Singh tributes
Babri Masjid was demolished in 1992 on Kalyan's watch as Uttar Pradesh chief minister — an occurrence that changed Indian politics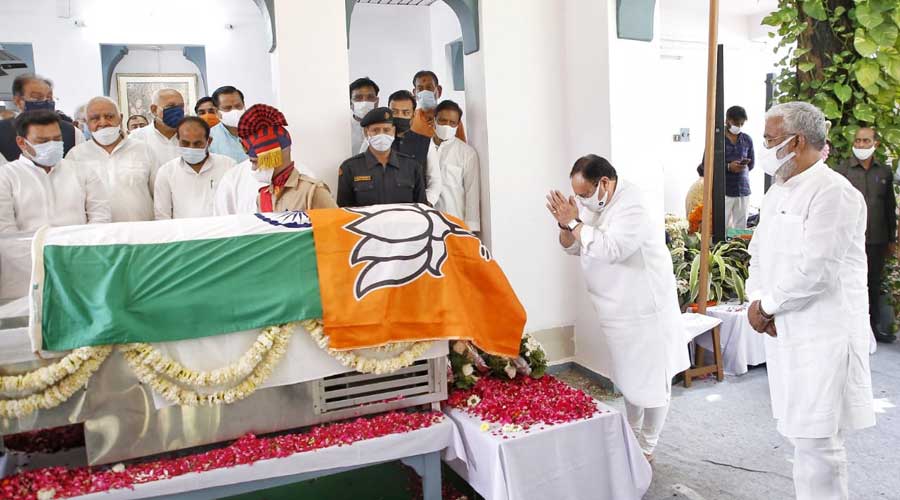 ---
Lucknow
|
Published 23.08.21, 01:14 AM
|
---
Prime Minister Narendra Modi repeatedly invoked Ram as he and other senior BJP leaders gathered in Lucknow on Sunday to pay tributes to Kalyan Singh, who had passed away on Saturday at the age of 89.
Several BJP leaders underlined how the Babri Masjid was demolished in Ayodhya in 1992 on Kalyan's watch as Uttar Pradesh chief minister — an occurrence that changed Indian politics and which the BJP turned into political capital while the courts exonerated its leaders.
The under-construction Ram temple in Ayodhya is expected to be a key BJP plank during the upcoming Uttar Pradesh Assembly polls, whose results could be crucial to Modi's fortunes in the 2024 general election.
During an interaction with the media, Modi said: "I pray at the feet of Lord Shri Ram that he gives refuge to Kalyan Singh, gives his family the strength to bear this grief, and gives solace to all the suffering people of this country who believe in this country's values, ideals, culture and tradition."
Earlier in the morning, chief minister Yogi Adityanath had tweeted (from @myogioffice) in Hindi: "Respected Kalyan Singhji didn't hesitate to give up power for the construction of a magnificent temple to Maryada Purushottam Bhagwan Shri Ram at his holy birthplace. Taking moral responsibility for the demolition of the controversial structure on December 6, 1992, he had immediately resigned as chief minister."
श्रद्धेय कल्याण सिंह जी को एक राजनीतिक संत कहूं, जिसे पद-प्रतिष्ठा का मोह छू तक न गया हो अथवा दृढ़ संकल्प के प्रतिमूर्ति मानूं, जो लक्ष्य का संधान होने तक अर्जुन की भांति एकनिष्ठ भाव के साथ प्रयत्नशील रहे और अंततः सफलता ने उनका वरण किया....

दिवंगत पुण्यात्मा को मेरी शब्दांजलि... pic.twitter.com/Lxo2MeSUs4

— Yogi Adityanath (@myogiadityanath) August 22, 2021
Kalyan had assured the then Congress government of P.V. Narasimha Rao at the Centre that no harm would come to the Babri Masjid. However, an army of kar sevaks, egged on by Sangh parivar leaders, pulled the mosque down on December 6, 1992.
Following this, the Kalyan government was dismissed and President's rule imposed. Allahabad High Court later detained Kalyan for a day for allowing the destruction of the mosque after having submitted an affidavit saying nothing untoward would happen if the kar sevaks were allowed entry into Ayodhya.
The Liberhan Commission, instituted by the Centre to probe the demolition, had alleged a conspiracy by Kalyan's government and Sangh parivar leaders. However, a lower court in Lucknow acquitted Kalyan and the others in September 2020.
Kalyan, however, used to openly claim credit for the demolition.