Modi: Pained by lynching
He also sought to equate lynchings with political murders in Opposition-ruled states like Bengal and Kerala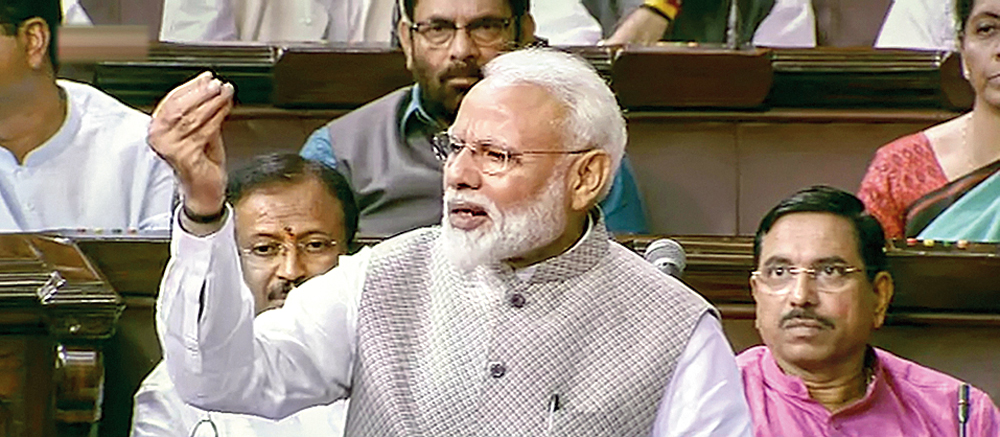 ---
---
Prime Minister Narendra Modi said on Wednesday that the recent lynching in Jharkhand had pained him but added that the entire state should not be put in the dock.
The Prime Minister also sought to equate lynchings with political murders in Opposition-ruled states like Bengal and Kerala.
"The lynching in Jharkhand has pained me. It has saddened others too. The guilty should get the severest punishment but for this, the entire state has been pronounced guilty and everyone put in the dock, which is not right," Modi said while replying to the debate in the Rajya Sabha on the motion of thanks to the President's address.
He said the "security of every citizen is our constitutional duty" but it was wrong to call Jharkhand an "adda (den)" of lynch mobs. "Is this fair? Why are they insulting a state? None of us has the right to insult the state of Jharkhand," Modi said.
"All kinds of violence, whether in Jharkhand or West Bengal or Kerala, should be treated the same and the law should take its course," the Prime Minister added.
Tabrez Ansari, 24, had died on Saturday after he was tied to a pole and beaten in Saraikela in Jharkhand on June 18 on suspicion that he was a thief. The contents of a video clip, whose authenticity is still being verified, suggest that Ansari was forced to chant religious slogans by the crowd.
Modi described the deaths of over 150 children in Bihar from acute encephalitis syndrome as a matter of "shame" and the "biggest failure" of seven decades.