Srinagar: Mirwaiz Umar Farooq exposes 'no house arrest' lie
Large contingent of police and paramilitary forces prevent separatist leader from leaving his home at Nagin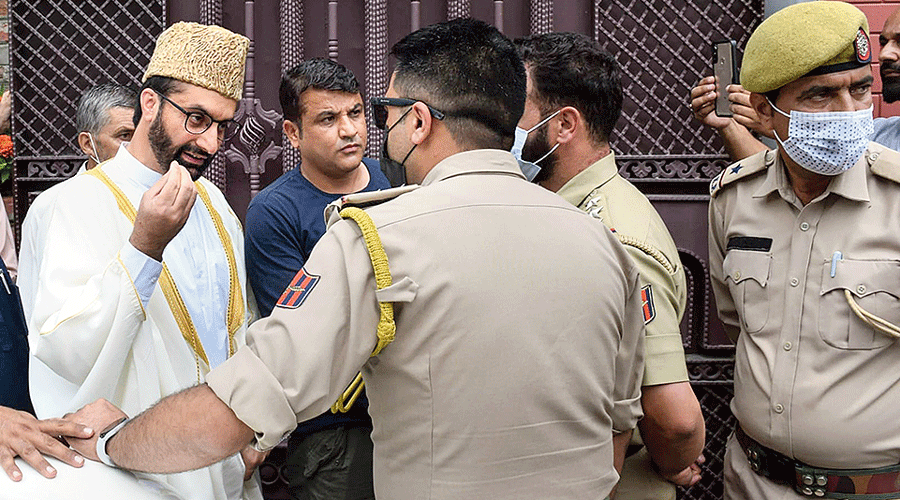 Mirwaiz Farooq speaks to policemen after being barred from stepping out of his house in Srinagar on Friday.
PTI picture
---
Srinagar
|
Published 27.08.22, 12:56 AM
|
---
Moderate Hurriyat chief Mirwaiz Umar Farooq was on Friday allegedly barred from stepping out of his home to address his first sermon at Srinagar's Jama Masjid in years, calling into question lieutenant governor Manoj Sinha's public claim that he was a free man.
A large contingent of police and paramilitary forces prevented the separatist leader, allegedly under house arrest for over three years, from leaving his home at Nagin in Srinagar. The government has persistently denied his house arrest, as it had done in the case of several other top politicians in the past.
A large crowd waited for Mirwaiz Farooq at the mosque and many of them were seen waving placards reading "Stop Telling Lies, Release Mirwaiz". There was heavy deployment of forces around the mosque.
Sinha had recently told a foreign channel that the Mirwaiz was not under house arrest but had apparently locked himself in.
Mirwaiz Farooq was among thousands of politicians and activists who were arrested or put under house arrest following the August 5, 2019, scrapping of Jammu and Kashmir's special status. But he alone allegedly remains under house arrest.
Videos on Friday showed Mirwaiz Farooq arguing with police officers as he urged them to let him visit Jama Masjid, where he is the chief cleric. He is heard telling them that his basic human rights and religious freedoms are being violated and that he has not been informed about the charges.
"There has been a statement at the highest level. It is not by police or bureaucrat but by Mr Governor, who has said it very responsibly. People are waiting for me but why are you stopping me?" the mirwaiz is seen telling the police.
"If I am a free man, then why such restrictions? You (government) claim people are enjoying (after the 2019 dilution of Article 370). If they are happy, let me join in their happiness," Mirwaiz Farooq adds, sarcastically.
The Hurriyat leader, dressed in his traditional religious attire, is seen reminding the cops of how he was prevented from visiting the graves of his near ones who died in the past three years.
In an interview to BBC Hindi Service last week, Sinha was asked why Mirwaiz Farooq continued to be under house arrest.
"If you look back, certain incidents happened, including the unfortunate killing of his father (in 1990). We keep police around (his residence) so that he is secure. He should himself decide what he wants. From our side, he is neither under house arrest nor arrested," the lieutenant governor said.
Over the next few days, several journalists who tried to visit the Mirwaiz's home for interviews were stopped by security forces from going in.
On Thursday, the organising committee of Jama Masjid announced that Mirwaiz Farooq would address the Friday gathering, apparently to expose Sinha's claims.
In 2020, the issue of house arrest, deemed illegal, had reached the Supreme Court where the government claimed that Congress leader Saifuddin Soz was not under such detention.
The next day, Soz was heckled by policemen as he tried to speak to the media from behind the barbed wires around his home, purportedly to call out the alleged bluff of the government.
Srinagar's Jama Masjid, seen as ground zero of Kahsmir's azaadi (freedom) struggle, was shut for months for Friday prayers after the 2019 scrapping of special status. There were protests at the mosque this April with pro-azaadi slogans being raised.
The police arrested over a dozen alleged protesters and booked them for sedition, part of its policy of zero tolerance of any form of dissent.