Kashmir palm-stamping a mistake: Official
An image of the stamped palm on social media had triggered outrage in the Valley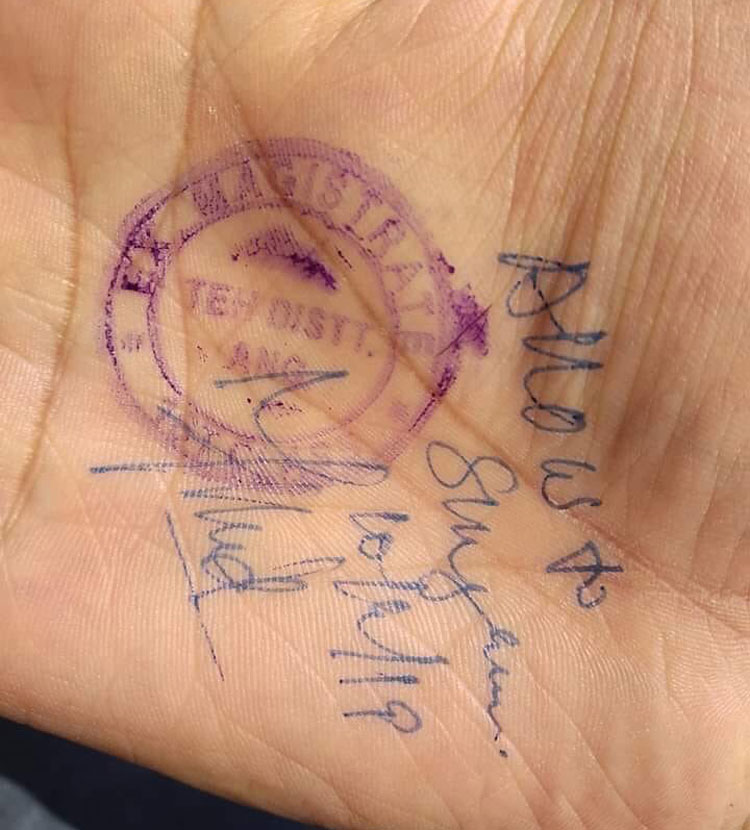 The image showing the stamp on the palm
Source: @OmarAbdullah on Twitter
---
Srinagar
|
Published 12.04.19, 02:03 AM
|
---
The state administration on Thursday confirmed it had identified the official who had stamped a citizen's palm as a form of travel permission, adding that he had claimed to have done it "in good faith" and apologised for the "inadvertent" mistake.
An image of the stamped palm on social media had triggered outrage in the Valley on Wednesday and invited comparisons with the alleged Nazi practice of tattooing the skin of Jewish inmates of concentration camps with their identification numbers.
Many saw it as further evidence of the state administration's "authoritarian mindset" under governor Satya Pal Malik.
The governor's administration had last week declared that the 270km highway that links Kashmir to the outside world would be blocked to civilians on Sundays and Wednesdays till the end of the general election to facilitate troop movement and avert Pulwama-type attacks.
Exemptions were to be provided to people in case of emergencies. Apparently, the person who had his hand stamped had applied for such exemption.
Officials had on Wednesday said the authenticity of the social media image was yet to be established but had promised an investigation.
Anantnag additional deputy commissioner Parvez Sajjad on Thursday said a naib tehsildar — a lower-rung revenue official — from his district was found to have stamped the palm and that an explanation had been sought from him.
"We wrote in the letter that it should not have been done this way," Parvez told The Telegraph.
"He has responded and apologised for it, though he has said he committed the mistake inadvertently. He had no motive and said he did it in good faith. There was a lot of rush and the (applicant) pleaded that his mother was unwell. So in a hurry he wrote on his palm."
Sajjad said it was a solitary instance and the particular official was dealing with a lot of applicants. "I know him personally: he is a good officer, very literate and has a doctorate in Urdu," he said.
He would not name the official. The man whose hand was stamped has not revealed his identity, either, so the official version could not be independently confirmed.
Among those to criticise the hand-stamping on Wednesday was former chief minister Omar Abdullah.
"Their hands are being stamped & written on. I don't know what to say!" he had tweeted. "Should we be flippant & mock the attempt at saving paper? I'm just angry at the degrading, inhuman treatment being meted out to people."
Senior politicians including Omar and rival Mehbooba Mufti hit the highway briefly on Wednesday in symbolic defiance of the travel ban, which has triggered comparisons with Israel's lockdown of the Gaza Strip.
The ban led to chaos on Sunday and Wednesday, the first two days it was enforced, leaving hundreds of vehicles stuck at crossings.