Jammu: Four soldiers, two militants killed in Rajouri attack
Defence spokesperson says sentries at army post in Parghal had detected suspicious people approaching them, taking advantage of poor weather and dense foliage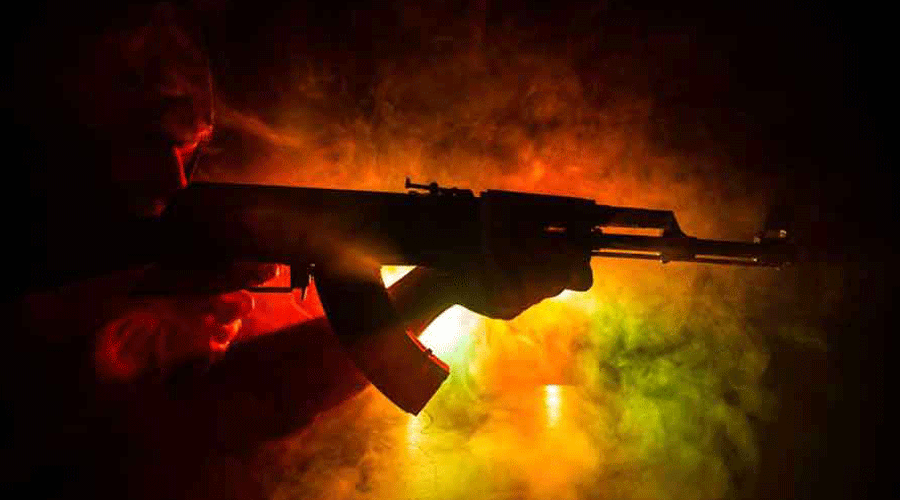 Representational image.
File photo
---
Srinagar
|
Published 12.08.22, 03:05 AM
|
---
Four soldiers were killed and two were injured in a pre-dawn militant attack on an army post in Rajouri in a part of the district in Jammu that has remained peaceful for three decades.
The suspected fidayeen attack is being seen as a sign that militants are turning their attention to quieter territory in Jammu at a time the challenge posed by them in Kashmir is far from over.
Officials said two militants were involved in the attack and both were killed. It was the deadliest attack in years
in Jammu's Pir Panchal region, of which Rajouri is a part, and came amid heightened security ahead of the 75th anniversary of India's independence.
A Jammu-based defence spokesperson said that sentries at the army post in Parghal, Rajouri, had detected suspicious people approaching them, taking advantage of poor weather and dense foliage.
"The sentries challenged the two terrorists, who threw grenades while attempting to gain entry into the post. However, alert troops cordoned off the area and engaged them in a fire fight, thereby pinning them down," the spokesperson said.
He said it was a "suicide attack", and it was repulsed.
The army identified the slain soldiers as Subedar Rajendra Prasad from Jhunjhunu in Rajasthan, Rifleman Lakshmanan D. from Madurai in Tamil Nadu, Rifleman Manoj Kumar from Faridabad in Haryana, and Rifleman Nishant Malik.
Officials said security forces had rushed to the area to conduct searches since more militants could be present there.
Parghal village is part of the Darhal area of Rajouri. Although Rajouri is a border district, Darhal is a long distance from the Line of Control.
"It was probably the first attack in Darhal in decades. We had seen militancy in the area in the mid-1990s. But the area had remained peaceful all these years. It (Thursday's attack) is indeed worrying," local National Conference leader Chowdhary Liaqat Naseem said.
"Such attacks show that militancy is surging again. Now we routinely hear news that people are being arrested in militancy-related cases."
Police sources said Parghal was 35km from Draj in adjoining Budhal, home to purported BJP leader turned Lashkar commander Talib Hussain Shah who was arrested last month.
The police say Hussain has been instrumental in all the major attacks in the Pir Panchal region over the past three years, but Thursday's attack suggests the militants still have a presence in the area.
Jammu province has witnessed multiple militant attacks since the 2019 scrapping of Article 370 provisions. These possibly mark an effort by militants and their Pakistani backers to revive militancy in the Muslim-majority regions of Pir Panchal and Chenab Valley.
Although the government has repeatedly claimed to have brought down the number of militant attacks, a report by retired bureaucrats, former army officers and academics on Monday said that civilian security had worsened in Jammu and Kashmir.
The latest attack comes at a time the Jammu and Kashmir government is busy preparing for the Independence Day celebrations and has drafted in thousands of students for the event. There have been multiple allegations that the administration is forcing people to participate.
Jammu and Kashmir BJP chief Ravinder Raina blamed the attack on Pakistan, saying it was perturbed by the growing numbers of Tricolours being unfurled in the Union Territory. He complimented the security forces for "foiling" the attack.