India, US set to sign agreement
Development gains 'significannce' at a time China has been increasingly flexing its muscle in the region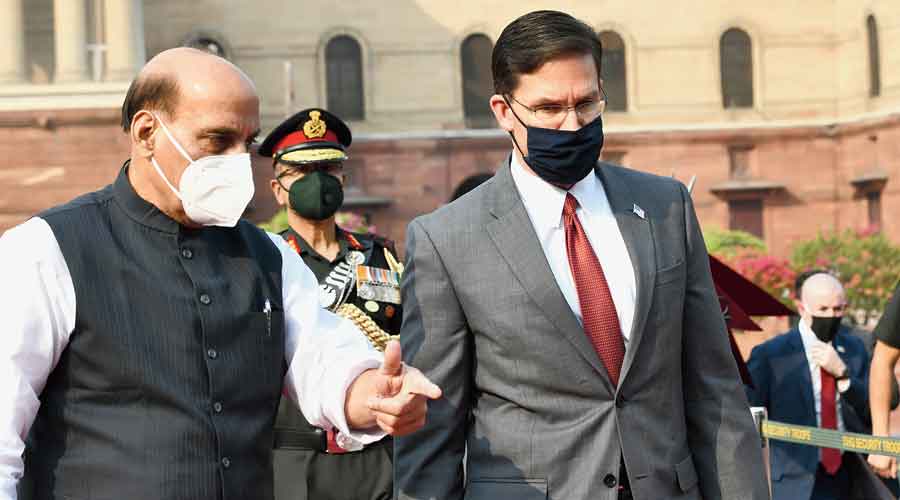 ---
---
India and the US will on Tuesday sign the Basic Exchange and Cooperation Agreement (BECA) for geospatial intelligence to expand their military relationship, government sources said.
Sources in India's defence ministry described the development as "very significant" at a time China has been increasingly flexing its muscle in the region.
The two countries decided to sign the agreement after an hour's meeting on Monday between defence minister Rajnath Singh and US defence secretary Mark Esper at South Block. On Tuesday, a two-plus-two dialogue is scheduled between the two countries' defence and foreign ministers.
"Rajnath Singh and Esper held extensive talks, covering various aspects of the fast-expanding defence and strategic ties, including possible ways to deepen the military-to-military cooperation between their countries," a defence ministry official said.
"The signing of the BECA is very significant considering China's aggressive posture, and will pave the way for more cooperation in defence, security and intelligence. It will convey an unambiguous message about the growing relationship between India and the US."
The official, however, declined to say whether Rajnath and Esper had discussed the India-China border standoff.
In a statement, the defence ministry said the two ministers "reviewed bilateral defence cooperation, spanning military-to-military cooperation, secure communication systems and information sharing, defence trade and industrial issues and also discussed ways to take bilateral cooperation forward".
"The two ministers expressed satisfaction that an agreement of BECA will be signed during the visit. US secretary of defence welcomed Australia's participation in the exercise Malabar 2020," the statement said.
India had last week announced that Australia would join the upcoming Malabar exercise, which means that all the four member countries of the "Quad" or Quadrilateral coalition will be participating in the November-end drill. The other members are India, the US and Japan.
The decision to include Australia comes amid the military standoff between India and China. The exercise will bring together the militaries of the Quad group in the Bay of Bengal.
During Monday's meeting with Esper, Rajnath broached the "Make in India" campaign.
"Defence minister elaborated upon the initiatives under the Atmanirbhar Bharat to encourage investments in the defence industry in India and invited US companies to make avail of the liberalised policies and the favourable defence industry ecosystem in India," the defence ministry statement said.