The army chief, General Manoj Pande, arrived in Ladakh on Saturday amid the India-China disengagement process at Gogra-Hot Springs or Patrolling Point 15, where the two sides are stepping back after a two-year standoff.
Sources in the security establishment said India was keeping a close watch on the exercise, mindful of the Galwan Valley bloodshed two years ago when, they asserted, India had been "misled" by a Chinese pretence of disengagement.
"Army commanders have been asked to minutely monitor each and every movement by the Chinese army and conduct physical verification of how far they have pulled back," an Intelligence Bureau official told The Telegraph.
The Galwan Valley clash of June 15, 2020, had killed 20 Indian soldiers and four Chinese troops, according to official versions.
"This time we don't want to be misled again and this is why every action by the Chinese troops is being watched closely and followed up minutely on the ground," a defence ministry official said.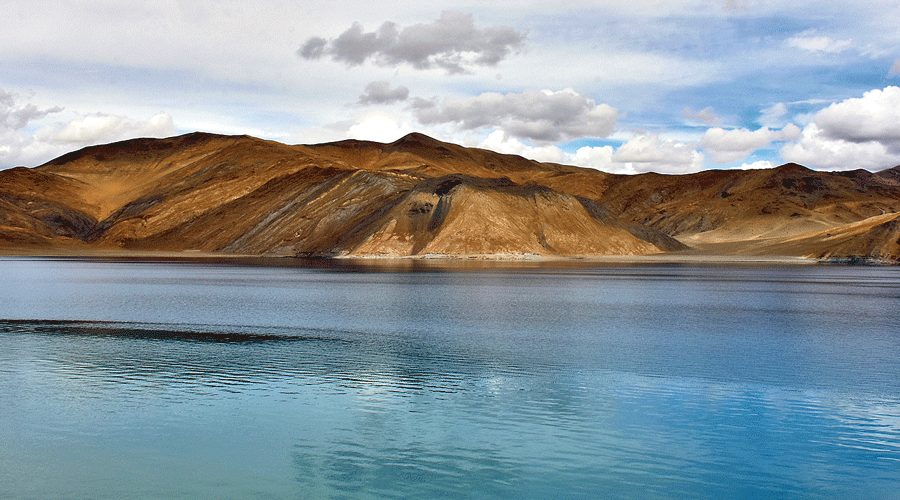 The Pangong lake in Ladakh. File picture
The Galwan Valley clash had been triggered by an argument over Chinese soldiers pitching a tent on the southern bank of the Galwan river near Patrolling Point 14 on the Indian side.
The situation turned violent when the Chinese troops, armed with clubs, rocks and barbed wire, attacked Indian soldiers.
On Thursday, the defence ministry announced that both sides had begun withdrawing from the Gogra-Hot Springs area, with the process expected to be completed by September 12.
The announcement came a week ahead of the Shanghai Cooperation Organisation meeting in Uzbekistan, which Prime Minister Narendra Modi and Chinese President Xi Jinping are expected to attend.
India's foreign ministry said on Friday that the disengagement process in Gogra-Hot Springs had begun on September 8.
The two sides have agreed to stop forward deployments in the area in a phased, coordinated and verified manner, resulting in both sides returning to their respective areas, it said.
"It has been agreed that all temporary structures and other allied infrastructure created in the area by both sides will be dismantled and mutually verified. The landforms in the area will be restored to pre-standoff period by both sides," the ministry said in a statement.
The two countries have already completed "partial" disengagement from four other areas – the Galwan Valley, the north and south banks of the Pangong Lake, and Gogra (Patrolling Point 17A) — by creating demilitarised "buffer zones".
At each of these places, the Chinese have stepped back a few kilometres while still remaining within India-claimed lines, while the Indians have retreated by an equal distance, attracting allegations of ceding more territory.
A no-patrolling buffer zone has been created also at Gogra-Hot Springs, sources said.
The Chinese are yet to disengage from the strategic Depsang Plains where they are said to be entrenched 18km inside India-claimed lines.