Farm protest: Message of unity at Muzaffarnagar Mahapanchayat
Over five lakh farmers gathered at the Government Inter College ground that was filled to capacity, with large crowds spilling outside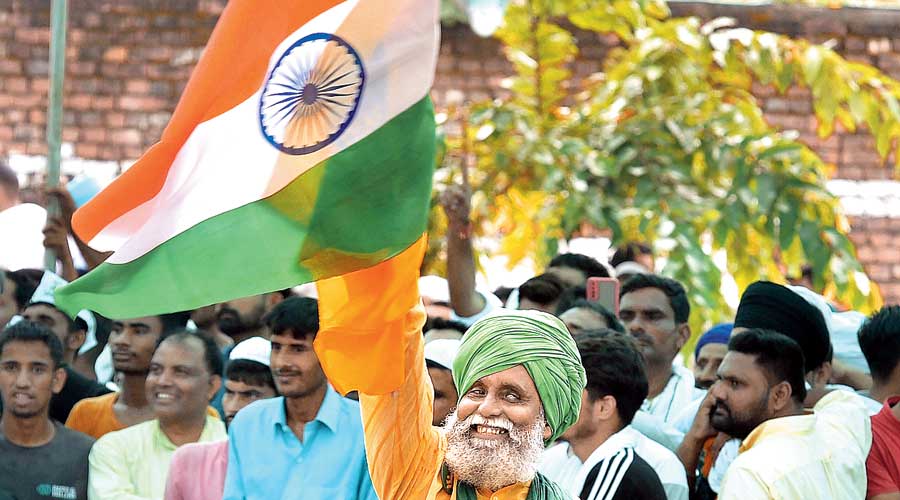 A farmer holds aloft the Tricolour at the mahapanchayat in Muzaffarnagar on Sunday
PTI
---
Lucknow
|
Published 06.09.21, 01:45 AM
|
---
The chants of "Allahu Akbar" and "Har Har Mahadev" rang out in unison on Sunday at a mahapanchayat in Muzaffarnagar, the district in Uttar Pradesh that was left blood-stained by riots in 2013 that became a stepping stone to power for the BJP in the elections that followed.
Over five lakh farmers gathered at the Government Inter College ground that was filled to capacity, with large crowds spilling outside, to send a message to the BJP ruling in the state and at the Centre that if the three farm laws were not repealed, the party would pay in the Assembly elections next year.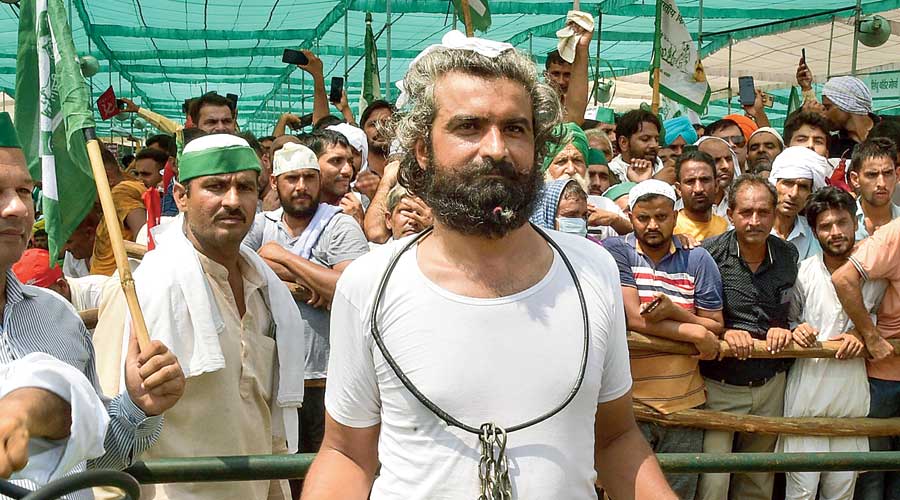 "Allahu Akbar," chanted Rakesh Tikait, a Jat leader of western Uttar Pradesh who had sided with the BJP in the last Assembly elections. "Har Har Mahadev," the crowd chanted back.
"Such slogans were chanted here in the past too…. Allahu Akbar-Har Har Mahadev. These slogans were raised. The slogans of Har Har Mahadev and Allahu Akbar were raised from this very soil. These slogans will always be raised here. There will be no riots here," Tikait, the spokesperson of the Bharatiya Kisan Union (Tikait), said.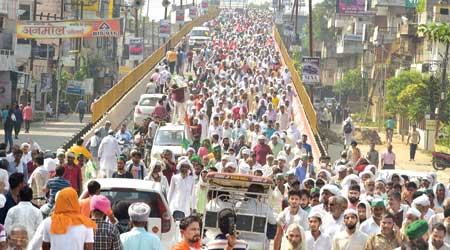 "If there are such governments in the country, they will engineer riots," the farmer leader added. "They will divide, we will unite."
The riots of 2013 that left 50 people dead and over 50,000 displaced had shattered the Jat-Muslim harmony in Muzaffarnagar. The polarisation helped the BJP win power in the 2017 Assembly elections as the Jats sided with the party.
Sunday's rally was called by the Samyukta Kisan Morcha, an umbrella organisation of farmer unions from across the country that is leading the now nine-month sit-in at Delhi's borders against the three laws that the farmers believe will rob them of their land and livelihood and allow corporate houses to take over agriculture.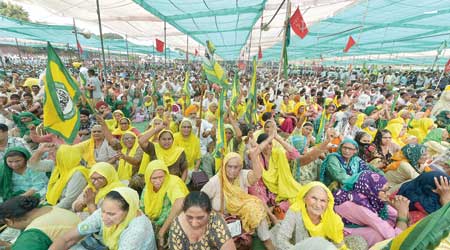 "The Centre has sent across the message that India is on sale — be it the country's airports, ports or land. There are 14 crore unemployed people in our country and they are taking forward the farmers' movement to prevent the sale of public and peasants' properties," Tikait said.
"More such meetings will be held across the country. We have to stop the country from being sold. Farmers should be saved, the country should be saved, businesses, employees and youth should be saved — this is the aim of the rally," he added.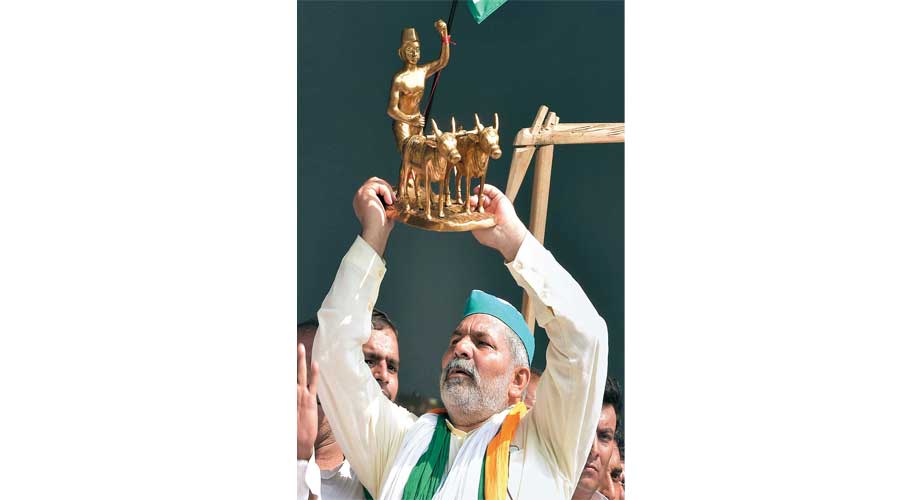 Varun call
BJP MP Varun Gandhi later described the protesting farmers as "our own flesh and blood" and said the government should re-engage with them.
"Lakhs of farmers have gathered in protest today, in Muzaffarnagar. They are our own flesh and blood. We need to start re-engaging with them in a respectful manner, understand their pain, their point of view and work with them in reaching common ground," he tweeted.
Lakhs of farmers have gathered in protest today, in Muzaffarnagar. They are our own flesh and blood. We need to start re-engaging with them in a respectful manner: understand their pain, their point of view and work with them in reaching common ground. pic.twitter.com/ZIgg1CGZLn

— Varun Gandhi (@varungandhi80) September 5, 2021