#DontSpareRapistBaba: What Twitter said about the prospect of Ram Rahim's parole
Some reminded the government about Beti Bachao Beti Padhao, while the sect leader's supporters tried to promote his work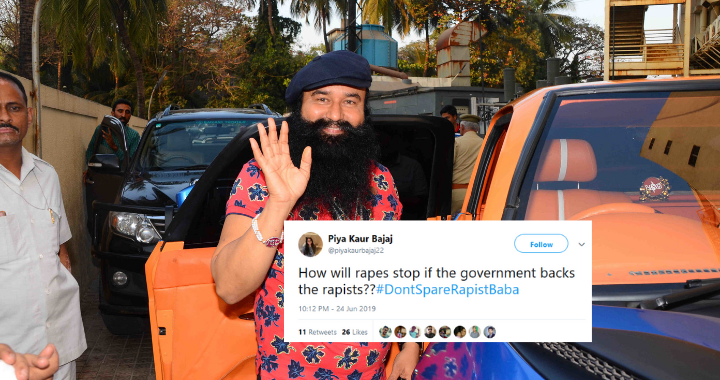 ---
---
#DontSpareRapistBaba A rapist is a rapist. But Baba Ram Rahim is A SERIAL RAPIST. A HARDCORE CRIMINAL. A POWERFUL PERSON.
Parole should not be granted to him.
It will send a wrong signal to the Society.
It will also create a bad precedent. pic.twitter.com/WjFBOiIg1j

— Mohammed Jaleel Kashif (@jaleelmdkashif) June 24, 2019
Ram Rahim was jailed after he was convicted of raping two of his devotees and murdering a journalist, Ram Chander Chhatarpati.
Chhatarpati had published a letter in 2002 written by one of the devotees raped by Ram Rahim.
Ram Rahim was sentenced for 20 years on two rape charges in October 2017. In January 2019, he was convicted of murder.

#NoMoreSufferings
Saint Ram Rahim Ji organised medical camps time to time in which pateints checked by superspecialist doctors at free of cost and medicines also provides to them @Gurmeetramrahim @derasachasauda pic.twitter.com/sJMuyZDiUA

— Gudu Insa (@InsaGudu) June 25, 2019
Why is there hush hush, when it comes to exceptionally great works done by #BabaRamRahim at Sunaria?

Court can give parole to those who have great political influence, even if they are part of multiple murders and crimes, but not to Baba Ram Rahim who is fully cooperating. Why??

— Tanushree Katyaal (@TKatyaal) June 24, 2019
- He is in jail for rape, castration and murder.

- He might get released soon because he wants to do "agriculture".

- His million of followers cast their vote on his command.

- Also Haryana's assembly elections will be held in a couple of months.#DontSpareRapistBaba pic.twitter.com/RGbg3x4VCQ

— Bharat Ek Mauj (@BharatEkMauj) June 24, 2019
Gurmeet Ram Rahim Singh Insan, the self-styled godman behind bars since 2017 after being convicted in two rapes cases and for murdering a journalist, has sought parole for 42 days for farming on his land in Sirsa.
The Sunaria jail superintendent in Rohtak had written to the district administration mentioned that the Dera Sacha Sauda sect chief's conduct in prison was good and he had not violated any rule. Sirsa police is yet to give its recommendation on the question of parole.
After news of the jail superintendent's recommendation started circulating, some said the move was politically motivated.
A few BJP leaders defended the possibility of parole, citing either the "rule of law" or the "good behavior" shown by Ram Rahim during his time in jail.
Gurmeet Ram Rahim is known to have been a political force multiplier for different political parties at different times in Punjab and Haryana, where he commands a considerable following among backward classes.
Haryana goes to elections at the end of this year.
Don't lie, you're dying to see this fine specimen in the Parliament, aren't you? Bolo, bolo!#DontSpareRapistBaba pic.twitter.com/B1sek8F7WO

— Amit Schandillia (@AmitSchandillia) June 24, 2019
How will rapes stop if the government backs the rapists??#DontSpareRapistBaba

— Piya Kaur Bajaj (@piyakaurbajaj22) June 24, 2019
Some of Ram Rahim's hardcore supporters came out in his support. These fans were far from lacking in zeal in advertising some of Ram Rahim's "good work" done for the poor, and posted tweets in a bid to remind people of his 'achievements'.
#DontSpareRapistBaba No parole for crooks and rapists please . He must rot in jail for his crime.

— Totlani Krishan (@kktotlani) June 24, 2019
As the day wore on, #DontSpareRapistBaba started trending on Twitter, encapsulating the public sentiment.
#DontSpareRapistBaba on one hand u want to do beti bacaho n beti parao and on the other hand u free Rapists.. baffling !!

— Amit Chatterjee (@am_x_it) June 24, 2019
BJP MP Sakshi Maharaj met rape accused Kuldeep Singh Sengar in jail, to thank him for election victory.

BJP Govt in Haryana has recommended parole for rapist Ram Rahim, ahead of assembly elections.

Modi ji, When is next Mann ki Baat on Beti Bachao?

— Retired Vasooli Bhai (@Vishj05) June 25, 2019
People slammed the Haryana government for backing a rapist. Some reminded it of the BJP's Beti Bachao Beti Padhao campaign, which aimed to make the state safe for women and also bring about positive social changes in the light of rampant selective abortions and the skewed gender-ratio in the state.
The issue of parole of #BabaRamRahim is getting so much negative attention. Don't know why! Is there any personal resentment for Baba Ram Rahim? pic.twitter.com/thUpIVxzN6

— Payal (@Payal77Singla) June 24, 2019