Despatches from Kashmir, cut out and left cold
Muzaffar Raina reports from Srinagar after being forced to remain incommunicado for more than 48 hours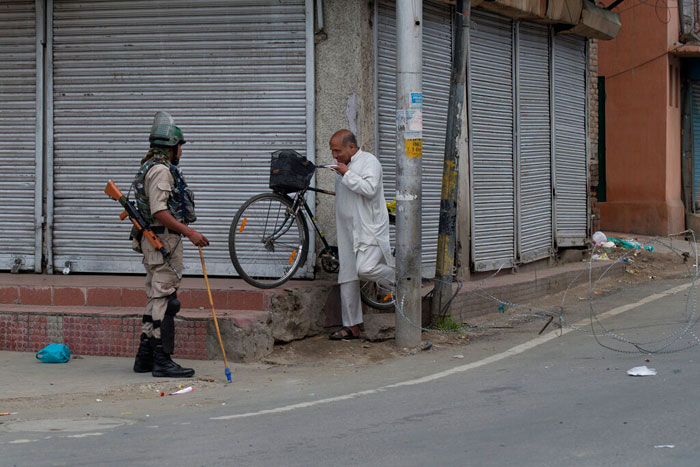 ---
Srinagar
|
Published 07.08.19, 09:19 PM
|
---
Jammu and Kashmir's power street, the famed Gupkar Road near Srinagar's city centre, has turned into an ignominious symbol of powerlessness overnight.

The street is home to two families — the Abdullahs and Muftis — between whom power has shuttled for the past quarter of a century.
Four chief ministers — Farooq Abdullah, Mufti Mohammad Sayeed, Omar Abdullah and Mehbooba Mufti — have ruled Jammu and Kashmir from here.
Mufti did not live to see the helplessness of this street but the three others are a living testimony to that shame.
Farooq, son Omar and rival Mehbooba were put under house arrest the night before the decision to scrap the special status under Article 370 was announced.
Farooq is still under house arrest, but Omar and Mehbooba were arrested and shifted on Monday evening to the Cheshmahi tourist huts, which have been designated as a sub-jail. They are among hundreds of pro-India leaders, including many former legislators and ministers, arrested.
Nobody is allowed to enter their residences as the securitymen who have long protected these VVIPS from militants and pro-azadi mobs are restricting their freedom to move. The securitymen did not allow this correspondent to click a picture outside.
The three have been the state's most protected persons, guarded by its elite SSG commandos.
For generations, the two families have been the only link between Kashmir and the rest of the country, called the Valley's mainstream.
They have been at the vanguard of fighting for greater autonomy for the state. The National Conference favoured a pre-1953 position, where the state had its own prime minister and sadr-e-riyasat (president of state). The Peoples Democratic Party went a step further, once proposing a joint Indo-Pak currency for the state and establishing joint councils for the two parts of Kashmir.
Today, they are helplessly watching the state lose whatever little autonomy it enjoyed.
Farooq on Tuesday forced his way out of his home to address reporters at Hotel Sarovar nearby. "The home minister (Amit Shah) lied to Parliament that I am not under house arrest…. I forced my way out," Farooq told reporters.
He broke down as he said: "This is not the India that we chose. My India is a secular country which is for all its people, Hindus, Muslims, Sikhs and Christians."
Farooq's father Sheikh Mohammad Abdullah is cursed by many Kashmiris for supporting the instrument of accession of state between Maharaja Hari Singh and India.
With the state now reduced to a Union Territory, the two families might find it impossible to contest elections.
"We are no longer relevant. The mainstream is dead. Our chief minister will now be a clerk of New Delhi, at the beck and call of the lieutenant governor, and it is he who will call the shots. With what face will we go to the people to ask for votes?" said a close aide of Mehbooba, watching helplessly the security bandobast outside the house of his party boss.
"The BJP long aspired to have a Hindu chief minister for the state. That could be a reality soon. The BJP will have no party to challenge them."
The leader added: "We have nowhere to go. It is the state that kept us out of harm's way. Now we will get sticks, and maybe bullets, from both sides."
Many think it is good riddance because their governments are remembered morehere for the horror they unleashed in the Valley: Omar's during the 2010 unrest when over a hundred died and thousands were injured in firing by security forces; and Mehbooba's in 2016 when again a hundred died and thousands were injured, many of them blinded by pellets.
"These families have ruined us and helped New Delhi strengthen its hold on us. Sheikh Abdullah handed us on a platter to India and Mufti brought the RSS here. Who will forgive them?" asked a man as he rode his cycle amid the barricades.