Govt warns doctors against non-compliance
Deaths due to coronavirus have to be certified as Covid deaths, says Centre
Government unable to pay Rs 4 lakh ex-gratia to victims' kin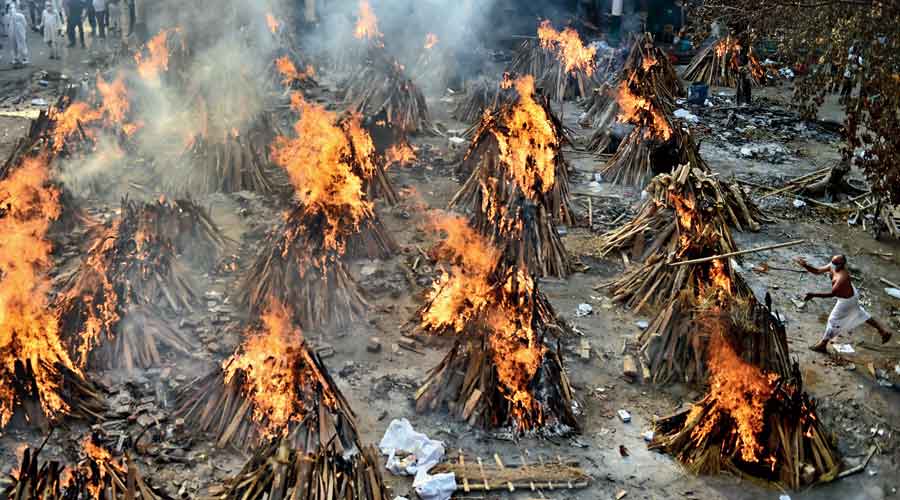 ---
---
The Centre in an affidavit to the Supreme Court has said that all deaths due to coronavirus, regardless of where they happened, should be certified as Covid deaths and warned of action against doctors who do not comply with the rule.
In the 183-page affidavit filed late on Saturday night, the Centre made changes to the present rule of certifying deaths that only take place in hospitals as Covid deaths, and not the ones that happened anywhere else. The decision comes after reports showed  huge discrepancy in death figures in at least six states, with figures running to lakhs.
A discrepancy in death figures from this year and in the past has been seen in Madhya Pradesh, Andhra Pradesh, Tamil Nadu, Karnataka, and Delhi, according to a report by ndtv.com.
On Saturday, figures from Bihar showed close to 75,000 people died in the state of unexplained causes in the first five months of this year, while the state toll stands at 7,717. This data was obtained from the state's Civil Registration System.
The Centre also clarified in the affidavit that it won't be able to pay Rs 4 lakh ex-gratia to kin of people who lost their lives to coronavirus as it would put states in an unbearable financial burden.
The government's move came after families who lost their loved ones to Covid said in a plea that they were missing out on compensation already paid by some states as death certificates of victims do not mention Covid as cause of death.
"Death certificates say death due to lung problems and heart issues. Families of victims have to rush from pillar to post. Is there any uniform policy on issuing death certificates to Corona victims? Or are there any guidelines," the Supreme Court had asked the Centre in a notice.
The government's move comes at a time when several states have seen massive unaccounted death numbers, giving rise to queries on whether they are undercounting their Covid victims.
According to the report by ndtv.com, Maharashtra has been recounting its Covid death numbers to reflect data that came in with some lapse of time. Data from just 12 days resulted in the state's overall Covid-related deaths zooming by over 8,800. The state has the highest deaths in the country with over 1.17 lakh victims.
A similar case happened when Bihar revisited its Covid deaths that resulted in an addition of 3,951 fatalities to its toll. The Patna High Court on Saturday pulled up the Nitish Kumar government, observing that Bihar government's reluctance to put the state's Covid death toll in the public domain is uncalled for.
"For whatever reasons, the state government is most reluctant to put the Covid death toll in the public domain.
"In our considered view, the resistance is uncalled for, for such action is neither protected by any law nor is in consonance with settled principles of good governance," the court said.
It said that transparency is the hallmark of good governance, more so in today's era when both the Centre and the state are committed to making Digital India and National Data Sharing and Accessibility Policy (NDSAP), 2012 a success.
"As simple as it can be, the issue is whether more than 10 crore people of Bihar have the right to know, on a digital platform, the number of deaths that occurred in the state during Covid-19 and whether the government has a corresponding duty to disclose either voluntarily or as mandated by law," the court said.
India has so far reported 3,86,713 Covid deaths, which is likely to increase during an impending third wave.