Cry against theft, lies and treason
CPM general secretary Sitaram Yechury described the CBI purge as a 'political coup'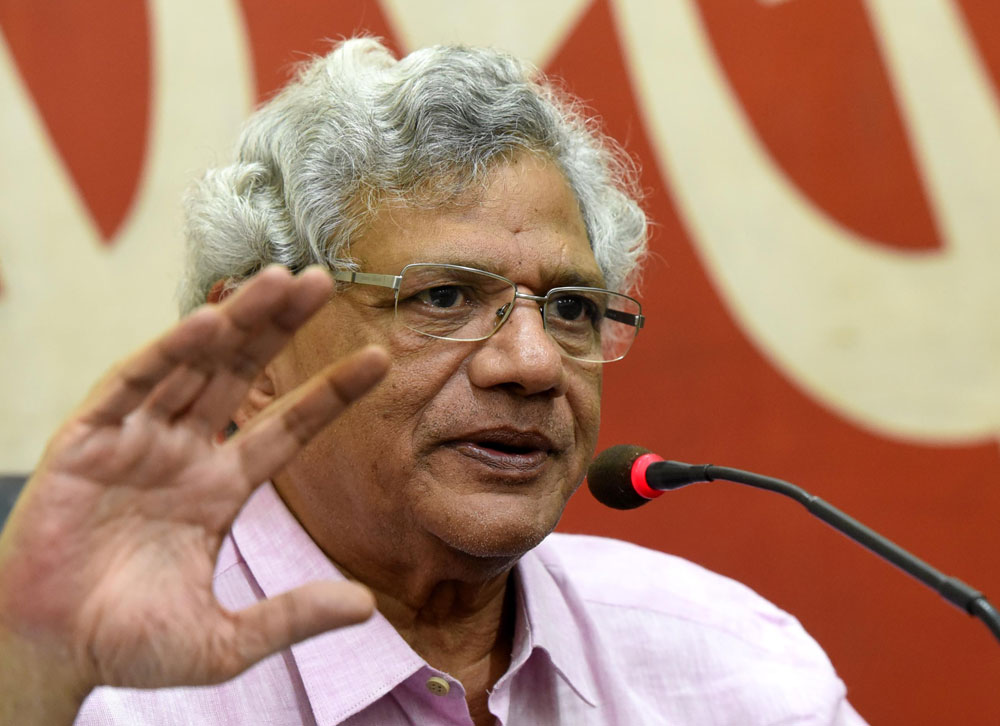 Yechury told a rally that the CPM slogan against the Congress during the Bofors controversy will now be changed to 'Gali gali mein shor hai, Narendra Modi chor hai'.
The Telegraph file picture
---
New Delhi
|
Published 24.10.18, 09:39 PM
|
---
At a public hearing on the Rafale deal organised by the Left in Delhi, CPM general secretary Sitaram Yechury tweaked a slogan used against Rajiv Gandhi for Narendra Modi.

He told the crowd: "During Bofors, we had raised the slogan, you will remember: Gali gali mein shor hai. Now this same slogan will be raised: Gali gali mein shor hai, Narendra Modi chor hai."
Yechury said: "A political coup happened last night… the CBI director asked for a description of the Rafale deal, and he was removed…."
His CPI counterpart, Suvaram Sudhakar Reddy, asked the government to resign. "Why did you demand a joint parliamentary committee on Bofors? The same JPC you reject today. Unfortunately, the PM is not only a thief but a liar. It is a shame that we have such a PM," he said.
Lawyer Prashant Bhushan said: "In Bofors, Rs 64 crore commission was taken. There was no compromise on our security…. In this, it is a scam of at least Rs 21,000 crore. Secondly, you have broken the spine of our air force. IAF is saying for the last 15 years that we need 126 aircraft."
Attacking the government for settling for a 36-jet deal, he asked: "If anyone breaks the back of the IAF to get his crony a commission and compromises security, there can be no greater treason…."
Defence expert D. Raghunandan said the deal showed how crony capitalism was wrecking India's opportunity to gain from technology transfer.