Coronavirus outbreak: panic grips schools in NCR
Authorities suspend classes after man in Delhi tests positive for COVID-19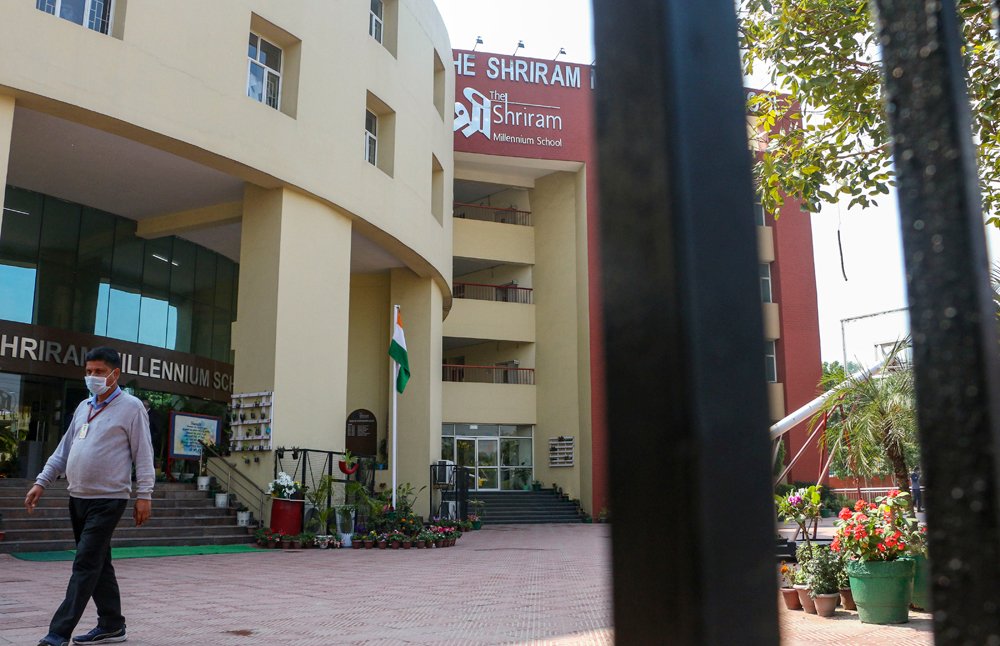 A staff member of Shriram Millennium School in Noida on Tuesday
(PTI photo)
---
New Delhi
|
Published 03.03.20, 06:41 PM
|
---
A day after two cases of COVID-19 were detected in Delhi and Telangana, panic gripped schools in the national capital region after the discovery that the child of the Delhi patient is a Class VI student of Shriram Millennium School in Noida.
The patient attended a birthday party on Friday in which his child's schoolmates and their parents were also present.
Late on Monday evening, the school sent a mail to the parents asking them not to send their children to school if they had a cold or cough.
However, on Tuesday, school authorities sent a message stating: "Due to certain unavoidable circumstances, we will be postponing the exams scheduled today. The new dates will be communicated shortly. The board exams will continue as normal. The children of Classes VI-XI may come for extra classes if they wish. Class VI and IGCSE classes will continue with the study leave."
Junior school classes were held as usual. But around 11am, the school shut down and asked parents to come and pick up their wards.
A couple of hours later, another message was sent, which said: "The school will remain closed from tomorrow, Wednesday, March 4, to Friday, March 6, 2020."
The school had advised the parents of Class VI, Sections A, B and E to take extra precautions. Children taking Bus Routes N-2, N-24 and N-41 also need to be extra careful, the authorities said.
Shiv Nadar School, also located in Noida, has also decided to shut down as a preventive measure. The school will be shut till March 9.
"In the wake of the worldwide spread of COVID-19 — the coronavirus — and detection of two cases in India (one in Delhi), it has been decided to close the school until March 9 in order to sanitise our spaces as a proactive preventative measure," the school said in a message sent to parents on Tuesday afternoon.
It also said the school had been fumigating the premises since February 3, 2020, according to the WHO advisory.
Hyatt Regency in Delhi has asked its staff to go on a 14-day self-quarantine as it discovered that the patient dined at its La Piazza restaurant on February 28.
All staff who were present in the restaurant have been asked to go on leave and the hotel has undertaken deep cleaning measures in restaurants, lockers and public areas. The restaurant is open.
In a statement, the hotel said: "All colleagues who were present at the restaurant on February 28 have been asked to self-quarantine for 14 days. Hyatt Regency Delhi has also started to conduct daily temperature checks for all colleagues and contractors when they enter and exit the building. At this time, we do not have any confirmed cases to report among our colleagues."
Six people in Agra who came in contact with the Delhi patient have been shifted to the city's Safdarjung Hospital. Their blood samples have been sent to the National Institute of Virology in Pune.
"The person from Delhi has a travel history from Italy, while the one from Telangana has a travel history from Dubai," a statement from the health ministry said.
Kejriwal meets officials
Delhi chief minister Arvind Kejriwal on Tuesday attended an urgent meeting with health minister Satyendar Jain and top officials on the government's preparations to deal with the coronavirus outbreak.
"COVID-19 is a new infection, but there is no need to panic. We are taking all possible steps to keep Delhi safe. Isolation wards are being readied in 25 hospitals, including 19 government and six private hospitals. As many as 3.5 lakh N95 masks are being arranged. We have over 8,000 separation kits for staff treating coronavirus patients," Jain said at a news conference.
Additional reporting by PTI