Kin hungry, man in suicide bid
Many state governments like Bihar's have been unable to implement their food programmes at the grassroots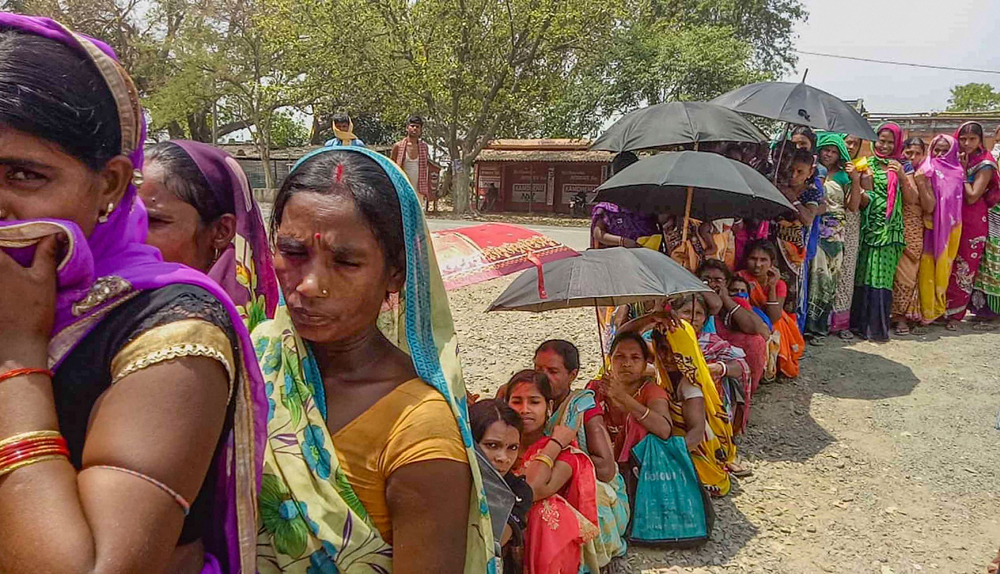 Women stand in a queue outside a bank to withdraw relief money from their Jan Dhan accounts during a nationwide lockdown in the wake of coronavirus pandemic, at Bihar Sharif in Nalanda, Friday, April 17, 2020.
(PTI)
---
Patna
|
Published 20.04.20, 09:15 PM
|
---
Till a month ago, roadside vendor Neeraj Soni, 32, used to feed Bihar's Dehri town, his tasty phuchkas earning him fame as well as brisk business.
On Monday morning, Neeraj tried to hang himself at his home after watching his heavily pregnant wife Pooja Devi, two-year-old daughter and aged mother go hungry for three days.
He was saved by neighbours after Pooja, expected to go into labour anytime after April 25, raised the alarm just in time. He is fighting for his life in the intensive care unit of a hospital.
Neeraj hadn't sold a single phuchka since Prime Minister Narendra Modi announced a Janata Curfew on March 22, the day chief minister Nitish Kumar locked down all urban areas. The nationwide lockdown followed three days later. Neeraj's mother, a domestic worker, too lost her job.
The family's plight underlines perhaps the single-biggest truth of the lockdown — that daily wage earners are its worst victims, particularly in the absence of adequate government help.
While the Centre has been accused of failing to plan for or provide enough financial assistance to the poor, many state governments like Bihar's have been unable to implement their food programmes at the grassroots.
No food had been cooked at Neeraj's home in Ward 7 of Dehri, a town in Rohtas district, for the past three days, his family said. He had no money to buy rations. His neighbours had been helping the family with leftover food.
Before the lockdown, Neeraj used to earn between Rs 300 and Rs 400 a day but his earnings had dried up completely.
As he sat brooding over his misfortune on Monday, his wife came up to him and asked him to find some work or other because she couldn't watch their daughter go hungry.
She said starvation could also harm the yet-to-be-born baby.
"I also told him that the food doled out by the neighbours was not enough," Pooja told The Telegraph. "I was feeling uneasy and stepped for a short walk in front of the house. When I went inside a few minutes later, he was hanging from the ceiling. I screamed."
Several neighbours arrived running. One of them caught Neeraj's legs and held him up while another untied the noose around his neck.
Neeraj, still breathing, was rushed to Narayani Medical College and Hospital on the town's outskirts.
"We were starving and dying without food. I just said what any wife would tell her husband," Pooja said. "He could not see us suffer, so he decided to end his life."
Neeraj's mother Lalmuni Devi said: "It's the toughest for people like us to survive. The government doesn't help us. I had made umpteen rounds of the block office but couldn't get a ration card. I finally stopped thinking about it."
Many day labourers say that getting a ration card involves red tape and a lot of running from one government office to another, which they can't afford. Touts, said to be in cahoots with officials, charge money to get applicants ration cards.
Neighbours have collected Rs 20,000 and given it to Lalmuni to ensure Neeraj gets proper medical treatment.
"Neeraj took the extreme step because of starvation, which is the lot of the poor during the lockdown. We have raised money to ensure he survives the bad times," said neighbour Ajay Kumar Soni.
Dehri sub-divisional officer Jyoti Shahdeo told this newspaper he had sent his subordinates to the family to enquire about the incident and provide help.
"The incident seems to be the result of a spat between husband and wife over earning money. However, we have provided rice, flour, potato, pulses and other things to the family for a month. We will provide a ration card soon," he said.
Shahdeo said the private hospital where Neeraj was being treated had been told the government would bear the cost.
Nitish on Monday directed officials to "first provide a Rs 1,000 assistance to people whose ration card applications have been rejected, delayed or found faulty, and then take action to issue ration cards to them".