773 new cases in the last 24 hours, death toll reaches 172
Delhi, J&K, and Ladakh make masks compulsory; government considers lockdown extension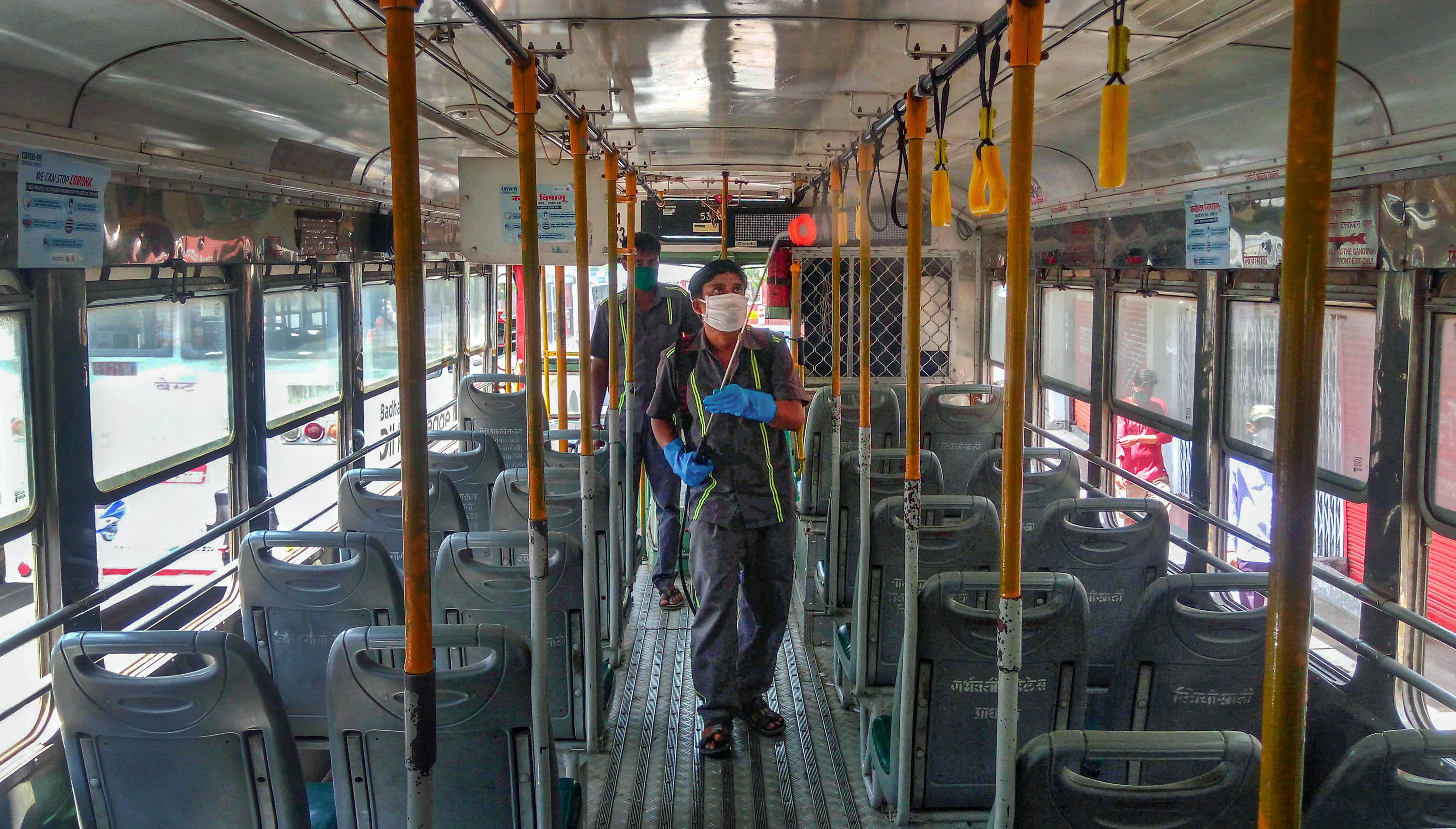 ---
---
PM urges people to download Aarogya Setu app
Prime Minister Narendra Modi on Wednesday urged people to download the 'Aarogya Setu' mobile application, saying it is an important step in the country's fight against Covid-19.
'By leveraging technology, it provides important information. As more and more people use it, its effectiveness will increase,' he wrote on Twitter.
He also shared links from where the app can be downloaded from online stores.
The government had on April 2 launched the mobile app to help people assess their risk of getting infected with coronavirus and alert authorities if they have come in close contact with an infected person.
India Inc seeks economic package from Centre
India Inc has sought an economic package from the Centre to tide over the impact of the coronavirus outbreak and support small and medium businesses to keep their enterprises afloat while catering to the needs of the poor and informal sector workers.
The Confederation of Indian Industry (CII) has submitted recommendations to the government seeking an 'economic package' entailing additional support to the lowest strata and the informal sector through cash transfers, amounting to Rs 2 lakh crore to Jan Dhan account holders.
It also suggested the Centre to enhance credit limits for working capital across the board to all industries and additional reconstruction term loans to MSMEs (micro, small and medium enterprises) and stressed sectors with a government guarantee on default, up to 20 per cent.
Another industry chamber Assocham has also sought a 'stimulus package' of at least USD 200-USD 300 billion 'to thwart one of the deepest global recession expected in the world's history', its Secretary General Deepak Sood said.
He said the chamber believes that in keeping up with most economies of the world to institute stimulus measures with 10 per cent of the gross domestic product, the Indian economy would need a transfusion of over USD 200 billion with an ability to go up to USD 300 billion, over the next 12-18 months.
In its submission, FICCI has recommended that an additional sum of Rs 1 lakh crore (over and above the PM Gareeb Kalyan Scheme) must be earmarked and transferred to states to supplement their efforts to cater to the immediate needs of the poor and informal sector workers.
It also suggested that interest-free and collateral-free loans be given to MSMEs having a turnover of less than Rs 500 crore for a period of up to 12 months, to enable them to cover fixed costs, salaries and other operational expenses.
Delhi, J&K and Ladakh make wearing of face masks outside compulsory
The Delhi government on Wednesday made it compulsory for people to wear face masks when stepping outdoors to combat the coronavirus spread.
Announcing the decision after a high-level meeting, Chief Minister Arvind Kejriwal said, 'Wearing of facial masks can reduce the spread of coronavirus substantially.'
'Therefore, it has been decided that facial masks will be compulsory for anyone stepping out of their house. Cloth mask shall be eligible too,' he tweeted.
Wearing face masks has also been made mandatory in the Civil Secretariat – -the seat of Jammu and Kashmir government – and Leh district in the Union Territory of Ladakh, officials said on Wednesday.
An order issued by the General Administration Department (GAD) said face masks have been made mandatory for all the officers, staff and visitors in the Civil Secretariat as a preventive measure to stop the spread of coronavirus.
Accordingly, all the administrative secretaries are authorised to effect the purchase of masks, so as to provide three (3) reusable masks for each employee of his/her department in the civil secretariat. The expenditure on this account shall be defrayed from the office expenses (OE) head, Additional Secretary, GAD, Rohit Sharma said.
In the event of non-availability of masks in the open market, he said, the administrative secretaries would submit their requirements to the department of civil supplies, consumer affairs and public distribution for supply of the same.
District Magistrate, Leh, Sachin Kumar Vaishya ordered the general public as well as the government officials (both civilian and armed forces) to mandatorily wear the face masks at public places without any exemption.
In case of any violation, penal action under rules shall be taken against the violators. This shall come into force with effect from April 9, he said in his order issued in exercise of powers under section 34 of the Disaster Management Act, 2005.
SC sets up helpline for queries during lockdown; directs Centre to ensure appropriate PPE for doctors, medical staff attending Covid-19 patients
The Supreme Court on Wednesday set up a helpline number to address the queries of advocates and parties appearing in person for mentioning and listing of urgent matters during the lockdown period.
It said helpline numbers will be working between 10 AM and 5 PM on weekdays from Monday to Friday and between 10 AM and 1.30 PM on Saturday, except holidays and Sunday.
Observing that doctors and medical staff are the 'first line of defence of the country' in the battle against Covid-19 pandemic, the Supreme Court on Wednesday directed the Centre to ensure that appropriate personal protective equipment (PPE) are made available to them for treating coronavirus patients.
While passing a set of interim directions to ensure safety of doctors and healthcare professionals, the apex court expressed concern over the recent incidents of attack on them and directed the Centre, all states and union territories to provide necessary police security to the medical staff in hospitals and places where patients, who are either quarantined, suspected or diagnosed with Covid-19, are housed.
The top court directed that 'states shall also take necessary action against those persons who obstruct and commit any offence in respect to performance of duties by doctors, medical staff and other government officials deputed to contain Covid-19'.
The court passed the order on three petitions seeking protective kits, other requisite equipment and safety measure for doctors and healthcare workers amid the coronavirus pandemic.
States with higher number of Covid-19 patients at greater risk of fiscal slippages: ICRA
States having higher number of Covid-19 patients run the risk of fiscal slippages, as they have to ramp up spending on health-related services to contain the outbreak, ratings agency ICRA said on Wednesday.
The states which witnessed the return of considerable migrant workers and have a sizeable number of daily wage earners, could see a sharp rise in their revenue expenditure during the current financial year, ICRA said in a statement.
It said those state governments which have a larger portion of their revenue receipts dependent on GST compensation, face greater revenue and liquidity risk as collection from the cess would be adversely impacted during the year.
The ratings agency also said the Covid-19 outbreak would have an adverse impact on the other components of states' own taxes, including sales tax/VAT on petroleum products and motor vehicles tax.
Cautious spending on non-essential services like tourism, hospitality and recreation is likely to widen the gap between state GST collection and the projected revenues of 2020-21, ICRA added.
Fate of I-League hangs in balance, decision after completion of 21-day lockdown
Resumption of the suspended I-League is 'difficult' in the prevailing situation arising out of Covid-19 pandemic and a decision on its fate will be taken after the completion of the 21-day national lockdown, an national federation official said on Wednesday.
The I-League was suspended on March 14 with four rounds to play though Mohun Bagan have already clinched the title.
'It's difficult for I-League to resume. Chances are 50-50. At least one and half month is needed for the tournament to finish. We will take a call after meeting with the stakeholders. The meeting will take place after April 15,' an official of the All India Football Federation told PTI on condition of anonymity.
The return leg match of the high-profile Kolkata derby between Mohun Bagan and East Bengal is among the 28 matches that are left to be played as the AIFF is currently having a wait-and-watch policy with the 21-day nationwide lockdown in force.
While there is little at stake for Mohun Bagan, there's a three-way race among East Bengal, Minerva Punjab (both with 23 points from 16 matches) and Real Kashmir (22 points from 15 matches) for the runners-up slot.
Over 1,300 foreigners flown to home country by special flight
A total of 1,304 foreign nationals left for their home through special flights operated from the airport here during the ongoing 21-day national lockdown to check the spread of coronavirus, Customs officials said.
Eight special relief flights were operated till Monday to Malaysia, France, Frankfurt and Muscat and the Customs department facilitated the journey of the overseas passengers, they said.
Meanwhile, the courier terminal at the airport handled 206 shipments including 23 shipments of critical components used in the manufacture of ventilators.
About one shipment of gloves was cleared on priority, they said.
Other initiatives taken by the department include granting permission for transfer of computers and related accessories to residences of employees of Software Technology Parks of India (STPI) to facilitate work from home.
A 24x7 customs clearances of goods have been set up to avoid any supply disruptions.
A dedicated coronavirus helpdesk for export-import trade stakeholders have been set up to facilitate resolutions of issues faced.
Tribal affairs minister urges states to procure minor forest produce from lockdown-hit tribals
Union Tribal Affairs Minister Arjun Munda on Wednesday wrote to chief ministers of 15 states, urging them to procure minor forest produce from tribals who have been hit hard due to the lockdown imposed to contain the spread of coronavirus.
In a letter to chief ministers of 15 states, including Uttar Pradesh, Gujarat, Madhya Pradesh, Chhattisgarh, Karnataka, Andhra Pradesh, and Maharashtra, Munda said the outbreak of Covid-19 has posed an unprecedented challenge across the country.
'Almost all the States and UTs are affected by it, to varying degrees. Poor and marginalized including the tribal communities are most vulnerable in this situation.' he said.
'This being the peak season for collection and harvest of minor forest produce (MFP)/non-timber forest produce (NTFP) in many regions makes it imperative to initiate certain proactive measures to ensure the wellbeing of the tribal communities and their economy by providing them safety and ensuring their livelihoods,' the minister wrote in the letter.
Munda also stressed the need to obviate the movement of middlemen from urban areas to tribal habitations to prevent the spread of coronavirus among tribal communities.
He said that the Tribal Affairs Ministry is also contemplating undertaking awareness generation on social distancing among the tribal communities through Van Dhan Self Help Groups.
The Covid-19 pandemic showed a sharp spike in infections, taking the nationwide tally to over 5,500 with at least 172 deaths.
In his daily briefing, Union Health Ministry Joint Secretary Lav Agarwal said states have been asked to focus on surveillance and contact tracing as well as on building hospital infrastructure. 'We working with a twin approach -- focusing on social distancing and then implementing containment measures,' he said.
The Supreme Court also asked the government to issue directions for facilitating Covid-19 tests in government or private labs for free of cost. As per the latest update from the ICMR, more than 1.2 lakh tests have been conducted so far across the country.
In its evening update, the Health Ministry said the total number of confirmed coronavirus cases in the country has risen to 5,274 and 149 have died. Earlier in the day, the Ministry had said the tally rose by 773 in 24 hours till Wednesday morning, the biggest increase in this time period.
However, a PTI tally of cases reported by states as of 6.30 PM showed 5,521 people having been tested positive so far and at least 172 deaths. Approximately 500 people have been cured and discharged.
New cases were reported from Maharashtra (including in Mumbai's densely-populated Dharavi slums), Rajasthan, Gujarat, Madhya Pradesh, Tamil Nadu, Kerala and Jammu & Kashmir, among other places. Ladakh's Lok Sabha member Jamyang Tsering Namgyal said the virus spread has been successfully contained in the union territory, while Sikkim government said not a single case has been detected so far in the state.
Rupee slides 70 paise to record low of 76.34 against dollar
The rupee plunged by 70 paise to its life-time low of 76.34 against the US dollar on Wednesday as a rise in coronavirus cases in the country fanned fears of the government extending the lockdown to contain the pandemic.
Forex traders said rising Brent crude prices and a firm US currency also weighed on the local unit.
At the interbank foreign exchange, the rupee opened weak at 75.83 and lost further ground to settle at 76.34, registering a fall of 70 paise over its previous close. On Tuesday, the rupee had settled at 75.64 against the US dollar.
'Rupee continued its weak trend after some respite yesterday. USD-INR pair in offshore market traded higher on Wednesday tracking the spike in spot pair due to rising case of coronavirus in India amid a strong greenback which is now trading again above 100 mark,' Jateen Trivedi, Senior Research Analyst (Commodity & Currency) at LKP Securities commented.
Domestic stocks declined on Wednesday as investors remained jittery on concerns over the Covid-19 pandemic. BSE Sensex ended 173.25 points or 0.58 per cent lower at 29,893.96 while the broader NSE Nifty closed 43.45 points, or 0.49 per cent, down at 8,748.75.
Impact on business and economy
In the meantime, further adverse impact of the pandemic on economic activities was reported from various segments. Global financial giant Goldman Sachs said Indian economy might see a GDP growth of just 1.5 per cent in the current fiscal.
Indian Railways, which was on its way till February to not just meet but surpass its freight loading target, will end 2019-20 with 15.7 million tonnes less than the previous financial year's 1,212.56 million tonnes, official figures showed.
As business has dried up due to the pandemic with operations having been virtually shut down, earnings from freight loading have also plummeted -- from Rs 1,25,354 crore in 2018-19 to Rs 1,23,225 crore in 2019-2020 fiscal, a loss of Rs 2,129 crore.
Calcutta HC directs WB govt to submit report on steps taken to fight Covid-19
The Calcutta High Court on Wednesday directed the West Bengal government to file a report on steps taken by it in the fight against the coronavirus outbreak in the state.
Hearing a PIL through a video conference, a division bench of the high court directed the state government to submit the report through e-mail by April 16, when the matter will be taken up again.
The bench, comprising justices Dipankar Datta and Joymalya Bagchi, asked the state to ensure that proper safety measures are taken for the healthcare staff dealing with patients and people suspected to have contracted the disease.
Petitioner's lawyer Bikash Bhattacharya alleged that doctors, nurses, paramedics and other healthcare staff, who are on the front lines of fighting the coronavirus pandemic, were not being given proper protective gears.
He also claimed that tests of suspected coronavirus- infected persons were not being done as per guidelines of the Indian Council of Medical Research.
Covid-19: DMC alleges targeting of Muslims, seeks report from Delhi Police
The Delhi Minorities Commission has issued notices to the police commissioner seeking action against an alleged attempt to boycott Muslims in the national capital's Shastri Nagar area and a purported attack on a youth from the community in Bawana, the panel said on Wednesday.
The DMC has sought a report from the commissioner within a week on the two matters.
While the notice in connection with the Shastri Nagar matter was issued on Tuesday, the one for the Bawana incident was issued on Monday.
'The Delhi Minorities Commission in its notice attached a video from Shastri Nagar in Delhi which was shot on April 5. A group of people are seen holding a meeting on the street. They are planning to stop Muslims from entering their colony and asking people in other colonies to do the same,' DMC Chairperson Zafarul Islam Khan said.
In the second notice, the commission said a youth, Mahboob, who had attended a Tablighi Jamaat conference in Bhopal, was beaten and 'seriously' injured in Bawana's Harewali village.
It asked the police commissioner to take appropriate action and ensure visible police presence. It also called for sending out a strong message that any disturbance of law and order will not be tolerated.