Chinese flag in Galwan? Rahul Gandhi asks Modi to break silence
Army sources said the flag was not unfurled at the site of the clash on the night of June 15-16, 2020, in which 20 Indian soldiers and at least four Chinese were killed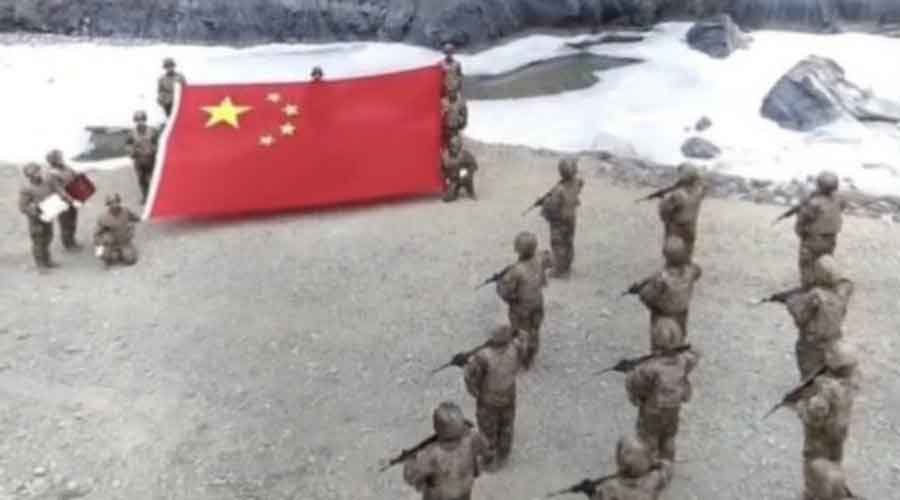 Chinese soldiers unfurl their national flag purportedly in the Galwan Valley on New Year's Day.
Twitter/@AaD_Vajpai
---
New Delhi
|
Published 04.01.22, 03:25 AM
|
---
The Narendra Modi government has activated its now-familiar standard operating procedure of remaining silent after videos emerged of Chinese soldiers unfurling their national flag purportedly in the Galwan Valley on New Year's Day.
Army sources said the flag was not unfurled at the site of the clash on the night of June 15-16, 2020, in which 20 Indian soldiers and at least four Chinese were killed. While China claims all of Galwan, the clash site falls in the buffer zone created in the subsequent months as part of the de-escalation process negotiated over several rounds of talks.
The sources said that this was just another propaganda video shot well inside the Chinese side of the Line of Actual Control (LAC) near their base camp.
For over 48 hours after the video was posted by a journalist marked as "China state-affiliated media" by Twitter, neither the external affairs ministry nor the Indian Army had responded officially. The 45-second video shows the Chinese flag being unfurled in front of a rugged rock face.
The clip shows a sizable number of soldiers lined up and singing the Chinese anthem with more soldiers in the background along a winding rope rail.
Posting the video, journalist Shen Shiwei tweeted: "China's national flag rise over Galwan Valley on the New Year Day of 2022. This national flag is very special since it once flew over Tiananmen Square in Beijing."
In a second tweet, he posted another video and said: "At the Galwan Valley, Chinese PLA soldiers sent New Year greetings to the Chinese people on the New Year Day of 2022."
This video was also posted by the Global Times — the English newspaper under the People's Daily of the Chinese Communist Party — but worded differently: "In the Galwan Valley near the border with #India, under the characters 'Never yield an inch of land', PLA soldiers send new year greetings to Chinese people on January 1, 2022."
The government's silence and refusal to state on record what the army sources were saying fuelled speculation and gave the Opposition ammunition.
Congress leader Rahul Gandhi, who has persistently kept his guns trained on Prime Minister Narendra Modi for the situation with China, tweeted that only the Indian Tricolour looks good in Galwan. "India must give a fitting reply to China. Modiji, break your silence," Rahul said.
गलवान पर हमारा तिरंगा ही अच्छा लगता है।

चीन को जवाब देना होगा।
मोदी जी, चुप्पी तोड़ो!

— Rahul Gandhi (@RahulGandhi) January 2, 2022
Rahul's contention is, China understands that Prime Minister Modi is image-conscious and will play down the incursions to maintain his self-styled muscular image.
Shiv Sena MP Priyanka Chaturvedi posted a picture of the Galwan video and a photograph of Indian and Chinese troops exchanging sweets at 10 locations along the border on January 1, and tweeted: "Day: 1st January 2022 Exhibit 1: How Chinese government uses media for shameful propaganda. Exhibit 2: How Indian government responds to China through media. Moonh Tod jawaab, they said. Okay then."
Day: 1st January 2022
Exhibit 1 : How Chinese government uses media for shameful propaganda
Exhibit 2: How Indian government responds to China through media

Moonh Tod jawaab, they said. Okay then pic.twitter.com/rO49jDutkC

— Priyanka Chaturvedi (@priyankac19) January 2, 2022