Big trade deal with India on Trump lips at G20 meet
India described the talks as "very open and productive"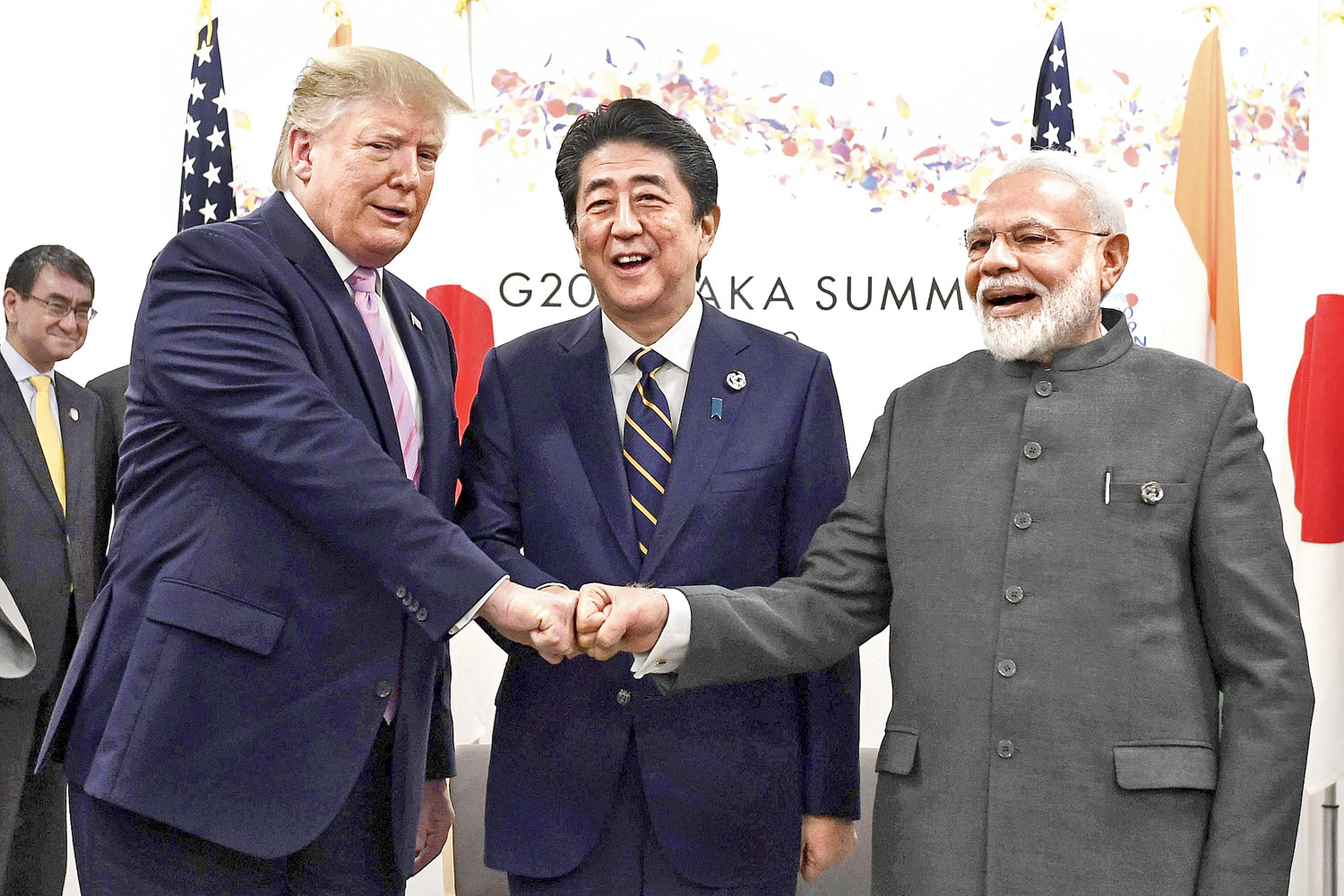 ---
|
Osaka
|
Published 29.06.19, 12:39 AM
---
President Donald Trump on Friday held out the prospect of a "very big trade deal" with India, executing a quick shift in tone at the start of talks with Prime Minister Narendra Modi here.
"I think we're going to have some very big things to announce. Very big trade deal. We're doing some very big things with India in terms of trade, in terms of manufacturing," Trump said ahead of the formal opening of the G20 summit and less than 24 hours after tweeting a strong complaint about New Delhi's trade policies.
Few details on any trade deal were available after the two leaders concluded the talks, which India described as "very open and productive".
Trump began the conversation with congratulations for Modi on his recent re-election and conciliatory comments about the need for close relations. The relationship with India, Trump said, has not "ever been better than it is right now".
Before landing in Osaka, Trump had tweeted that Indian tariffs were "unacceptable" and "must be withdrawn".
Trump, set to meet Chinese President Xi Jinping on Saturday, made a push to discuss US concerns about Chinese telecom equipment maker Huawei. Washington has pressed its allies to shun Huawei in their fifth generation, or 5G, networks on security grounds, and has suggested it could be a factor in a trade deal with Xi.
"We actually sell Huawei many of its parts," Trump said. "So we're going to be discussing that and also how India fits in. And we'll be discussing Huawei."
India is yet to decide whether to place curbs on Huawei or allow the Chinese telecom giant to participate in the upcoming 5G trials, scheduled to start in 100 days.
Telecom minister Ravi Shankar Prasad told the Lok Sabha last week the government had received proposals for field trials from six 5G players, including Huawei and ZTE of China.
Modi and Trump "aired" their concerns over the bilateral trade disputes and agreed to an early meeting of their commerce ministers to sort out the issues, Indian foreign secretary Vijay Gokhale said.
Modi referred to the trigger behind the latest bilateral trade skirmishes and suggested that both countries move forward. Three weeks ago, Trump had suspended India's participation in the Generalised System of Preferences, an American programme that allows goods from the world's poorest nations to enter the US with zero tariffs.
India retaliated several days later by imposing tariffs on 28 products imported from the US, including almonds, apples and walnuts. Trump's tweet from Air Force One on Thursday was in response to the Indian tariffs.
"The Prime Minister did mention in particular that we had taken some action after the GSP was revoked, that that was now something that already had happened and now we should now look forward and we should see how we can resolve some of these issues," Gokhale said.
President Trump welcomed this idea, Gokhale said, noting that both US trade representative (USTR) Robert Lighthizer and treasury secretary Steven Mnuchin were in the room when the two leaders met.
"So what we expect now (is) an early meeting and the level is still be decided whether it will be at the level of commerce and industry minister and the USTR or we will first have technical discussions, that is an issue to be decided," the foreign secretary said. "But essentially it was a very productive discussion, it was very open discussion and we will take things forward," he added.
"The talks with POTUS (President of the United States) were wide ranging. We discussed ways to leverage the power of technology, improve defence and security ties as well as issues relating to trade," Modi tweeted after his meeting with Trump.
"India stands committed to further deepen economic and cultural relations with USA," he added.