Artiste redefines Tagore's tunes in Oriya - First-ever translation of rabindrasangeet, sung by Trupti panda
Read more below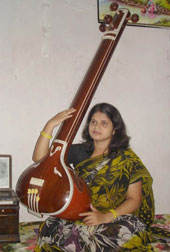 ---
---
Trupti Panda
Bhubaneswar, Dec. 23: For Rabindrasangeet lovers a Christmas treat in the form of the first-ever Oriya version of Tagore's songs awaits, all ready for release.
Inspired by a Prasar Bharati project to popularise songs by the Bengali poet in all Indian regional languages, Trupti Panda has assorted 24 compositions out of 2,400-odd ones by the Nobel laureate, and rendered them in Oriya, and in Bengali, in a double CD pack.
The young talent now has to her credit two albums; Hey Jibananath and Nupura Baje Rini Rini, consisting of 12 songs each. While the former compilation is exclusively of devotional songs published in the poet's magnum opus —Gitanjali — which won him the Nobel Prize in literature in 1913, the latter is a collection of his love songs.
Ananta Charan Sukla, a retired professor of English, has translated the lyrics into Oriya.
"I have always wanted to popularise Tagore songs in my mother tongue. Despite the difficulties, I am glad to see my dreams fulfilled," said Trupti.
The albums are a tribute to emotions — prem (love) and puja (devotion) — out of the four other emotions that the poet dealt with such as prakriti (nature), swadesh (nation), bichitra (miscellaneous) and anusthanik (celebration).
The selected songs are perhaps Tagore's most-frequently sung compositions, which have entertained Rabindrasangeet lovers for generations. Critics believe that Trupti has captured the various moods and emotions thoroughly.
Last year, Trupti had released her debut album Eka Eka Bhala Lagena a cover version recording of old Oriya evergreen film songs of the1960s.
Her album was a rare musical tribute to the non-Oriya legendary singers such as Lata Mangeshkar, Nirmala Mishra and Sandhya Mukherjee, all of who had lent their golden voices culminating in timeless Oriya classics.
With a melodious voice and tonal subtleties, Panda, who hails from Garadpur in Kendrapara district, is a classical singer who trained under pundit Gopal Panda and Subash Dash.
Before this Trupti had lent her voice to some Oriya albums, both modern and devotional, and has also performed live on prestigious platforms.
Rabindrasangeet refers to a complete body of songs and lyrical poetry written and composed by the Nobel-laureate poet.
The term refers to both the genre and the individual songs themselves. These songs are regarded as cultural treasures of Bengal and has evolved into a distinctive school of music which demands an educated, intelligent and cultured audience to appreciate its lyrical beauty.