Amit Shah flaunts human rights record
NHRC is celebrating its 26th foundation day and Shah was the chief guest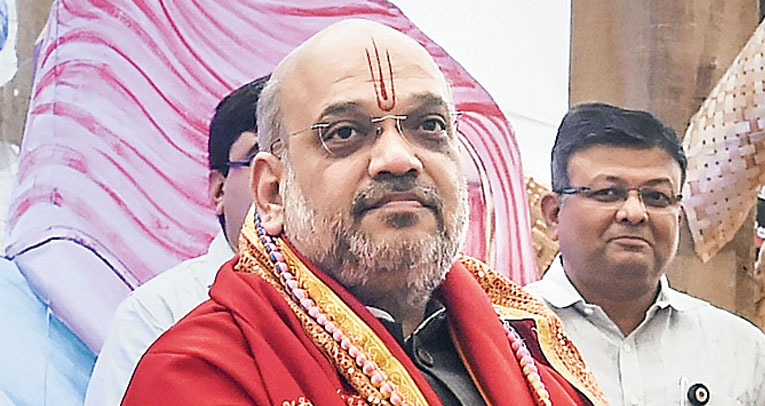 ---
---
Union home minister Amit Shah on Saturday extended the definition of human rights violation to denial of basic facilities such as toilets, electricity, gas connection and shelter and claimed that the Narendra Modi government had done far more by providing these facilities to people than any other government in the past 70 years.
Addressing the foundation day celebration of the National Human Rights Commission (NHRC), Shah said human rights violations should not only mean police atrocities and custody deaths but also denial of basic facilities to people.
"The schemes by the Narendra Modi-led government to provide gas connection, toilets, houses, and electricity to the poor people started in 2014 for the first time since Independence. These schemes were the biggest effort towards restoring human rights in the country," the home minister said.
Shah said people hurt by terrorism and Naxalism were the biggest victims of human rights violations and the definition of human rights in Indian context should be expanded.
On Jammu and Kashmir, he said: "Forty thousand people have been killed in Kashmir due to terrorism since 1992. Do the families of people who were killed have no human rights? Is that not an attack on their human rights?
"I believe that people being affected by terrorism and Maoists attacks are also human rights issue and should be looked at. I think the time has come to look at human rights from a new dimension. We have zero-tolerance against extra-judicial deaths, police atrocities but we should also concentrate equally on terrorism and Naxalism as these are the biggest attack against the human rights."
The NHRC is celebrating its 26th foundation day and Shah was the chief guest.
The mandate of the NHRC — set up on October 12, 1993 under the Protection of Human Rights Act — is to work for the promotion and protection of human rights and take cognisance of such complaints wherein the actions, inaction and omissions of government functionaries, prima facie or allegedly, cause human rights violation.
It is a recommendatory quasi-judicial body, having powers of a civil court to call for any documents and summon any public authority in a case of human rights violation.
In a case of human rights violation, its recommendations are twofold: relief to the victim and punishment to the guilty, the NHRC said in a statement.