I think it was 1995-96, a seven-year-old me was at my relative's house (we lived in the same chawl) and casually started watching Manmohan Desai's Amar Akbar Anthony that was playing on Doordarshan. I had started watching the film midway so I didn't quite understand what was happening. The movie ended and my cousin switched the channel. There used to be only two TV channels at that time. DD National and DD Metro. And to our surprise, Amar Akbar Anthonystarted playing on the other channel! So, I got to watch the complete film. I was simply blown away by the epic trippy scene from the film where a bruised and beaten Anthony Gonsalves (Amitabh Bachchan) stands in front of a mirror and puts band-aids on his wounds, on the mirror. That was the moment when the film bug bit me.
In 1996, Ramesh Sippy's Sholay was first shown on Indian television on DD National. My father has never been a fan of movies but I remember on that Sunday, he too was glued to the screen to watch the film. I guess hardly anyone stepped out of home that day. We watched the film on our second-hand Crown TV set — sometimes, trying to fix the antenna or just smack the TV to get a clear picture. I still remember the Parle G advertisement that ran during the interval — it was a spoof of Sholay.
But the highlight of Sholay for me was, of course, Amitabh Bachchan. I was in awe of Bachchan, everything that he did was cool. Jai had a swag of his own. And when Jai dies in the end, I was devastated thinking he died for real. My father made me understand that it was acting. After watching Sholay, I knew that I wanted to be Amitabh Bachchan in whatever I do. I started participating in cultural activities in school and our society whether it was dancing or acting. Although I aspired to write and rewrite famous movie scenes, I was too lazy to write anything after homework.
Years passed and as a middle-class boy who was good at studies, I was cut off from movies after seventh standard to focus on the board exams. But I watched most of Bachchan's movies that came on DD during all those years. Zanjeer, Shaan, Majboor, Anand, Sharaabi, Deewar, Laawaris, Namak Halaal, Silsila, Coolie, and Kaalia to name a few.
I have faint memories of getting moved by Main Azaad Hoon – one of Bachchan's most powerful performances. I still remember watching Chupke Chupke late at night – we were allowed to stay awake because we had to catch a late-night S.T. bus to go to our village for the Ganpati festival. Coincidentally enough, or maybe not, my father had kept a small screening for family and neighbours on the day of my naming ceremony. It was the time of VHS tapes. Not everyone had a TV at home nor could they go to the cinemas every week. So, it was common amongst the families living in chawls to rent a film on VHS and show it to family and friends at their house. Just like people would gather on Sunday morning to watch Ramayan and Mahabharat. The movie that my father showed to people was Shahenshah. My father told me this when I was watching that film years later.
'Amitabh Bachchan aaya hai!'
The following one is an embarrassing incident that I had no memory of. Forgive the innocent child if anyone's feelings get hurt. An old lady who was our neighbour in the chawl told me about this when I met her a few years ago after a long time. She said that I was so fascinated by Bachchan and the famous Mere angne mein song from Laawaris (where he is dressed in a sari playing women of different sizes and shapes) that when a transgender came to the chawl on a Friday, all the kids rushed into their homes scared, whereas I was happily shouting, "Amitabh Bachchan aaya hai, Amitabh Bachchan aaya hai!" I felt so stupid when she narrated that incident to me and she just laughed and laughed. Strange how stories find you.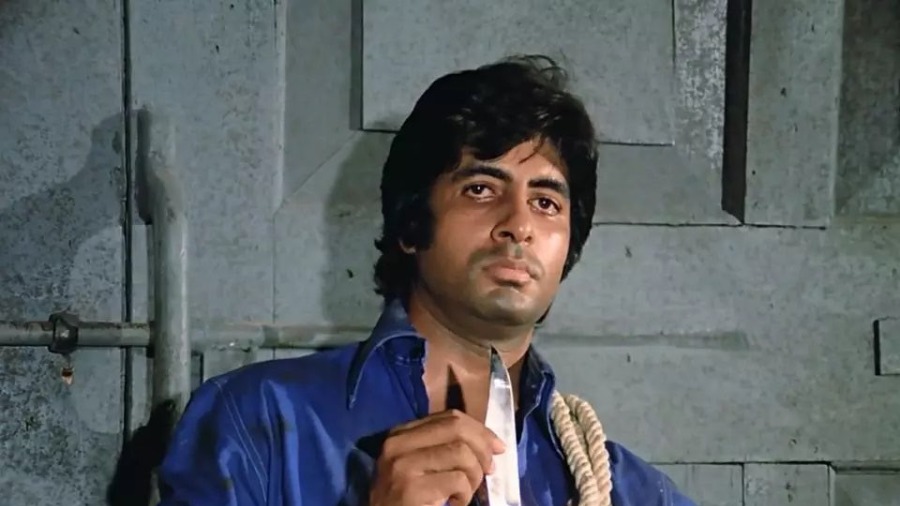 Amitabh Bachchan. Twitter
Second innings challenges: Nishabd to Gulabo Sitabo
In 2007, Ram Gopal Varma's Nishabd was released. A friend of mine at the time was eager to watch the film and she took me to the theatre with her. I was reluctant at first because it had Bachchan's character romancing an 18-year-old Jiah Khan. Maybe I was not ready to let the iconic image of Bachchan in my mind be blemished in any way. But I was thrilled by the gutsy film and the performances of its lead actors. I was much at ease and then enjoyed R. Balki's Cheeni Kum, which was released later that year. In that film too, Bachchan romanced a much younger Tabu.
In his second innings, after Mohabbatein, the actor has taken up more challenging roles than he did in his younger days. I resisted writing 'in his prime' because Amitabh Bachchan is always in his prime. Whether it was Deewar or the recently released Goodbye. When it was a given that you can't take away the Bachchanness from any character that Amitabh Bachchan plays, he surprised everyone with Mirza in Shoojit Sircar's Gulabo Sitabo. How many stars can dare to play a character so shallow, cheap, and opportunistic as Mirza?
Pan-India superstar many years before that term became a thing
I had the opportunity to cover the International Film Festival of India (IFFI) in 2017 where Amitabh Bachchan was going to be felicitated. We interviewed many filmmakers and actors to make a short AV film in Bachchan's honour. It was fascinating to see the filmmakers and actors that I looked up to tripping over Amitabh Bachchan as fanboys and sharing what he meant to them. I guess Amitabh Bachchan was the 'pan-India superstar' many years before that term even became a thing.
Over the years I have watched and rewatched his films. Like most of the actors/stars of his generation, Bachchan too has hammed his way through certain performances, but he still looked convincing. He got his point across. Even today's heroes with muscular bodies doing action sequences and firing guns, don't look convincing enough. When some of them hold a gun, you feel like telling them, "Gun rakh de, chal jaayegi." But when a lanky Bachchan held a gun in his hand he looked like he meant business. That's the magic of Amitabh Bachchan.
Bachchan is a fictional or mythical character in itself. He is an important part of independent India's story because generations of people have derived so much from the man.
Happy birthday, Mr Bachchan.