The sibling tie in Rawkto Rawhoshyo
A caring, strong sister-brother bond forms the beating heart of the film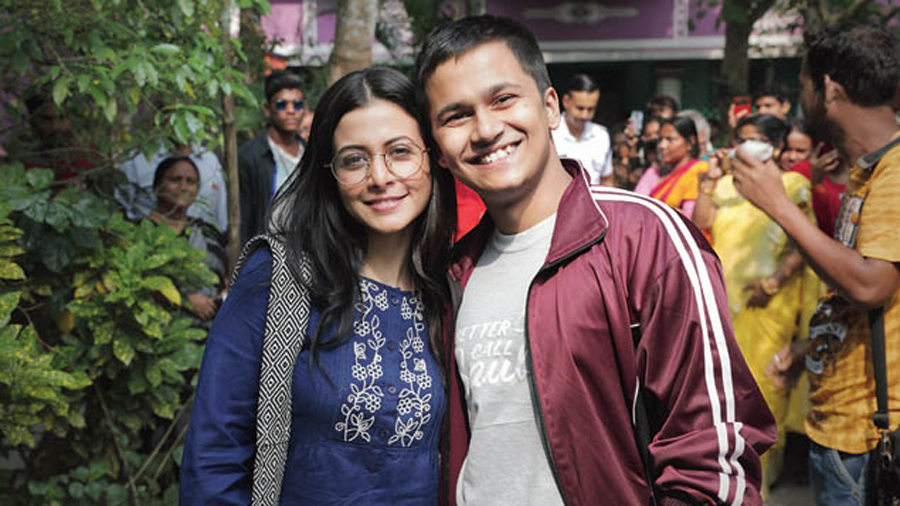 ---
---
The Durga Puja film Rawkto Rawhoshyo is winning acclaim and admiration, and one of the key factors driving the story is the heartwarming bond between a sister and brother — Swarnaja (Koel Mallick) and Babai (Rwitobroto Mukherjee). "They have these beautiful moments, especially the ones on the terrace, which are so different. One is sweet, delicate and tender while the other is emotional. For one of the scenes where Swarnaja asks him for advice, the lines are so cute. And we shot the sequence quite late, close to midnight... it was a long day for us, it was the last scene for the day, and it came out so well," smiles Koel.
Incidentally, that scene is one of Rwitobroto's fave scenes too. "I love one scene particularly for the way it's written. And because of the way my character Babai reacts to Swarnaja's question. She asks how it looks if the girl proposes first and Babai is so quick with his response," says Rwitobroto, who has been moved by the reaction from the audience towards the emotionally charged thriller. "The film is not only a thriller but an emotional journey as well. So while the audience tried solving the mystery along with Swarnaja, they left the theatres with moist eyes. So I know for a fact, the film touched them deeply."
In the beginning of the film, golden-hearted RJ Swarnaja sounds out the name of her show to Babai. "What if I name my show Ja Ichche Tai? How does it sound? The concept of my show is to share secrets. It could be about happiness or sadness." "And what would you talk about and share? Anger, happiness or sadness?" asks Babai, which takes Swarnaja back to a painful memory, and reveals the pain that she conceals behind her warm smile.
Koel is all praise for his co-actor. "Rwitobroto is such a sweet, dedicated, well-prepared actor. Also, he is extremely talented, he had made such a lovely short film," says Koel. Rwitobroto has been inspired by Koel's "dedication and honesty towards her craft". "She has been a role model for so many people and yet, the moment she walks on set, feels like it's her first day on shoot and she gives her hundred per cent. There's so much to learn from her. I've always heard and witnessed that celebrities never let their co-actors get intimated. They're always down to earth," says Rwitobroto.
Film-maker Soukarya Ghosal feels this again is a very unusual screen brother-sister relationship. "Babai thinks that he knows Swarnaja better than anyone in the world. He can predict almost all the vulnerabilities of her character but never could imagine the immense strength she had within," says the director of the film. Meanwhile, Rwitobroto loved being the narrator of the film. "I'm a natural when it comes to narrating stories. I love sharing stories on a personal level. I've often narrated in plays but it's so different when it's for a film. Sometimes it's almost like whispering something, it's so close and personal. I was very excited for it! I've been lucky enough to play a diverse range of characters at such an early stage and I'm immensely grateful to the audience," smiles Rwitobroto.