Raajhorshee De on Feluda film, Hatyapuri
Indraneil has given his all to this character, his screen presence is magnetic, says the filmmaker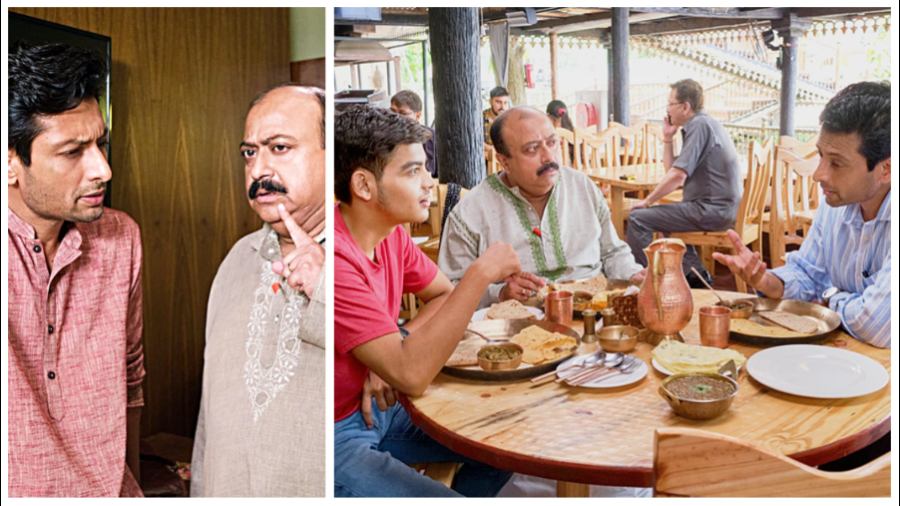 Indraneil Sengupta and Abhijit Guha (left); A moment from the film
---
Published 28.01.23, 03:02 PM
|
---
The quintessential Bengali winter consists of notun gurer sandesh and other delicacies made from this magic potion, a family visit to Alipore zoo, the various reincarnations of Olympic Circus, the glitzy New Market and a magical stroll down the decked-up Park Street for Christmas and New Year. Add to all this a Feluda movie release in your nearby multiplex and that's a blockbuster, albeit the proverbial cherry on the cake. This winter brought a reinvented Feluda and that too directed by Sandip Ray.
The time-honoured Bengali allegiance to Satyajit Ray and his detective stories of Feluda played by the great Soumitra Chatterjee believes that the only director who can do justice to the maestro's creation is his prodigious son Sandip Ray. So we are always looking for a Soumitra in a Sabyasachi (Chakrabarty) and a Sabyasachi in a Soumitra.
Shadow Films and Shyam Sundar Dey are known to hand down hits which are panoramic. For example, they produced Satyanweshi Byomkesh with Parambrata Chattopadhyay and Rudranil Ghosh, which was released during Durga Puja and was a hit; a couple of series/ movies, the famous Kanta series of Narayan Sanyal in which Saswata Chatterjee is playing the protagonist, as well as Shikharpur with Ankush and Kaushik Ganguly.
As a personal choice, I definitely like Indraneil Sengupta the most as Feluda. He has given his all to this character; his screen presence is magnetic though he doesn't have the stylish illustrative ornamentation in his costumes. He has repeatedly proved his mettle as an actor, both as Kiriti and Feluda. However, I strongly feel he shouldn't play any detective character after Feluda. Something is iconic and I believe he will stick to that.
However, Feluda's success is also directly proportional to who plays the role of Jatayu, which thankfully was played by Abhijit Guha. Abhijit is himself a director and a powerful actor. His planning and research are obvious in his presentation. Paran Bandyopadhyay, Subhashish Mukherjee, Deb Chatterjee, Ashim RoyChoudhury, Saheb Chatterjee and Supriyo Dutta have acted very well. Also, Puri as a destination has always been one of the favourites of Bangalis.
In all my films I try to convince my audience that feminism isn't about making women stronger. Women are already strong; it's about changing the way the world perceives that strength. The same goes for Antara Mitra in the title card who has been a part of the Feluda journey in recent years, starting from Parambrata as Feluda to the Srijit Mukherji directed Feluda with Tota Roy Choudhury as Feluda and finally Sandip Ray's Hatyapuri. Antara has done the production with ease.
The success of Hatyapuri is another harbinger of hope for Tollywood; the producers should earn enough to feel the courage to invest in future ventures. Meanwhile, Feluda is arriving on another national OTT, being directed by Arindam Sil in which Parambrata plays the sleuth. Arindam as a craftsman of Byomkesh has been a blockbuster, so look out for his Feluda which is coming soon. Till then do catch a show of Hatyapuri.
Who is your favourite Feluda from the recent films? A moment from the film Tell t2@abp.in