Posters are forever: James Bond film posters up for auction
The auction will take place in Hertfordshire on November 20 and will be live streamed online for fans to track the bidding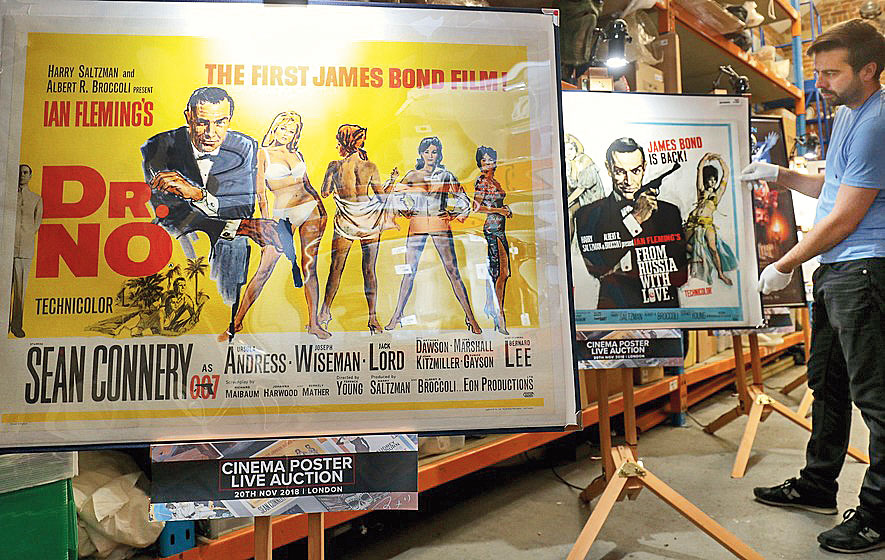 ---
---
Collectors of James Bond film posters will have a chance of buying some sought-after examples at an online auction conducted by a UK company that deals with movie memorabilia.
The firm, Prop Store, is selling vintage posters from 007 films Dr No (1962), From Russia With Love (1963), Goldfinger (1964) and Thunderball (1965).
The auction will take place at the Prop Store's warehouse in Rickmansworth, Hertfordshire, on November 20, and will be live streamed online for fans to track the bidding.
Mike Bloomfield, Prop Store's poster expert, said: "Prop Store are delighted to offer one of the most comprehensive James Bond poster collections ever to come on to the market."
The Dr No poster is estimated to sell for between £8,000 and £10,000 alone, while that of From Russia With Love could go for £7,000 to £8,000.
Thunderball and Goldfinger could sell for up to £6,000 and £4,000 respectively, according to Prop Store.
They are not the only posters offered for auction.
"In addition, we have top quality Star Wars pieces, some sumptuous Marilyn Monroe and Audrey Hepburn posters, plus rare never-seen-before original poster artwork and a great range of collectable quads, too," added Bloomfield.
Other highlights from the sale include original artwork from the 1982 horror movie The Thing, estimated to sell for £7,000 to £8,000, and a US one-sheet poster of Breakfast At Tiffany's (1961), which could sell for £4,000 to £5,000. A Star Wars birthday poster from 1977 and a Get Carter quad poster from 1971, both estimated to sell for between £2,500 and £3,000, are also on sale.
Stephen Lane, Prop Store CEO, said: "After the success of our inaugural cinema poster auction earlier this year when we sold £200,000 worth of posters and artwork, we are delighted to offer over 400 lots in our forthcoming poster auction in November 2018."
According to connoisseurs, "the Bond film posters have become as carefully prepared and choreographed as the Bond films themselves. Like all the official Bond merchandise, they have to meet a very high standard."
The financial magazine MoneyWeek commented: "Collectors of vintage Bond film posters will always prefer Sean Connery and Roger Moore to whichever Jimmy-come-lately happens to be playing the Bond of the moment. After all, which modern film poster could rival the original artwork of, say, 1965's Thunderball, created by artists Robert McGinnis and Frank McCarthy?"