Love blossoms after marriage in a new show
Neem Phuler Modhu, is about the emotionally-demanding one-year journey of Parna Roy (Pallabi) and Srijan Dutta (Rubel) after their marriage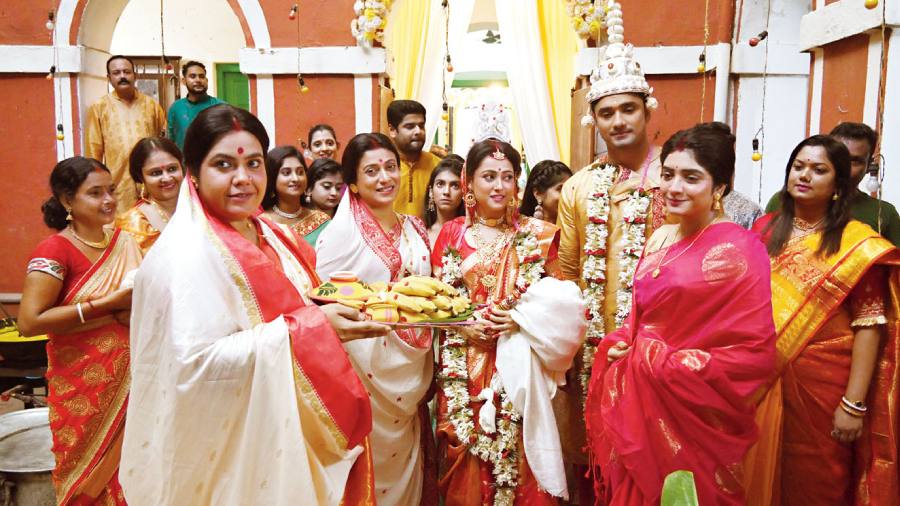 ---
Published 17.11.22, 06:57 AM
|
---
The story of the new Zee Bangla show, Neem Phuler Modhu, is about the emotionally-demanding one-year journey of Parna Roy (Pallabi) and Srijan Dutta (Rubel) after their marriage. The protagonists are completely opposites in their outlook towards life. The story also portrays the evolution of a Bengali girl through her inter-personal relationships with two generations, which are Shashuri ma (mother-in-law) and Didi-Shashuri ma while living in a joint family.
As the story progresses, Parna combats the challenges she faces with her in-law's family.
"The journey of Parna and Srijan, and the various situations that they face after their marriage, forms the crux of this sweet love story. The new pairing of Rubel with Pallabi adds a refreshing touch to the star cast which also comprises veteran actress Lily Chakraborty and other renowned actors. This is an ambitious project from us and we are anticipating a warm response from our audience," said Samrat Ghosh, chief cluster officer, east.
"Neem Phuler Modhu shows how paths of two diametrically opposite individuals cross through an arranged marriage where they fall in love with each other and grow in it. During her journey as a housewife, she transforms Srijan to a loving, caring and understanding human being. The on-screen chemistry between the lead pair is going to be one of the major highlights of this mega serial," said Navnita Chakraborty, business head, Zee Bangla.
Other cast members of Neem Phuler Modhu include Biswanath Basu, Sanjukta Roy, Nabanita Malakar, Rishav Chakraborty, Subrata Guha Roy, Tanusree Goswami, Ujjwal Malakar, Manasi Sengupta, Uday Pratap Singh, Arghya Mukherjee, Arijita Mukherjee.
Neem Phuler Modhu airs every day at 8pm.