Kangana ko gussa kyun...
When it looked like Kangana had run out of people to bash, she turned to the critics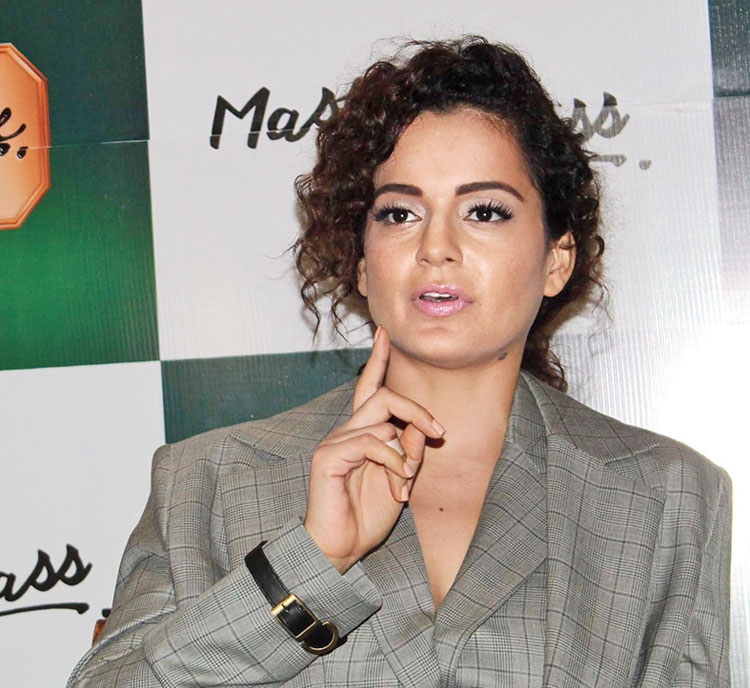 Kangana Ranaut
Picture by UB Photos
---
Published 16.03.19, 07:09 PM
---
Guess who Kangana Ranaut is currently gunning for? A bunch of top-level critics with great integrity. After spewing venom on her film industry colleagues — that ranged from a stunned what-hit-me Alia Bhatt to seasoned targets like Karan Johar, Hrithik Roshan, director Krish, writer Apurva Asrani and tonnes of others — when it looked like Kangana had run out of people to bash, she turned to the critics. She also went on TV and imitated a senior journalist for sending out a piece of advice to her.
Now, leading critics, who are willing to take on any name however big, in their reviews and write-ups, generally avoid making public any personal brushes they may have with a celebrity. So you're not going to read about this anywhere else.
But why journos who've neither had a real or imaginary romantic liaison, a la Hrithik, with Kangana nor clashed with her over the creative work put into a film?
Unbelievably, the actress has been breathing fire over their perceived prejudice against her film Manikarnika. The part most find quite cuckoo is that some of the critics who got a hate message from her on their phones had actually given a positive review to Manikarnika. But Kangana was not appeased.
Her grouse has mainly revolved around the media not elevating and applauding her as the first female director of India's first big-scale feminist film (Kangana's description of Manikarnika). Blending feminism with her favourite word "nepotism", she has charged the media with not putting her on a pedestal because she doesn't have famous family connections here.
She has another grievance. Even those who gave her film a thumbs up, made the accurate observation that there was too much of Kangana in it and that the narration required emphasis on a few more characters. But it was precisely to cut out others and spotlight only herself that Kangana had fought, like the fiery Jhansi Ki Rani herself, with the director and co-stars such as Sonu Sood. So any mention of the lopsidedness that her fight resulted in, drew her instant ire.
But Kangana is fortunate. The media by and large likes her for being good at her craft and for achieving what she has on her own steam. Seasoned critics won't get their claws into an actor because of a hate message and one is sure their reviews of her future work will not reflect any prejudice against her. But it does make one wonder why she seeks relevance by hitting out at the whole world. One can understand, even empathise with, the fight she has had to reach where she has. But why it has turned her into a singularly humourless figure eternally playing the victim card would make an interesting case study for those who put psyche under the microscope.
A senior actress who hasn't lost her quick wit is the articulate Sharmila Tagore. At the Dehradun lit fest, where her daughter Soha Ali Khan's book, The Perils Of Being Moderately Famous, was discussed, she was rather amused by the beautiful shawl collection and the many rings on the fingers of the fest's young organiser, Anurag Chauhan. When she asked him to show her his rings, he put out fingers which were adorned by huge, circular ones with intricate patterns. "They're not rings, they're weapons," Sharmila instantly wisecracked. They were, indeed. As they resembled little battleworthy shields.
A battle for the right to work will one day be on the cards. One hears that after a hit like Sonu Ke Titu Ki Sweety, which featured Alok Nath in a rollicking role, filmmaker Luv Ranjan, who has a good equation with him, repeated him in the Ajay Devgn starrer, De De Pyar De, which is to be released this year. However, after Alok Nath was damned by director Vinta Nanda in the #MeToo campaign, Ranjan hasn't signed him on again. One hears the same stories about Nana Patekar. Whether justified or not, only time and the courts will tell.
Bharathi S. Pradhan is a senior journalist and author