Vidya Balan leads from the front in Sherni
This powerful film refuses to be put in a box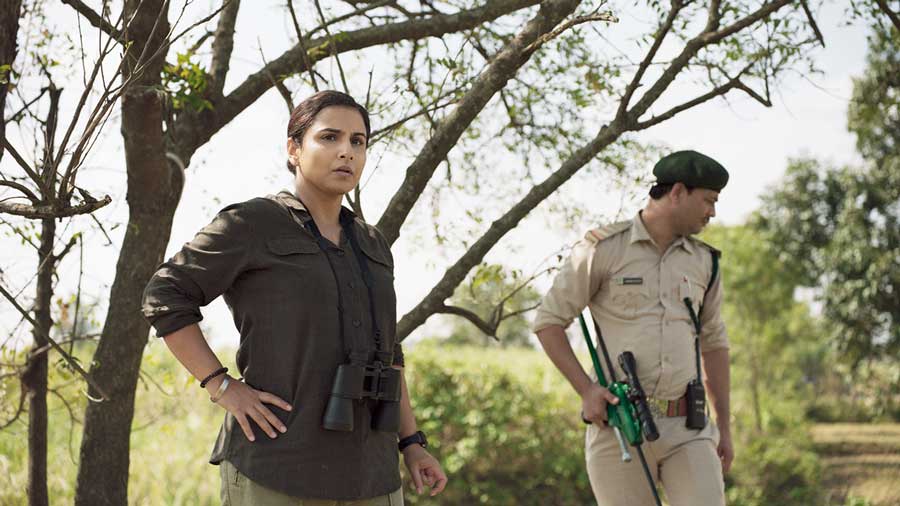 Vidya Balan, dressed in greys and browns and without any make-up, meshes the reel with the real — her career has always been about refusing to conform — and gives us yet another woman who fights on behalf of all other women out there.
Sourced by The Telegraph
---
Published 18.06.21, 10:54 PM
|
---
The female protagonists — both human and animal — in Sherni are fighting for survival. The animal is trying to protect itself, and the human is trying to protect the animal as well as herself. When they strike out against an apathetic and bureaucratic system — one quietly, the other by baring her claws — they are labelled. One is called "difficult", the other, simply a "man-eater".
In Sherni, now streaming on Amazon Prime Video, director Amit Masurkar gives us a film rich in layer and metaphor. It's a satire, an environmental thriller of sorts, a film with a social message, a takedown of patriarchy.... This is a rare watch that can't be put in a box, much like the woman at its centre.
Vidya Balan, in yet another chameleonic turn, is Vidya Vincent. The new Divisional Forest Officer in one of the many jungle regions in Madhya Pradesh, Vidya is empathetic and honest, and one who believes in doing things right by the book. However, like the sherni roaming the area and preying on unsuspecting villagers that come in her way, Vidya is a rare species, an almost dying one in a system dominated, and increasingly defined, by corruption, cliquism and casual sexism. She fights with all her might to protect the tigress who has been forced out of her natural habitat, just as she fights to hold on to her values in a system that is at odds with her.
We live in a country where even a tiger becomes an election issue. After mauling a few tribals who have digressed into her path, the female feline is now a prime target, a weapon to score points and appease egos. The forest department is under pressure, even as its palms are greased, to rein her in, and the local politicians — with elections afoot — are calling for its blood, all with an eye on their primary vote bank.
In the middle of all of this, Vidya is only trying to do for the animal what she's trying to do for herself — protect, rescue and return it to safer environs.
With the much-feted Newton behind him, bureaucratic loopholes and the vagaries of the wild are both themes that Masurkar is not only familiar with, but also aces. In Sherni, he skilfully peels off the layers of what is a slow-burn social thriller to reveal the fallout of the man-animal conflict and what happens when those tasked with safeguarding the environment's delicate balance are solely driven by a development model defined by corruption and greed.
It's in this toxic environment that Vidya Vincent finds herself fighting an almost losing battle. She bands together her own group of fellow empathisers — among them a zoology professor (played with trademark ease and effectiveness by Vijay Raaz) who moonlights as a resource for the forest department — but she's up against a sometimes comedic and always corrupt boss (Brijendra Kala), a boorish and bloodthirsty hunter (Sharat Saxena) and eventually, the mentor she's always idolised, played with a quiet nastiness by Neeraj Kabi. There are also the local legislators, simply identified as PK and GK, who are impatient to parade the carcass of the tigress as a political win.
When she isn't forging her way through bigger battles, Vidya is shown putting down patriarchy quietly. At an office party, when asked if she wants kala khatta or an orange drink, she simply points to a bottle of whisky. Even at home, her mother says she needs to have a child soon; her mother-in-law, played by Ila Arun, is aghast Vidya is going out to dinner without an inch of gold on her. Vidya silently smiles and braces her way through it all. And then she doesn't anymore.
Playing out almost documentary style, Masurkar imbues Sherni with a slow-burn feel that erupts into a tense thriller in its last 30 minutes. At 130 minutes, the film will test your patience at regular intervals, but the pay-off is almost always worth it.
There are long stretches of the camera panning on the verdant jungles and the shadows of the creatures that inhabit it, almost like one would expect in a National Geographic capsule. The same non-dramatic treatment seeps into Sherni's storytelling. The seriousness is tempered with occasional touches of effective humour. The satire is spot-on, with the song Bandar baant ka khela contributing succinctly to the film's subtle social commentary.
Vidya Balan, dressed in greys and browns and without any make-up, meshes the reel with the real — her career has always been about refusing to conform — and gives us yet another woman who fights on behalf of all other women out there. This is yet another 'kahaani' worth watching from the actor who never disappoints.
Ultimately, Sherni becomes a thought. A commentary on how we need to protect and preserve. On how we need to fight our battles, come what way. On how we need to make our voices heard, even if we don't roar.