Shatrughan Sinha's new shot
Shotgun has already disclosed that he had been in a long meeting with Prashant Kishor many months ago but it was "older brother Yashwant Sinhaji" who gave him the final push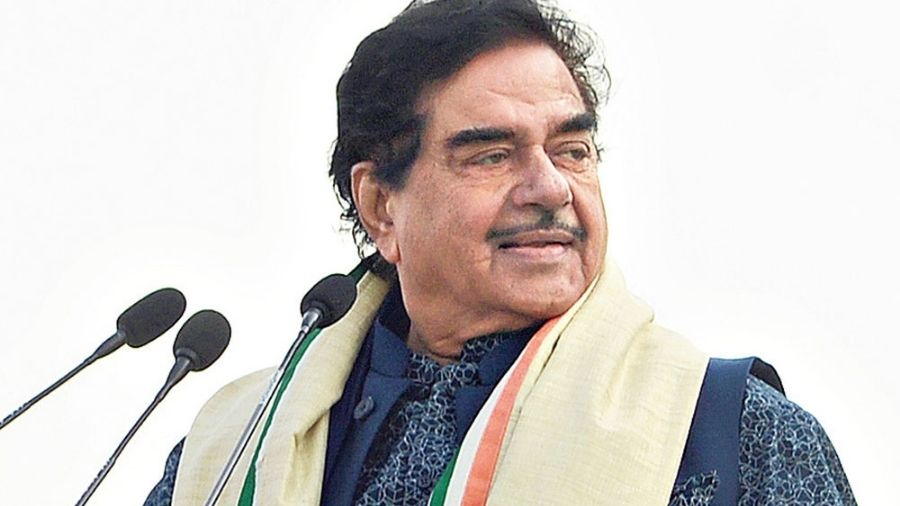 SS was in Mumbai for a short spell before meeting Mamata Banerjee in Calcutta and filing his nomination papers as a TMC candidate for the Lok Sabha bypolls in Asansol due next month.
File Picture
---
Published 20.03.22, 12:59 AM
|
---
In Anything But Khamosh, his authorised biography published six years ago, Shatrughan Sinha had rued that he'd begun his political career with the misstep of standing for a by-election. A by-election he'd lost to Rajesh Khanna in 1992. 
SS was in Mumbai for a short spell before meeting Mamata Banerjee in Calcutta and filing his nomination papers as a TMC candidate for the Lok Sabha bypolls in Asansol due next month. The election was necessitated by Babul Supriyo's resignation from the BJP and his move to Ballygunge to fight an Assembly bypoll.
"I couldn't say no to L.K. Advaniji then. I couldn't say no to Mamataji now. No reason to say no either. Because this was the best opportunity to settle a political score," SS said, shrewdly adding, "in the national interest."
Though he did put the cart before the horse this time.
The announcement came first; his resignation from the Congress happened later.
According to SS, he was deep into his morning yoga and his phone silently charging when Mamata tweeted out of the blue, "Happy to announce on behalf of the TMC that Sri Shatrughan Sinha, former Union minister and famed actor, will be our candidate…"
"A true mass leader, she made the announcement bahut izzat ke saath," he noted with satisfaction. His resignation letter went to another lady. "It went with full regards to Sonia Gandhi," SS disclosed. "I said, 'I'm resigning here with... thank you for giving me a chance to serve the nation... Thanks and regards...'
"I kept it simple but firm."
One would've loved to see Randeep Singh Surjewala's reaction, who'd facilitated SS's entry into the Gandhi fold in 2019.
Considering SS had not yet resigned from Sonia's party, did Mamata's tweet shock the Congress? "The Congress has already been going through a shock process," he retorted. "From the ruling party to the Congress, everybody was shocked because Mamata is a tigress." But, he said, the signs were all over for everyone to read.
"I was neither asked to nor did I participate in any way in any of the recent elections," he pointed out. "So I thought this was the right time and high time to head in a new direction and in the best direction today." The switch had been brewing for a while — SS has already disclosed that he had been in a long meeting with Prashant Kishor many months ago but it was "older brother Yashwant Sinhaji" who gave him the final push. SS has also addressed the outsider charge in all his interviews since Sunday. Besides calling himself "a national figure" who knew no state boundaries, he also queried at every turn, "What would you call our honorable Prime Minister who contested from Varanasi? Our late and great George Fernandes, who was from Karnataka, also won from Muzaffarpur in Bihar."
He didn't mention a certain MP from Wayanad who resides in Delhi and still pronounces Kerala as "Keral" but said, "The PM doesn't even know the bhasha of Varanasi while the whole world knows of my deep connections with Bengal and that I speak Bengali almost fluently. How can anyone call me a 'bahari'?" It was ghar wapsi in some ways because Calcutta was the centre from where he was selected to study acting at FTII in the 1960s. Mrinal Sen had been one of the selectors.
Since he's the Bihari Babu who's the Bangla Babu too, will SS do his speeches in Bengali?
"You never know," he replied. "It depends on the situation. I always go by what connects with the crowd. Zaroorat padegi toh I'll definitely speak in Bengali... Playing to the gallery is sometimes very essential," said the canny politician. "Vajpayeeji was famous for it. Remember how he'd slip a few words of Marathi into his speeches in Maharashtra?"
There's a whisper that an updated biography of his, with more details of his BJP to Congress to TMC hop, is currently being written in Hindi by a Patna-based journalist. Perhaps a Bengali translation would be appreciated by Didi.
Bharathi S. Pradhan is a senior journalist and author