Papa kehte hain
It is the father in Aamir who has been activated, preoccupied with the acting debut of his older son Junaid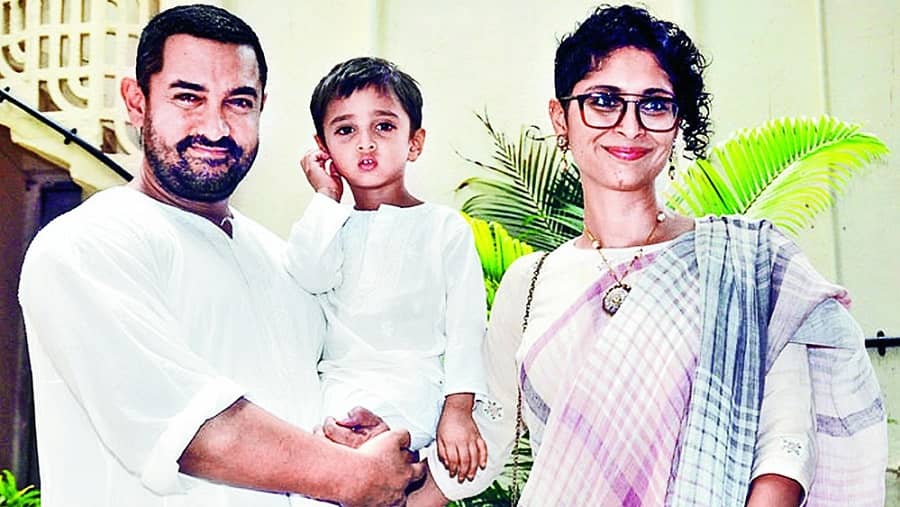 Aamir and Kiran made their divorce official
File Picture
---
Published 11.07.21, 12:05 AM
|
---
Badi ma. Chhoti ma. Fatima.
With pictures of Aamir Khan's first wife Reena Dutta, second wife Kiran Rao and rumoured current flame Fatima Sana Sheikh as illustrations.
While this and dozens of other memes have been flooding the Net and personal mobile phones ever since Aamir and Kiran made their divorce official, the actor's attention has been on something miles away from wives, girlfriends or himself. It is the father in Aamir who has been activated, preoccupied with the acting debut of his older son Junaid.
Junaid just got back from Gujarat, where his first film Maharaj resumed shooting after the second wave of Covid-19 calmed down. Keenly watching the progress of the film is dad Aamir, who is neither producing nor directing Junaid's launch.
But Aamir is so close to Aditya Chopra that handing Junaid's debut to him was like a family deal. In the public domain is the fact that Maharaj is based on a book and a Gujarati play that spotlighted a defamation case filed by godman Brijratanji Maharaj against journalist Karsandas Mulji and the Gujarati newspaper he wrote for. Bombay Court (then in transition from a Supreme Court to a high court) heard the case in 1862, when Maharaj sued Karsandas for a story which alleged that his religious sect covertly indulged in sexual misconduct. Junaid plays the journalist.
Until it's time for the marketing team to take over, Maharaj is being filmed quietly and Aamir seems mighty pleased with the way YRF is going about the launch. For one, the research has impressed him. Whether fiction like Lagaan, a chapter from history like Mangal Pandey, a contemporary story like Dangal or a television show like Satyamev Jayate, Aamir is fussy about authenticity and details.
Since the libel case was heard in Bombay Court, the factualness of British India in the 1850s was imperative. Most of the story is set against backdrops like Bhuleshwar, an area that has always teemed with the business community of Gujaratis and Marwaris. So Adi's team moved out of the confines of the studio to a set erected in the suburb to re-create the 1850s when bullock carts reigned and not automobiles.
Other key characters are distinguished people who were willy-nilly involved with the legal case. Names like Dr Bhau Daji Lad who has a museum named after him in Bombay, Dadabhai Naoroji who has roads and postal stamps in his honour, and Gokuldas Tejpal whose Tejpal Auditorium still stands in the city. So a tonne of research had to go on backstage.
As for Junaid's performance, the whisper is that he was put under the charge of Gujarati writer Sneha Desai, who has penned the dialogues. Her presence has ensured that every character gets the dialect and diction right. Junaid needed no acting coach other than Sneha who is herself an accomplished stage actress.
Of prime importance is the director. Siddharth P. Malhotra (not to be confused with actor Sidharth Malhotra), a Yash Raj loyalist who made the well-received Rani Mukerji-starrer Hichki, is a low-profile but script-savvy director. Aamir trusts Siddharth. 
Since marketing and the timing also matter, YRF is playing it with patience. As most people know, Adi is resolved there will be no direct OTT release for any YRF film. He has a line-up of films that are ready and waiting for theatres to be thrown open. Films like Shamshera, Bunty Aur Babli 2, Prithviraj Chauhan, a film with Vicky Kaushal and Jayeshbhai Jordaar are all in queue. With filmmakers getting used to the idea that they won't open before Diwali, YRF has half-a-dozen ready to roll before Junaid's gets its turn in 2022. Market-savvy Aamir is in no hurry.
While Junaid gets his launch as a journalist, it is Jaideep Ahlawat of Paatal Lok fame who plays Maharaj. And Aamir's fine with that too. Ultimately, it's the script and the film that matter, not the title role. 
Bharathi S. Pradhan is a senior journalist and author