Thappad lead Taapsee Pannu calls herself 'part of a change' in cinema
'It was claustrophobic playing Amrita, she was too restrained and has too much of patience'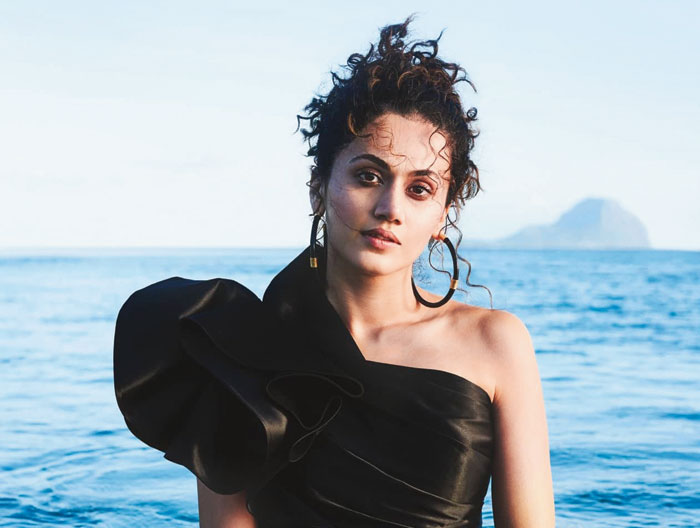 "By chance I stumbled upon this profession and would go by what was advised to me to become a good, conventional top heroine. I was following the regular way, only to realise that it is not working for me," says Taapsee Pannu
---
Published 14.03.20, 06:38 AM
|
---
With her past several releases, Taapsee Pannu is gaining credence for the roles she's picking to portray on screen. From Mulk to Badla and Saand Ki Aankh, the 32-year-old is on fire. Her latest release Thappad - directed by Mulk maker Anubhav Sinha - may not be raking in the moolah (it's inching towards Rs 30 crore as of Friday) but has struck a chord with audiences. The film is not merely about a slap, but about respect in relationships. The Telegraph spoke to Taapsee on the film and the cinema she's a part of… Your character in Thappad is completely opposite to what you're like in real life. So was it tough playing Amrita?
It was claustrophobic playing Amrita, she was too restrained and has too much of patience. She is shahensheelta ki murat, something which I cannot identify with at all. Amrita is too white for me. I am very grey as a human being. I can have mood swings, can have bad days and snap at people. I am very impulsive too. But Amrita is way too calm, she has the patience and the strength to listen to all the nonsense around her and not lose her calm.
Should we call you a woman of change or woman for change?
Let's just say part of a change, and a very important and good part of the change.
But are you consciously choosing the cinema you are now a part of?
I have been consistently asked this in the last couple of months with regard to the kind of films I do. I don't think that way. When I am listening to a script, my judgement is like an audience - will I spend money and time to watch this film?
So you look at it as an audience?
Yes. Significance of the role comes later. First, I judge it as a script - will I spend my money to watch the film in theatres, because this is what I am going to ask of my audience. I am a middle-class person who is very wary of spending my money. More important than money, it is the time that is never going to come back. After a film (they don't like) people walk out and say 'mere zindagi ke do ghante kharab kar diye, mujhe paise wapas chahiye'. And that is something I am not ready to hear.
Were you ever disappointed by your own films?
Yes, in the beginning of my career. I didn't know acting and also didn't know how to select films. By chance I stumbled upon this profession and would go by what was advised to me to become a good, conventional top heroine. I was following the regular way, only to realise that it is not working for me. It might be working for others but not for me. I made those mistakes and learnt from them.
When do you feel most vulnerable?
In my house and in front of my family, where I can put my guard down.
Are you considering turning producer?
It can only happen when I find a partner who can help with the ground work. I don't think I have the mind space to produce a film. Itni mushkil se toh acting aayee hai uspe if I start thinking of producing… I don't want to divert my mind.
Anubhav Sinha said you added some words in the Thappad dialogues and improvised the scene better?
I really love my job and the only way to perform is to psyche my way into believing it's me who is going through it. I have to brainwash myself every day, there is no other way I know to perform and that way you keep adding your own movements. And most of the directors I have worked with have been good and have spoiled me so much that they ask me what do you want to do in this scene. That is when I started feeling that I have some power. Only then have I asked 'what emotion do you want me to convey in the scene'. So we work like that we don't fix it, otherwise my spontaneity will be lost. My strength as an actor is spontaneity, if I rehearse too much I am spent. I just jump into the shot directly, the director takes time to capture this. But eventually an equation is formed and they realise 'I don't have to tell the person what to do'.
The way Thappad ends is only about 2 per cent of the cases in real life - otherwise family courts are a scary place to be.
Relationships are more messed up, when we are making a fictional story we make it look more relaxed and easy and sorted. Because in real life human beings are very complex.
Have you ever been offered a film with a Khan or a Kumar?
I was not offered, but there are younger actors with whom I have been offered roles, but there was nothing in them for me to be motivated. Even if it is a 15-minute role it has to be significant.
Was not working in them a disadvantage or advantage?
The only disadvantage would be there will be lesser hits against my name. Besides, those who have done the roles have not really reached any position of significance either.
You said at an award function that you are not famous enough to win popular awards.
It's the truth. Badla made good business at the box office but it wasn't even nominated - I am not a popular enough name.
But you are trying to bring the change.
That's there. It has been four years since Pink released and I have managed to reach here, maybe I should do a few songs to get there (popular).
For that you can do South films?
They don't give me such roles anymore, the roles are now written keeping me in mind.
What do you have to say to trade pundits who think Thappad fell short?
I want them to re-look at the collections now and then reassess their statement. If they are actual trade pundits they will know what a genuine hit looks like.
What do you have to say to people like Ahmed Khan who say 'Ek thappad ki baat hai' and that women-centric films don't make the numbers?
That… they make films and characters on the basis of their sensibilities and we make on the basis of ours, and the audience is the one who consumes and loves the films based on their choice. I have never liked to comment on anyone's opinion. It's their personal opinion. Our opinions might not match but we can still co-exist in the same industry.
You are choosing sports films and biopics of celebrated people like Mithali Raj. Is Rashmi Rocket also a real-life story?
Rashmi Rocket is a fictional story inspired by true events in the lives of a lot of sprinters and athletes.
How much have you learnt from Mithali Raj?
Mithali is one of the most inspiring women we have in our country. Her calm, elegance and leadership skills are something I look up to.