In a year that has largely seen the world come to a halt, Kiara Advani has had two diverse releases in Guilty and Laxmii. The 28-year-old actor is gearing up for a theatrical release this Friday with Indoo Ki Jawani, in which she plays the titular character and which is built around the world of dating apps. t2 chatted with Kiara on what it means to have a movie playing in the theatres in 2020, the turning point in her career and the road ahead.
In a year which has been quite heavy in more ways than one, Indoo Ki Jawani seems like the fun, easy watch that could pull the audience back into theatres...
So far, the feedback has been quite positive. Like you said, everyone who has watched the trailer has told me that it's looking like a lot of fun, a light-hearted film which will bring in a lot of laughter. And I feel it's coming at a good time, towards the end of 2020 where the mood is such that everybody just wants to watch something lighter and fun. This entire year, we have been watching so much content from the gritty and the edgy space. This is celebration time, the new year is around the corner and this is that time of the year when you just want to have fun.
What made you want to do the film?
I remember the first narration that I had... I was in splits! I actually felt like I had literally watched the film during the narration. So I felt like that if this is the kind of film that involves me in the way that I want to watch it, then I definitely want to be a part of it. That was the sole reason for me to sign the film.
The fact that I am playing the protagonist was also a factor, but that came in later. The script was the foremost reason. It's very relevant... it's about dating. A lot of people tend to judge a book by its cover, and Indoo is that kind of a girl as well. The character has an interesting arc through the film, she starts off having a closed mindset and ends up having such an adventurous life, something that also changes her perspective about life. All in all, it's a fun, engaging watch which is also very relatable and real.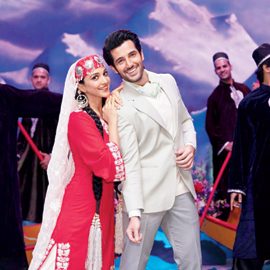 Kiara Advani with Aditya Seal in Indoo Ki Jawani, releasing in cinemas this Friday Sourced by the correspondent
With Guilty earlier this year and now Indoo Ki Jawani, in a relatively short career you have seamlessly moved on to playing the protagonist. How reassuring is that for you that you are moving in the right direction and making the correct choices?
It is very reassuring. It tells me that people have the belief in me that I will deliver. It is also interesting to see that a lot of film-makers who have approached me have given me characters that are different from my previous work. I have never actually got the same kind of character twice.
As an actor, I want to be versatile. And whether it's Preeti from Kabir Singh, Nanki from Guilty or Monika in Good Newwz, every character has their own spunk and their own personality... something which is not Kiara or similar to the previous work from me that the audience has seen. I remember after Kabir Singh, when the trailer of Good Newwz released, it was a huge relief because people were like, 'Oh my God! She can do this as well'. Most people had thought that Preeti was who I was like in life, and it was good to see that image being broken quickly. Now, film-makers know that I can do different characters, stronger characters, and that's motivating and encouraging for me as an actor.
What would you pick as the turning point?
I think every film has been the turning point for me (smiles). I can never discount my first film (Fugly, 2014) because that's the one that gave me a platform and my foundation into this world of the movies. Regardless of the fate of that film, I will never have any regrets about doing it. And that holds true for the other films I have done as well, whether they have been successful or not. All of them have been a very important part of my journey and added to my experiences. All of those experiences make me the actor and the person that I am today. Everybody sets out to make a good film, sometimes it works, sometimes it doesn't.
Of course, Kabir Singh is the film that brought me closer to the audience and Preeti became lifelike to some extent in the minds of the audience. Till today, people associate me with Preeti, and I feel very few young actors get a character so early in their career that gives them something like that. Preeti will always have a special place in my heart. But even other characters, whether it was Lust Stories (Megha) or Guilty, and even the ones that will release in the next year or so, will, I hope, keep proving to be turning points for me.
You have just started shooting for Jug Jugg Jeeyo. What was the break of the last few months like?
I think the last couple of months made me realise how important it is for me to live in the moment. I have learnt how to be grateful and to value this moment instead of worrying about the future or stressing about what's going to come. None of us knew we would have to grapple with what 2020 has thrown at us. I have also used the time to be at home, watch a lot of content, but have also wanted to go back on set.
Now with things opening up in the last two months, even film work has started and shoot has resumed, and it's good to be back on set (this interview took place before the shoot of Jug Jugg Jeeyo had to be called off last week after some members of the cast tested positive for Covid-19) and see the kind of energy that everyone has come back with to set. It's been a matter of a few days and we are all back doing what we love best.
What's the shoot experience like in a post-corona world?
I think apart from wearing masks nothing else has changed. Of course, all the sanitisation measures are in place. That apart, nothing else has changed... it's all normal.
You have an interesting lineup of films coming up. What's the career plan like over the next few years?
I think I am someone who largely likes to go with the flow. I don't have a blueprint in mind about where I want to be, but I do have a list of directors I want to work with, I have certain goals in terms of the people I want to work with.... I am someone who is more journey oriented than someone who worries about the destination. I am very process oriented, I focus on the journey and I think whatever has to happen eventually will happen. That's what it's been like from my first film.
Which is your favourite Kiara Advani film? Tell t2@abp.in
COMING UP
Shershaah: This Karan Johar production traces the life journey of Kargil War braveheart Vikram Batra (played by Sidharth Malhotra) and has Kiara in a pivotal role.
Bhool Bhulaiyaa 2: Kartik Aaryan steps into Akshay Kumar's shoes and Kiara takes over from Vidya Balan in the second film in the horror franchise. A schedule of Bhool Bhulaiyaa 2, also starring Tabu, was shot last year. Jug Jugg Jeeyo: The shoot has now come to a pause, but over the last month, Kiara has been doing time on the sets of this biggie, co-starring Anil Kapoor, Neetu Kapoor and Varun Dhawan.
Karram Kurram: The actor has just signed this interestingly titled film that sees her play the real-life entrepreneur behind the Lijjat Papad enterprise who brought about a revolution in the Indian food industry. Karram Kurram is produced by Ashutosh Gowariker.