John Abraham has a sense of humour that's still untapped
He says films like Pagalpanti are important to 'de-stress' from other work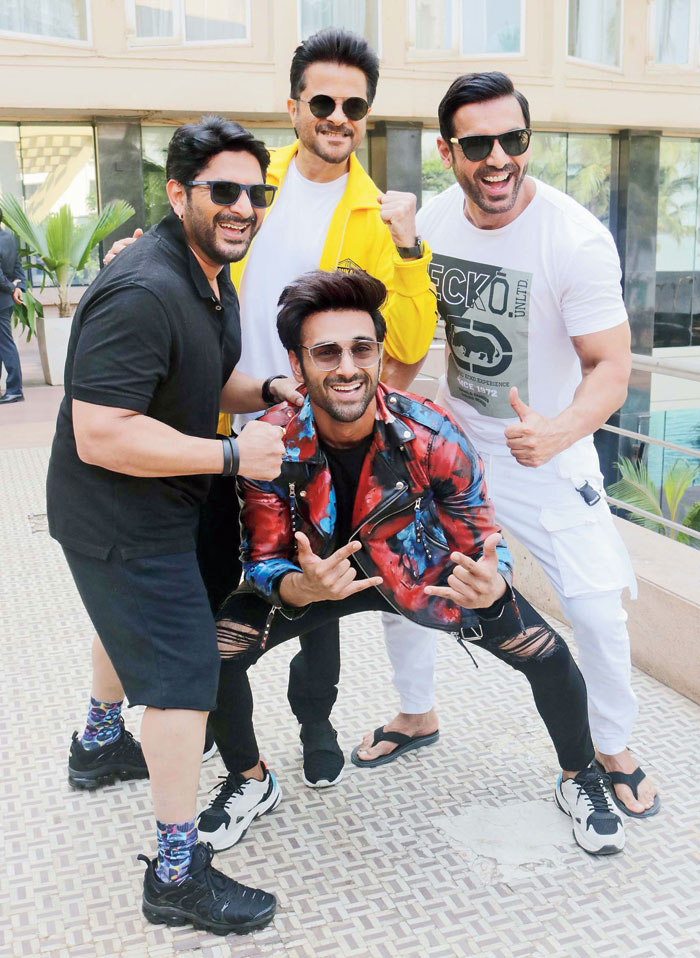 John Abraham with his "boys' club" during Pagalpanti promotions
Picture by Yogen Shah
---
Published 22.11.19, 05:48 PM
|
---
After some intense films in Parmanu, Satyameva Jayate and Batla House, John Abraham is back with Pagalpanti. And the half-Parsi actor says he has a sense of humour that's still untapped.
John admitted that he was surprised at being asked in certain sections why was he doing a film like Pagalpanti considering his recent slew of intense roles.
"As an actor I am meant to do all kinds of cinema," John said. "With Batla House I am targeting one kind of audience, (but) with Pagalpanti you can just enjoy. It will de-stress you. I am sure watching this they (audiences) will say 'why don't you do more comedies'. Besides, I wanted a comic relief after all those intense dramas."
Humour to him, John added, is "when you laugh at yourself". "When you have problems in life and feel bad about it, just sit in a room and laugh at yourself," he suggested.
Pagalpanti is all about spreading happiness, he said, comparing the film to an Indian thali. "It's for everybody; there is no message here. It's a film you cannot critique. It's a film where you can be happy. There are no double-meaning dialogues or bloodshed. It's a lovely film, a popcorn film made for audiences from the age of 6 to 60."
John is though no stranger to "pagalpanti" thanks to his family. "When you are half-Parsi there is pagalpanti in the house. Parsis are honest people who blurt everything out and then fall in trouble. But then being a half-Malayali (on his father's side) also gives me a little more sense."
About camaraderie with his co-stars in the Anees Bazmee film that released on Friday, John said: "I have done four films with Anil Kapoor and we love working with each other. He is our guru and he is so young that we just follow him. We have a special equation. We will work in five more films together. I enjoy working with him.
"Arshad is super talented and a very helpful guy. My bonding with him is so good and we are good friends. I worked with him earlier in Kabul Express and Goal. Pulkit was new and awkward but he also started bonding. It was one big boys' club. It was a lot of fun together."
The actor revealed that whatever he earns commercially as an actor, he uses "it to make films that I want to do, like Vicky Donor, Madras Cafe and Parmanu". "Before Parmanu I gave narration to a producer and he said it's the worst script I have heard in my life. I smiled and said I will do it now. I know what I am doing. I use the money and success I earn to make films I enjoy making. I put in my best in Parmanu and Batla House and tried to make them Rs 100-crore films," he added. Up ahead John has a film titled Gorkha with director Abhishek Sharma.
"They are powerful films which will make you sit up and notice. Now we have good writers, we have to give them confidence and encouragement. My creative head Sanyukta is a creative writer too . It's important to concentrate on the right areas. I also want to make a Malayalam film some day.
"I had in mind to do a film on Parsis but its not finalised. It is going to be an intense film but I want to make a good film as the Parsi community is dwindling," he added.
Finally, John said he has no plans a web debut right now. "I am producing and creating content. Right now I am a big-screen hero and I will not come on the small screen. It's a mindblock; I don't know whether it's right or wrong but I don't want to act (on web) as of now. Until then I will just create content."