Saif Ali Khan is a hoot and Alaya F. makes an assured debut in this mostly watchable film Jawaani Jaaneman
It's 2020 and the Casanova has aged to his mid-40s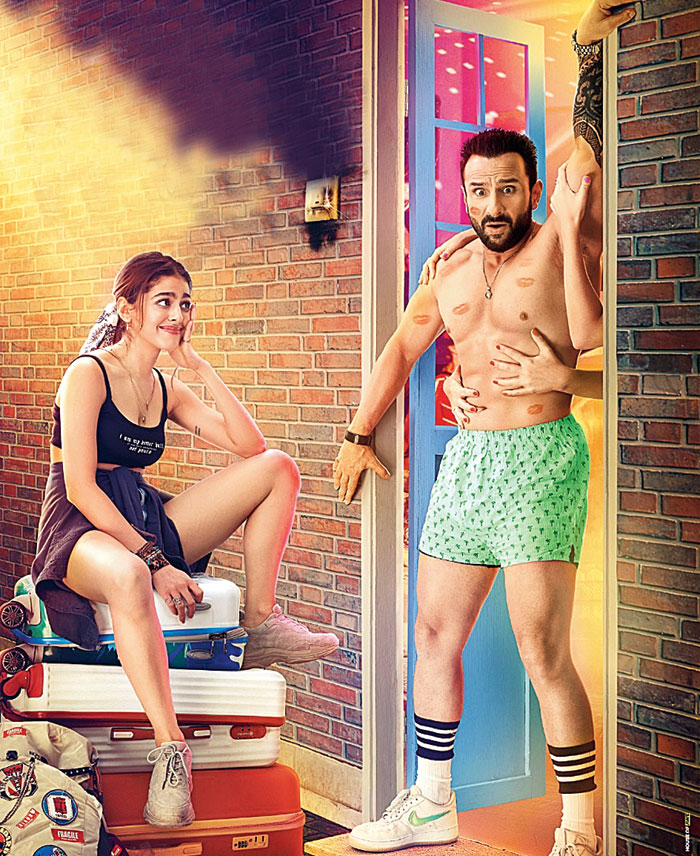 Saif's character Jazz almost hooks up with young Tia (Alaya F) one night, only to discover that she's his daughter, the result of a brief affair in his youth
Film poster
---
Published 31.01.20, 02:01 PM
|
---
Saif Ali Khan has more or less patented the no-strings-attached city slicker who swears by hedonism and lives life from one hook-up to the next. Starting off his career with the very tellingly named Aashik Awara, he's played types of the character since then, from Yeh Dillagi to Dil Chahta Hai, Salaam Namaste to Love Aaj Kal to the relatively recent Cocktail. In that 2012 film, Saif had Deepika Padukone and Diana Penty jostling to catch his attention, prompting his character to throw up his hands in exasperation at one point and scream, "Do bachchiyan khel rahi hain mere saath!"
Well, in Jawaani Jaaneman, there is a bachchi too. Turns out, it's his daughter. It's 2020 and the Casanova has aged to his mid-40s. Jassi (Saif), who likes to call himself Jazz, is a has-been Lothario desperately trying to cling on to the last remnants of his youth. He parties every night and gets laid often enough, but the fact that age is catching up means that he has a running tab both at the party spot in the vicinity of his plush bachelor pad as well as at the medical shop in the neighbourhood.
Somehow working a day job as a real-estate broker, Jazz navigates through forgettable one-night stands and ugly hangovers. Until he almost hooks up with young Tia (Alaya F) one night, only to discover that she's his daughter, the result of a brief affair in his youth.
Tia is in search of a father and a family, but Jazz isn't willing to give up his freedom just yet. The result is a film that journeys from easy breezy to emotional during the course of its 119 minutes, but remains mostly watchable.
Giving off a rom-com vibe and functioning as a London travelogue — the film is wholly set and shot in the British capital — Jawaani Jaaneman is, at its heart, a father-daughter story. Saif and Alaya manage to conjure up an easy chemistry and the interactions between the two — especially in Half One — bring on the chuckles. Saif, especially, is in fine form, effortlessly nailing the part of a man who refuses to grow up (or rather, grow old). In denial about his need to use reading glasses because of his failing eyesight, he attributes an injury incurred by a night of heavy drinking to a game of football, gets breathless after dancing but lies that he's been on the treadmill all along and won't own up to the fact that he needs to dye his hair every week.
His frequent visits to the local salon result in some of the film's best conversations, all with his hairstylist Rhea (Kubbra Sait), who regularly rebuffs his advances and often gives him a reality check with lines like, "Hum life ke uss phase mein hai jahaa pe hamara past hamare future se lamba hai". Kubbra Sait has good screen presence and brings both froth and feel to the film's most mature character.
Jawaani Jaaneman is an official remake of the Argentinian comedy Igualita a mi, but it has shades of various films in the genre, especially Mamma Mia! Director Nitin Kakkar, working from an adapted screenplay and dialogues by Hussain Dalal and Abbas Dalal, gets the beats more or less right, though the film does trip a little when it traverses emotional terrain.
What works is its non-judgmental look at sexual freedom and the fact that it doesn't indulge in old-school moralising, though it does take an initially hilarious line about drug addicts a little too far. That comes courtesy the presence of Tabu who pops in for a couple of scenes and seems to have a blast playing Tia's hippie mom. The role is a bit of a spoof and though one feels cheated at the limited material she gets to work with, Tabu makes her time count (well, just about), especially when she rolls her eyes and fusses about the alignment and realignment of her 'chakras'.
The find of Jawaani Jaaneman is Alaya F. Pooja Bedi's daughter is a natural, displaying both comedic chops and also holding her own in the film's heavier moments. This is a young actor to watch out for. But in the end, it's Saif — pulling himself out of a career slump with Tanhaji and now this film — who makes this trip worthwhile. "Main aur mera swag," his Jazz chuckles nonchalantly when asked who co-habits with him in his apartment. Well, we can't help but agree.
I liked/ didn't like Jawaani Jaaneman because... Tell t2@abp.in