Anupam Kher, merging real & reel
'Director Anthony wanted me to feel the emotions behind the attack and he created situations which were frightening'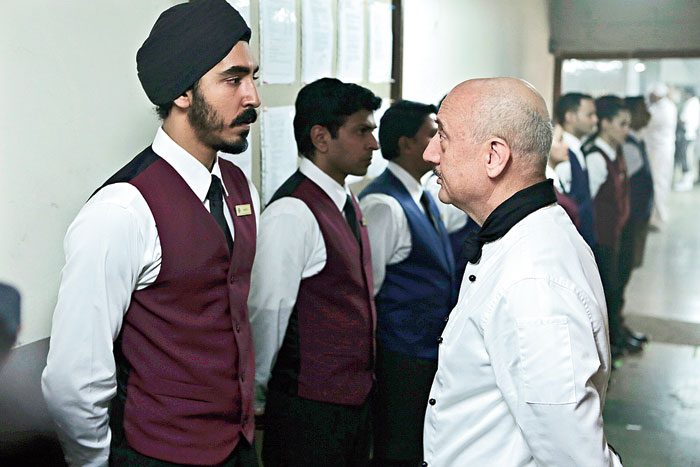 Anupam Kher with Dev Patel in Hotel Mumbai
Still from the film
---
Published 21.11.19, 07:02 PM
|
---
Anupam Kher is back to playing a real-life character — star chef Hemant Oberoi — from Friday, since stepping into the shoes of Manmohan Singh in The Accidental Prime Minister earlier this year.
Kher, 64, said he did not meet Oberoi before starting shoot on Anthony Maras' Hotel Mumbai, dealing with the events of November 26-29, 2008, in which 174 people were killed and over 300 were injured.
"I only met the chef after the film got over and it was the director's vision. The content is emotional and it was all about 26/11 when terror struck Mumbai. Director Anthony wanted me to feel the emotions behind the attack and he created situations which were frightening. He had recorded gunshots and it was shot very realistically," the actor revealed in conversation with The Woods, while the real Oberoi also dropped by to say hello.
The film, releasing this Friday, also stars Dev Patel and Armie Hammer. Recalling the 26/11 attacks, Kher said: "I was shooting in Bandra and initially, we thought it must be some gang-war but then we got to know that there were terrorists and for three days the whole of Mumbai was watching what was happening in the city."
The film, Kher said, is not about chef Oberoi, who was instrumental in saving lives of many stuck at the iconic Taj on the night of the terrorist attacks. "It's about 26/11," Kher said. "More than the terrorist attacks, the film is about the courage of ordinary men in an extraordinary situation. He had to save his guests and as we Indians say 'Athithi Devo Bhava'."
Kher is also looking forward to his American series, New Amsterdam.
"It's the story of six doctors. I am playing Dr Vijay Kapoor, a neurologist. I tried to add some Indian-ness to the role. It's a popular series and I am doing the second season now. Whenever I go out on the streets now people address me by my characters' name and it feels great. I have signed this series for almost nine months."