After film debut, Alaya scorches the fashion runway
'Fashion for me is all about confidence and looking good and feeling good in what you wear'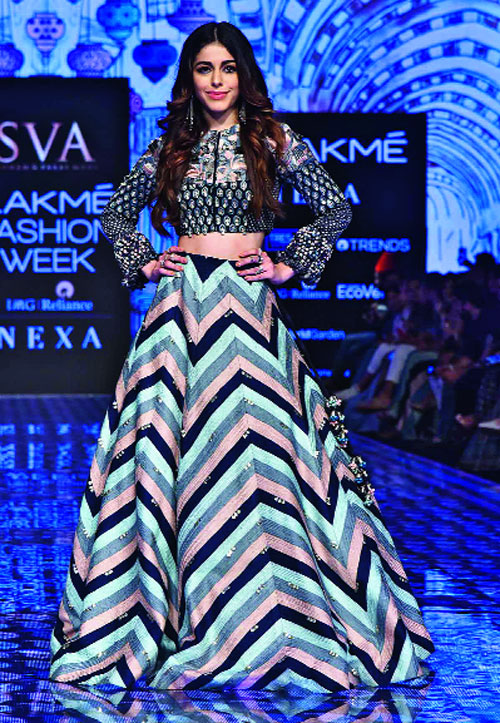 Alaya F on the ramp on Saturday
Yogen Shah
---
Published 20.02.20, 09:42 AM
|
---
Two firsts in one fortnight — Alaya F walked down the runway on Day 4 of Lakmé Fashion Week Summer/Resort 2020 for SVA by Sonam and Paras Modi. Daughter of actress Pooja Bedi who starred in last month's Jawaani Jaaneman, Alaya looked boho chic in her graphic, long-sleeved blouse with intense detailing. The Woods exclusively caught up with the 22-year-old showstopper for a chat backstage before her show.
How does it feel making your runway debut?
I'm super excited. I've done this a few times alongside my mother when I was a child but this is my first time by myself. So I'm very excited. I think the past month has been full of firsts.
Could you tell us about the outfit you're wearing and how close it is to your real personality?
It's actually very close to my personality because it's full of colours but it's not too colourful at the same time. What I love about this "Galeecha" collection especially is that it's an amalgamation of these ancient Persian carpets but it's also pretty modern with its bold stripes and geometrical structures. I think it's very cool. I love the colours I'm wearing.
You candidly spoke about nepotism recently. How easy is it for you to acknowledge it?
It's very easy. I feel like if something is the truth, something is the reality, that shouldn't be too hard to acknowledge.
Did you get any runway or acting tips from your mother?
Not really. I feel like it's very hard for me to get runway tips because no one in my family has really modelled per se. I guess I'll find out, let's see how I do it, maybe I'll learn it from myself (laughs).
Did you always want to be an actor?
No, I didn't. I wanted to be a director and it was in my direction course that I realised I wanted to be an actor.
Were you intimidated working with Saif Ali Khan in your debut film?
I was. But then he made me feel so comfortable instantly that after that, on the first day, rather after the first scene itself, I was quite okay.
What attracted you to choose Jawaani Jaaneman as your debut vehicle?
Jawaani Jaaneman chose me. I gave many auditions and this was the one that worked out and thank God this was the one that worked out. I absolutely love it, I couldn't have even thought of a better first film for me. I'm glad it chose me.
What's that one fashion faux pas that you'd never commit?
I'd probably commit all of them and learn from them. If I like them, I'll keep doing them anyway.
What does fashion mean to you?
Fashion is very versatile for me. I don't think I've a specific style or look up to a specific style. Fashion for me is all about confidence and looking good and feeling good in what you wear.
Who's your favourite fashion designer of all time?
SVA by Sonam and Paras Modi for sure! No, really. I love their work and what they do is incredible.
Which film are you working on next?
I guess we will all find out (laughs).