Blur man Damon Albarn tries to discredit Taylor Swift's songwriting skills
'There's a big difference between a songwriter and a songwriter who co-writes'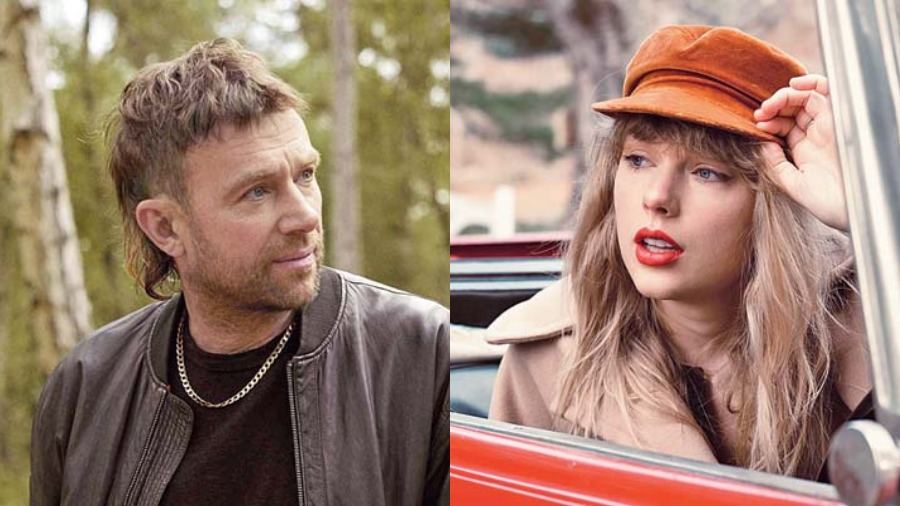 Damon Albarn said that Taylor Swift "doesn't write her own songs".
---
Published 26.01.22, 02:17 AM
|
---
Read this while listening to Passacaglia and Fugue in C minor, BWV 582. It was never meant to be a straightforward interview and it wasn't. Damon Albarn in the chair, it turned out to be a boxing match as the Blur lead singer and Gorillaz co-founder shot down everything that was thrown at him — Los Angeles to Taylor Swift.
A virtual to-and-fro started soon after the singer was asked about "modern musicians" and then the Los Angeles Times interview turned towards the "excellent songwriter" Taylor Swift. He at once threw a punch at the statement: "She doesn't write her own songs."
The interviewer insisted she does and also co-writes. But Albarn was not satisfied. "That doesn't count. I know what co-writing is. Co-writing is very different to writing. I'm not hating on anybody, I'm just saying there's a big difference between a songwriter and a songwriter who co-writes. Doesn't mean that the outcome can't be really great. And some of the greatest singers — I mean, Ella Fitzgerald never wrote a song in her life. When I sing, I have to close my eyes and just be in there. I suppose I'm a traditionalist in that sense. A really interesting songwriter is Billie Eilish and her brother. I'm more attracted to that than to Taylor Swift. It's just darker — less endlessly upbeat. Way more minor and odd. I think she's exceptional," the 53-year-old said.
At once virtual pugilists were out and about. And Taylor Swift didn't mince her words either. The 32-year-old singer has tweeted: "I was such a big fan of yours until I saw this. I write all of my own songs. Your hot take is completely false and so damaging. You don't have to like my songs but it's really f***** up to try and discredit my writing. Wow."
Soon, others came out in support of Swift. Her collaborator Jack Antonoff has tweeted: "I've never met Damon Albarn and he's never been to my studio but apparently he knows more than the rest of us about all those songs Taylor writes and brings in."
Also coming out in her support is Aaron Dessner: "Not sure why you (Damon) would try to discredit Taylor's brilliant songwriting but as someone who has gotten to press record around her ...your statements couldn't be further from the truth... you're obviously completely clueless as to her actual writing and work process."
Eilish, whom Damon supported during the interview, and Swift are yet to collaborate but the two have been seen cheering each other during their respective 2021 Grammy Awards performances.
After the backlash on social media, Albarn apologised, writing to Swift on Twitter: "I totally agree with you. I had a conversation about songwriting and sadly it was reduced to clickbait. I apologise unreservedly and unconditionally. The last thing I would want to do is discredit your songwriting. I hope you understand."