A brooding John Abraham makes Batla House a compelling watch
Batla House has its fair share of faults — the writing is sloppy in parts and some bits don't come together well — but it is an important film in the divisive times we live in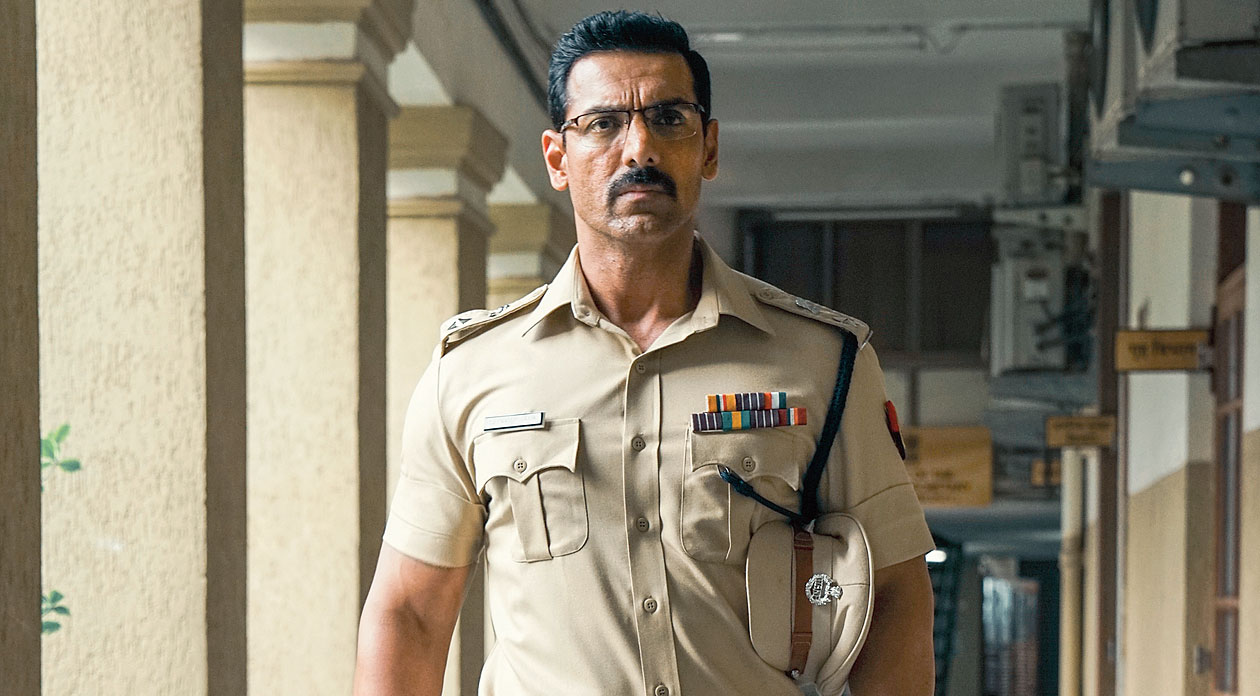 The presence of John Abraham dominates almost every scene and delivers in a role that demands that he mostly let his fists, and sometimes his silences, do all the talking
Still from the film
---
Published 16.08.19, 05:58 PM
|
---
The Batla House encounter of 2008 is both contentious and ambiguous. Which would explain the mile-long disclaimer at the beginning — highly detailed and probably the most legal-proof one would have seen in a film in recent times — which claims that Batla House the film is "based on events and information only available in the public domain". Towards the end of the film when a court scene is in progress, a couple of lines pop up to claim that the filmmakers don't endorse any of the views presented by the warring sides. Yet another disclaimer states that the film is "not a documentary and is not intended to accurately reflect events". The tread-with-caution stance is not altogether unfounded considering Batla House had a couple of pre-release court cases slapped on it and came out clean with just days to spare before it hit theatres.
Director Nikkhil Advani, operating from a script — written by Pink man Ritesh Shah — that traces the aftermath of the encounter that took place in a bustling cheek-by-jowl south Delhi locality on a September day in 2008, makes Batla House many films in one. It's by turns an investigative drama, a police procedural, a terrorism thriller and a morality tale, with Advani — who helmed D-Day and put money and muscle on Airlift, both inspired by real-life events — ensuring that there is rarely a dull moment in the film.
That's largely due to the presence of John Abraham who dominates almost every scene and delivers in a role that demands that he mostly let his fists, and sometimes his silences, do all the talking. John, who seems to have found his niche in films that demand a one-man army crusade against corruption and crime, smartly uses his towering physicality and brooding demeanour (the bespectacled look adds to the character's gravitas) to build the persona of Sanjay Kumar —modelled on real-life top cop Sanjeev Kumar Yadav — who puts duty and country above everything else but is plagued by self-doubt and suicidal thoughts when his loyalty and honesty are questioned.
That comes courtesy the film's first few minutes when Kumar and his team storm into apartment L-18 at Batla House and gun down militants suspected to be part of the Delhi module of the Indian Mujahideen, the terrorist outfit responsible for the serial blasts that had taken place in the capital a few days prior to the encounter. Kumar not only loses a colleague in the gun battle, but has to spend the next few years proving that this wasn't a fake encounter.
"Farz aur farzi ke beech mein sirf ek maatra ka antar hai," went a popular line in this year's monstrous hit Uri. Instead of being feted for his act of courage and rising to the call of duty, Kumar finds himself being made the fall guy. Activists jump in, news channel studios become battlegrounds and the nation wants to know whether those who were killed were really terrorists or simply students who were made scapegoats. In the middle of it all, Kumar finds himself battling everything, from a failing marriage (a luminous Mrunal Thakur plays his news anchor wife) to severe post-traumatic stress disorder as he goes about tracking the missing pieces of the puzzle to prove his innocence.
Unlike other films in the genre, Batla House plays it smart by not focusing on the encounter per se, but chronicling the events that unfolded after it. The encounter itself is shown in flashbacks with Advani playing it out through various angles, depending on which side of the divide one is on. The first half is a little verbose, but the action well and truly kicks in in Half Two as Kumar and his team pull out all the stops — travelling from Delhi to Nizampur to Pilibhit on the India-Nepal border — to crack the case. The result is a pacy thriller shot on real locations that keeps the viewer invested in the film. Attention flags when the scene shifts to the courtroom — Rajesh Sharma's lawyer act is a little over-the-top for a film like this — but a monologue from Kumar on what goes into making a terrorist is done well.
Advani's attempt to film parts of the movie documentary style — the use of real-life footage is a #win — is commendable, but some bits are too Bollywoodised, with both Nora Fatehi and her otherwise foot-tapping Saki saki being superfluous.
Batla House has its fair share of faults — the writing is sloppy in parts and some bits don't come together well — but is an important film in the divisive times we live in. More than anything else, at the end when Kumar says that he hopes the Muslim man on trial he is fighting a case against is innocent simply so that stereotypes are not reinforced yet again and that facts are not distorted once more. Yes, the truth is always out there. The question is... is anyone willing to listen in the middle of all the noise?