Trendsetter John Abraham
Love for his country makes him look for topics such as I-Day release Batla House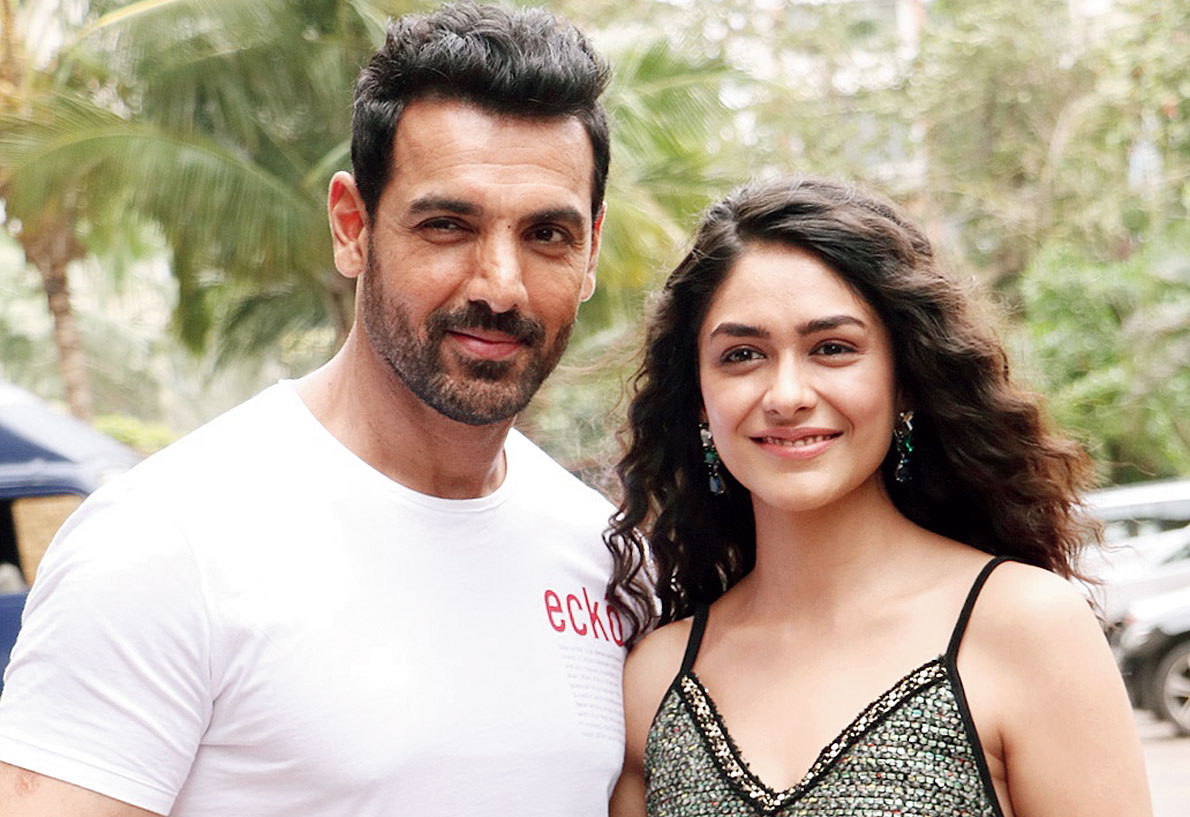 John Abraham with Mrunal Thakur, who plays his wife in Batla House.
Picture by Yogen Shah
---
Published 14.08.19, 03:35 PM
|
---
With films like Madras Cafe, Parmanu and Satyamev Jayate in his filmography, actor John Abraham has yet another realistic thriller up for release today. Batla House. He speaks to The Woods about turning producer and what makes him tick.
The Woods: How does it feel when directors approach you for such realistic roles?
John: I definitely feel good. There are certain actors who love their country and it shows on their face and (in their) body language. My love for my country is very clear and my physicality worked very well for Sanjeev Kumar Yadav's character (then DCP, who headed the Batla House encounter in New Delhi's Jamia Nagar in 2008). When Nikkhil (Advani, producer-director) presented the script, he said why don't you read. I was amazed by the script. Fact, they say, is stranger than fiction. I thought it was fictitious but everything was real. I told him let's make it and let's produce it. In my filmography as producer it was important to have films like Vicky Donor, Parmanu and Batla House and that makes me happy.
How much care has been taken not to hurt anyone's sentiments?
I come from a minority community from both sides (the actor's father is a Malayali Protestant Syrian Christian from Kerala and his mother is a Parsi). When you do real life characters you can take creative liberties but then you need to draw a line. I decided not to and I spent a few days with Sanjeev Kumar Yadav. The first day I spent six hours with him, and tried to realise and learn the internal process of what is going on in his mind. I learnt to use the gun... it was important how we were going to handle the subject. He had PST, post-traumatic issues. His wife wanted to leave him and there were family issues. He tried to commit suicide thrice and he was being questioned by the government. He has won nine gallantry awards and at the time of the Batla House incident, he had won six gallantry awards. Yet he was being questioned by the government. It was important to balance that. I think we have done a very good job.
Which film of Nikkhil Advani attracted you ?
I loved his D-Day and we both agreed that this film cannot have one point of view. The point of view of victims, of terrorists, how we define them, the Delhi police, the point of view of witnesses, and of the court. That debate is important. In the debate you are entertained.
Do you feel that you have a responsibility towards subjects like this?
Someone has to do it. I did it with Parmanu. The sample people we showed Madras Cafe said Rajiv Gandhi died in the end and John Abraham didn't save him. Youth of our country didn't know about Rajiv Gandhi's assassination, and out of 50 youngsters only one said that Rahul Gandhi is related to Rajiv Gandhi. That's the state of our country. You should see JFK (1991 Oliver Stone thriller) — how they have documented true stories and yet made it intriguing. Someone has to tell such stories and I am glad I am doing it.
What made you turn producer?
Because I was not getting to do films as an actor. You have to make cinema that is contemporary and new age. Vicky Donor gave birth to Badhaai Ho, Shubh Mangal Saavdhan and Khandaani Shafakhana. Madras Cafe gave birth to films like Article 15. You have to be a trendsetter and I wanted to do something different.
You are being compared to Akshay Kumar, who is also making patriotic films.
Akshay is doing good films. I am doing the films I want to do films which are fantastic. It's a good thing. You can make films which are patriotic but if the content is not good it will not work. You will see some big-budget films which have fallen flat. So content is most important. I love to be a patriot but I don't want to be a nationalist. A patriot will love the country for the virtues it has.
A nationalist will love everything about the country. I want to be critical of my country but still love my country.
On one hand you are doing serious films like Parmanu and Batla House, and on the other you are doing Pagalpanti.
I love Anees Bazmee and I love comedy. It is the most difficult genre. It's difficult to make people laugh, we just finished shooting and I enjoyed doing it.
What are your forthcoming movies?
I am starting Mumbai Saga by Sanjay Gupta and then I am producing Attack, an action film, and then there's Satyameva Jayate 2.